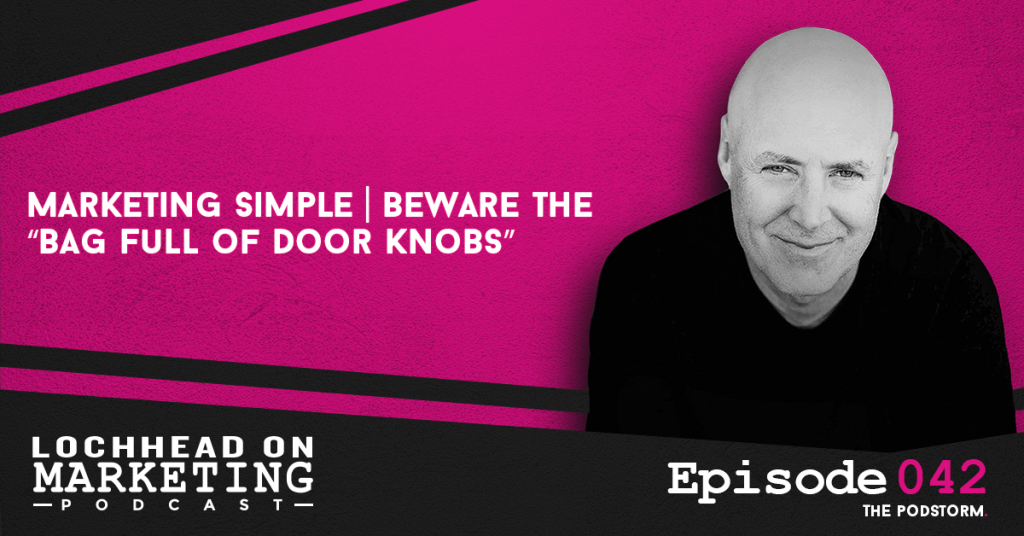 Podcast (lochheadonmarketing): Play in new window | Download (Duration: 8:40 — 5.9MB) | Embed
Subscribe: Apple Podcasts | Google Podcasts | Spotify | Stitcher | RSS | More
Welcome to Lochhead on Marketing, where we are trying the first world's Marketing PodStorm — 30 days of strategies and ideas to help you create the future that you want because we believe that nothing legendary is going to happen, at any kind of scale, without legendary marketing.
Today, let's talk about marketing simple aka beware the bag full of doorknobs.
Biznobabble
A lot of companies communicate and market in very confusing ways. Christopher says a lot of companies share their marketing messages in a "carnival barker kind of approach."
"A lot of companies, even if they are a little more sophisticated, they are still barking a lot at people with a lot of stuff, in the tech world, we tend to speak on Biznobabble." – Christopher Lochhead
One of the things that Christopher likes to do is read on a company's website, specifically the "About Us" and it does show how messed up their marketing messages are.
"I made this one up and I placed it in Playbigger, as this is illustrative of the problem:

Megatech dingdong corporation is headquartered in San Jose California and as a leading developer and global supplier of innovative highspeed world-class cloud infrastructure platform solutions to global worldwide customers and all industries

Megatech Dingdong big data application infrastructure platform solutions are highly scalable, reliable, flexible, secure and powerful, built by world-class team, with a deep understanding of global communications standards and software and hardware expertise and design architecture development and standard-based social IOT mobile, wireless, container enabled distributed hyper-converged cloud blah blah blah yada yada yada." – Christopher Lochhead, reading an excerpt of Play Bigger
Communicate Clearly
Christopher shares that today, particularly now is the time to communicate clearly because when people are confused, the chances of them buying is from minimal to zero. It is now, more than ever, that companies have to communicate in clear and powerful ways
"When people are confused, they have to think about it and 'think about it,' it is code for 'I'm not sure' or 'I don't get it' which is also code for, 'I'm not buying!'." – Christopher Lochhead
Getting Super Simple
How could you get super simple? Christopher advises companies to focus on the problem your company is solving and remember that legends market the problem, not the product. Market one simple product or service to solve that problem and use short, simple and powerful words.
To know more about marketing simple and how to avoid a bag full of doorknobs, download and listen to this episode.
Bio:
Christopher Lochhead is a #1 Apple podcaster and #1 Amazon bestselling co-author of books: Niche Down and Play Bigger.
He has been an advisor to over 50 venture-backed startups; a former three-time Silicon Valley public company CMO and an entrepreneur.
Furthermore, he has been called "one of the best minds in marketing" by The Marketing Journal, a "Human Exclamation Point" by Fast Company, a "quasar" by NBA legend Bill Walton and "off-putting to some" by The Economist.
In addition, he served as a chief marketing officer of software juggernaut Mercury Interactive. Hewlett-Packard acquired the company in 2006, for $4.5 billion.
He also co-founded the marketing consulting firm LOCHHEAD; was the founding CMO of Internet consulting firm Scient, and served as head of marketing at the CRM software firm Vantive.
Links:
We hope you enjoyed this episode of Lochhead on Marketing™! Christopher loves hearing from his listeners. Feel free to email him, connect on Facebook, Twitter, Instagram, and subscribe on iTunes! You may also subscribe to his newsletter, The Difference, for some amazing content.