110 Startup Marketing: Viviana Faga Emergence Capital
Sunday 1st October 2023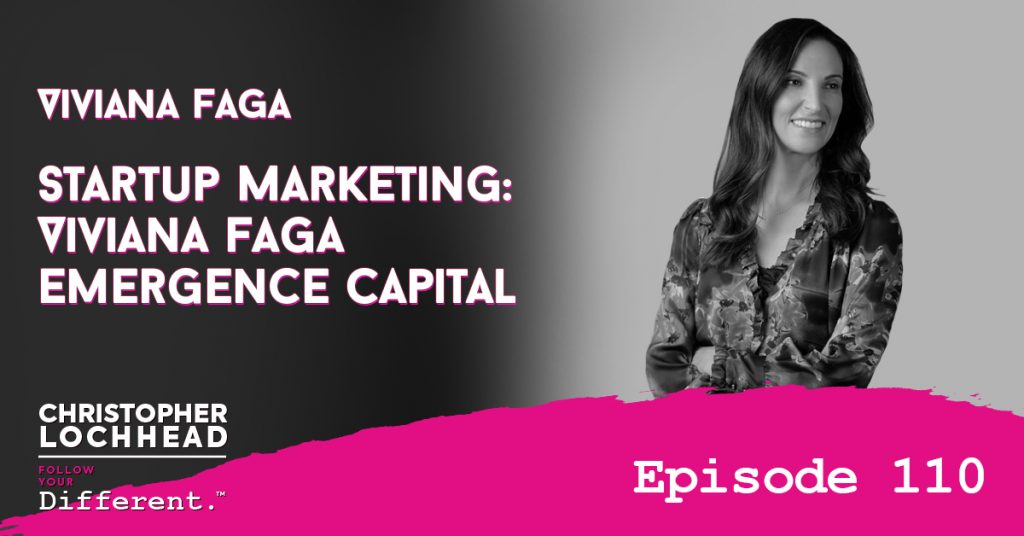 Podcast: Play in new window | Download (Duration: 1:03:10 — 58.1MB) | Embed
Subscribe: Apple Podcasts | Google Podcasts | Spotify | Pandora | Stitcher | RSS | More
We have another riveting and insightful episode today with Viviana Faga, Operating Partner at Emergence Capital. She is in-charge of marketing and helped create over 150B in new market cap. Today she shares some of her amazing experiences working both with startups and VCs.
The Importance of Marketing
Viviana Faga worked in Senior Marketing roles with companies like Salesforce.com and Zoom Communications. She was the Head of Marketing at Yammer and pioneered the enterprise social space.
At the moment, she coaches CEOs and Founders and leads them in finding the importance of marketing in scaling their businesses.
"You just got $5-15M and you're thinking, 'where do I want to spend my money? I want to spend money on building my product and I don't know who to hire? Why should I hire a marketer? It just seems like one big massive waste.' That's what I deal with and those are the kind of questions that I get everyday." – Viviana Faga
The Best Doesn't Always Win
Viv narrates her current client who has a great product, but is currently in a category that his competition built. Viv find it fascinating to explain that the best products doesn't always win. If a CEO doesn't believe in this, the CEO then finds himself in a never ending cycle of "catch-up."
"There are plenty of cases where it does. The company just sort of takes off, without great marketing. We've seen that. But for the most part, in the competitive market, if you don't define the category, if you don't create it, you're going to really struggle because now you're gonna look like you're playing catch up." – Viviana Faga
Viv advises her clients that the company will never be able to catch up if they continue copying the competition's message.
"You have to change the game. Come up with completely new messaging. You have to go so hard at writing that message ⁠— from your press releases, website and sales collateral. Every single piece of content that is external facing has to speak this new language." – Viviana Faga
CEOs Who Listen
Viviana was proud to say that she embedded herself into her client's company. Other than this, she believes that she can only help those who are willing to listen. She narrated how she turned down the CEO of Yammer, twice.
"It was hard to turn him down, but obviously he convinced me. I wanted to work for a CEO who understood the value of marketing and after that conversation, I wasn't so sure but a lot of folks from Salesforce have gone there. It's our job to convince him Sales & Marketing matter." – Viviana Faga
To hear more about Startup Marketing: Viviana Faga Emergence Capital and more relevant information about Viviana Faga, download and listen to the episode.
Bio:
Viviana brings over fifteen years of experience designing and building brand categories for successful cloud/SaaS and enterprise social companies, helping them create scalable growth engines that drive successful exits.
Her particular passions are scaling and structuring go-to-market SaaS teams, messaging and positioning, category creation, freemium product strategy, and sales enablement.
Before joining Emergence, Viviana served as VP of marketing for Yammer, where she defined the enterprise social category. After Yammer's $1.2B acquisition by Microsoft, she became its head of marketing for enterprise social, which included Office 365, Skype, and Lync. She also spent over six years at Salesforce, where she launched several key product initiatives. Additionally, she was the VP of marketing for Platfora (now Workday) and the CMO of Zenefits.
Links:
Emergence Capital – Viviana Faga
103 The Power of an IPO with Eric Yuen
011 The Perception of your product is your product
We hope you enjoyed this episode of Follow Your Different™! Christopher loves hearing from his listeners. Feel free to email him, connect on Facebook, Twitter, Instagram and subscribe on iTunes! Get amazing, different stories on business, marketing, and life. Subscribe to our newsletter The Difference.