103 The Power of an IPO w/ Eric Yuan, Founder of Zoom Communications
Wednesday 20th September 2023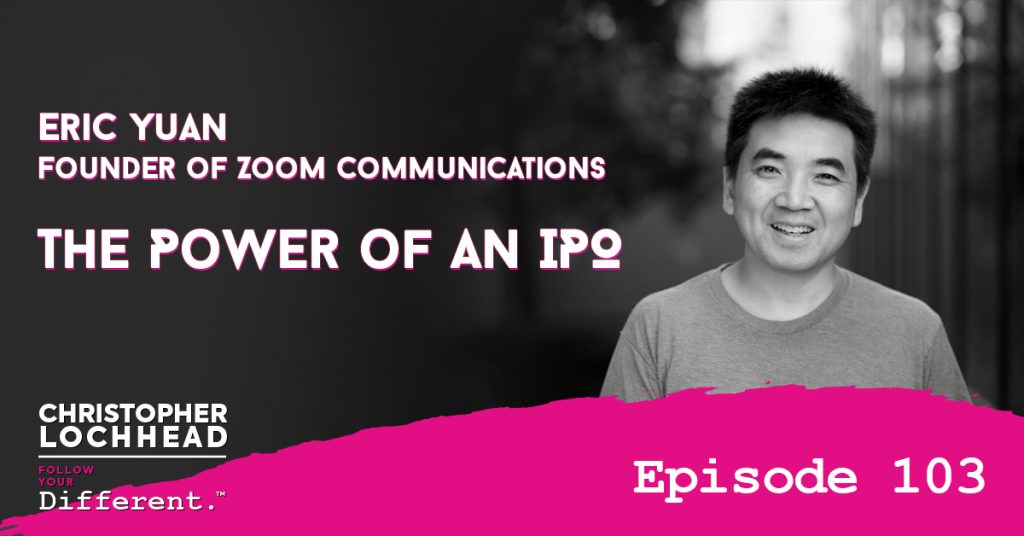 Podcast: Play in new window | Download (Duration: 59:00 — 54.3MB) | Embed
Subscribe: Apple Podcasts | Google Podcasts | Spotify | Pandora | Stitcher | RSS | More
This is the first in a special two-part series featuring two CEO's of two recent multi-billion IPOs—Jennifer Tejada, CEO of Pager Duty and billionaire, founder and CEO of Zoom Communications, the amazing Eric Yuan.
Today's episode features an insightful conversation about how Eric feels like to have a super successful IPO. Eric further shares Zoom's culture centered on happiness and his motivation, mission and vision for Zoom and much more.
Culture of Happiness
Eric Yuan guested at Christopher's previous podcast, Legends and Losers Episode 032. As of recording time, Zoom Communications raised $357M in IPO and is a $20+ billion market cap company.
"When I wake up, the first person I ask is myself. Do I feel happy or not? I encourage our employees to ask the same questions. Ultimately, if our employee is not happy, I'm pretty sure they cannot give happiness to our customers. That's why we keep the happiness culture here." – Eric Yuan
Christopher cited some amazing data from GlassDoor. Employees rated Zoom 4.8, 5 being the highest. On the question "would you recommend Zoom to a friend, as a great place to work," 95% said yes. Lastly, on CEO approval, 97% of the respondents said they approve of the way Eric runs the business.
"I think based on that, I should focus on the 3% and plus the 5% why they do not recommend us too. Again, we always like all those feedback to help us become a better company." – Eric Yuan
Zoom: The Game Changer
Christopher admires how Eric runs his company and how he epitomizes everything great about entrepreneurship, technology, and innovation. He has changed the game in the B2B space in North American and now, internationally. As Christopher says, Zoom has made impossible, possible, such as the ability to work from home and collaborate with the team in different countries.
"I truly feel we just started. We look at our user base and our customer base, compared to the number of knowledge workers worldwide, I think we just started. A huge opportunity ahead of us. How to connect workers worldwide, if you look at the total market, it's also huge. Look at our revenue, we just started." – Eric Yuan
Vision and Mission for Zoom
In the next 5 years, Eric candidly shares that he visualizes Zoom to give people a whole new experience in meeting and communicating, even aiming to replace the whole face to face meeting.
"We truly believe data communication is the future, video is the new voice. In the future, no matter where you are, no matter which device you are using, just one click, you can talk with anyone in the world. You can speak on your language and understand with real-time translation." – Eric Yuan
Christopher also discusses with Eric the amazing marketing strategies that they employ, especially the huge advertisements in major airports in the US.
"They should leverage our technology. Since it's good for the family and good for society as well. Our goal is to make sure our existing customer is happy. Whenever they travel, [we remind them] you already have Zoom, why do you travel often?" – Eric Yuan
To hear more about The Power of an IPO, and to learn more information about Eric Yuan, Founder of Zoom Communications, download and listen to the episode.
Bio:
Prior to founding Zoom, Eric was corporate vice president of engineering at Cisco, where he was responsible for Cisco's collaboration software development. Eric was one of the founding engineers and vice president of engineering at Webex. Between 1997 and 2011, he grew his team from 10 engineers to more than 800 worldwide and contributed to revenue growth from $0 to more than $800M.
In 2017, Eric was added to the Business Insider list of the 52 Most Powerful People in Enterprise Tech. In 2018, he was named the #1 CEO of a large US company by Glassdoor and EY Entrepreneur of the Year in Northern California (software category). Eric is a named inventor on 11 issued and 20 pending patents in real-time collaboration.
Eric earned a certification from the Stanford University Executive Program.
Links:
We hope you enjoyed this episode of Follow Your Different™! Christopher loves hearing from his listeners. Feel free to email him, connect on Facebook, Twitter, Instagram and subscribe on iTunes!