Posts Tagged 'Category Design'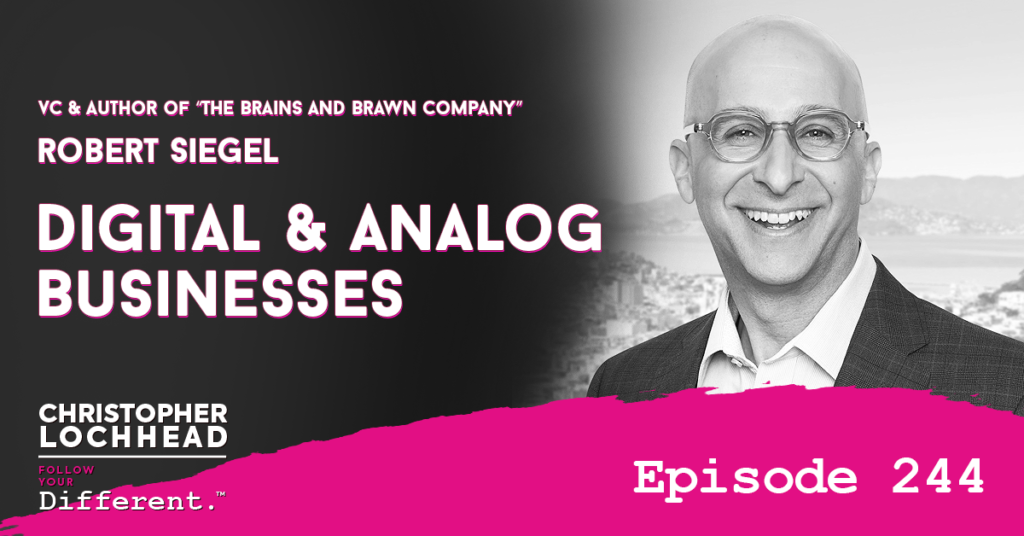 Podcast: Play in new window | Download (Duration: 1:12:09 — 49.5MB) | Embed
Subscribe: Apple Podcasts | Google Podcasts | Spotify | Pandora | Stitcher | RSS | More
Most businesses are now a hybrid of analog and digital. The question is, how do we get the right mix? Also, how do we know what and when to digitally transform, or keep parts of our business analog? These are just some of the questions that board CEOs and executive teams are grappling with. In this episode of Follow your Different, Robert Siegel will help us get a better grasp at it.
Robert Siegel is a Venture Capitalist and a Stanford lecturer. He has a new book out called The Brains and Brawn Company, and it cracks open many of these kinds of questions. It also provides real research and insight from leading companies in their respective industries, coupled with Robert's years in Silicon Valley and the entrepreneurial world.
If you're building companies today, or you want to build a legendary company heading into the future, you're going to love everything about our dialogue.
Robert Siegel on Digital Transformation
Digital Transformation seems to have become a catch-all phrase that people in the industry use to describe new technology or migrating certain things online.
While it may not seem like much of an issue. It becomes a problem when the supposed "experts" start suggesting that undergoing a Digital Transformation should be done ASAP to improve your company.
"I think that what I've learned in my time as a venture capitalist, and also in the teaching that I do at Stanford, is that digital transformation is kind of necessary, but not sufficient. That the world that we're living in, is increasingly a blend of digital and physical.

And so if you only talk about digital transformation, everything talks about the ones and zeros. Everyone talks about software and connectivity. But people forget, we actually live in a physical world." – Robert Siegel
The Brain and Brawn Company
We then get into the discussion of Robert's new book, The Brain and Brawn Company. Robert explains that having both Brain and Brawns is necessary for a company. The Brain being the creative and analytical aspects of business, as well as the digital parts of it. While the Brawn is the physical aspects, like dealing with logistics, manufacturing, and such.
So the optimal setup is having a good mix of "brains" and "brawn" in your company. According to Robert, they don't deal with those who wish to have a pure digital software platform, because that is not a sustainable model.
"Those companies aren't going to be successful as we get into a world where things are increasingly blended between digital and physical, and every product and service that we make is connected. And every industry is going to be impacted from not only things like mobility, but healthcare, financial services, there really is education, there isn't an industry that won't be impacted by this blend of digital and physical." – Robert Siegel
Of course, there are business that can go pure digital, but companies in general still need a good blend of digital and analog systems in place to function efficiently.
The Right Mix of Digital and Analog
That said, what is a good mix of digital and analog for a business?
According to Robert, it depends for each business. One of the things to look at is how different systems work in your company. After understanding them, find out if going digital can improve the service, or make it more efficient in the long run.
Of course, there are certain aspects that still need analog aspects, even within digital spaces. Take for instance ordering online. While the whole thing can be made digital nowadays, there are still analog competencies like logistics and customer experience that need to be accounted for. Or the opposite can also be true, like adding digital improvements to delivery tracking, so that customers know the real-time location of their on-going delivery.
So in the end, it's best to find the right mix for your own company.
To hear more from Robert Siegel and how to find the right mix of digital and analog in your business, download and listen to this episode.
Bio
Robert Siegel is a lecturer in management and has led primary research and written cases on Google, Charles Schwab, Daimler, AB InBev, Box, Stripe, Target, AngelListopen, 23andMe, C3.ai, Majid Al Futtaim, Tableau, PayPal, SurveyMonkey, Medium, Autodesk, Minted, Zuora, Axel Springer, and Michelin, amongst others.
Robert is a member of the supervisory board of TTTech Auto AGopen, and is chairman of the strategic advisory board for TTTech Computertechnik AGopen in Vienna, Austria. He is a member of the industry advisory boards for HERE Technologiesopen and Tulcoopen, and is the copresident emeritus of Stanford Angels & Entrepreneursopen, an alumni association that fosters relationships to strengthen the Stanford startup community. Robert was on the board of SmartDrive Systemsopen for 14 years (acquired by Omnitracs), has coauthored several articles for the Harvard Business Reviewopen and California Management Reviewopen, and is a frequent contributor to Fortune, TechCrunch, VentureBeat and Forbes.
Robert was previously general manager of the video and software solutions division for GE Security, with annual revenues of $350 million. He was also executive vice president of Pixim, Inc., a fabless semiconductor firm specializing in image sensors and processors (acquired by Sony). Before Pixim, Robert was cofounder & chief executive officer of Weave Innovations Inc. (acquired by Kodak), a network services developer that invented the world's first digital picture frame, and delivered photos and other digital media to PCs and internet / mobile devices.
Robert served in various management roles at Intel Corporation, including an executive position on their corporate business development team, in which he invested capital in startups that were strategically aligned with Intel's vision.
Robert is the coinventor of four patents and served as lead researcher for Andy Grove's best-selling book, Only the Paranoid Survive.
Robert holds a BA from UC Berkeley and an MBA from Stanford Graduate School of Business. He is married with three children.
Links
Follow Robert Siegel today!
Website: RobertESiegel.com
LinkedIn: in/RSiegel
Twitter: @RobSiegel
Read his new book: The Brains and Brawn Company
We hope you enjoyed this episode of Follow Your Different™! Christopher loves hearing from his listeners. Feel free to email him, connect on Facebook, Twitter, Instagram, and subscribe on iTunes!