054 Why You Need A Big Hairy Audacious Goal | Marketing PodStorm 16
Wednesday 20th September 2023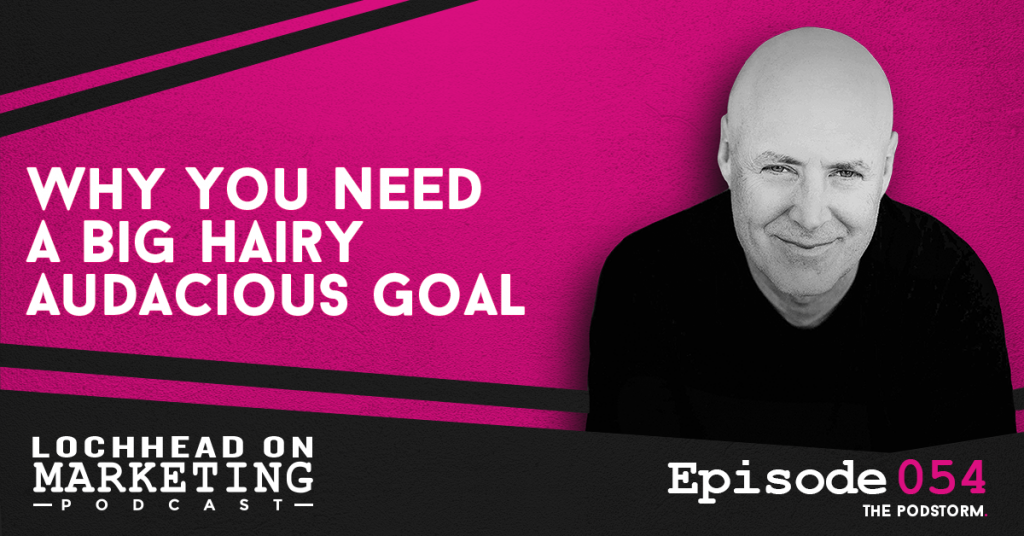 Podcast (lochheadonmarketing): Play in new window | Download (Duration: 9:58 — 6.8MB) | Embed
Subscribe: Apple Podcasts | Google Podcasts | Spotify | Stitcher | RSS | More
We are hoping you read Jim Collins two legendary books Built to Last and Good to Great. These are game-changers with insanely great research about businesses. In those books, he introduces the concept of a BHAG, which is an acronym for big, hairy, audacious goal. In this episode, let's talk about why you need, what legendary author Jim Collins calls, a big, hairy, audacious goal.
Man On The Moon Mission
One of the greatest examples of a BHAG is when John F. Kennedy said: USA is going to put a man on the moon within the decade. It is specific, clear, and clearly big and hairy, audacious at the time. Moreover, it is complete since it has time on it.
"Why does this matter in the context of marketing, in particular, in the context of a category design approach for designing and dominating market category? Well, the first part of achieving the goal is to declare it. When you tie a BHAG to a category design strategy, something amazing happens." – Christopher Lochhead
Microsoft's BHAG
One of the most powerful examples in the tech industry was Microsoft when they were building the personal computer category. They had a BHAG when they called a computer, a PC on every desktop.
"Number one, PC on every desktop is very clear. Number two, by doing that, Microsoft is declaring themselves the category queen because there's an interesting thing, in the minds of the market, in the minds of people, the company evangelizing the category must be the leader or category queen or king in that category. Microsoft, in this case, is evangelizing what they want to happen." – Christopher Lochhead
Are you part of the 10%?
At the beginning of this PodStorm, episode number 39, Christopher shared that approximately 10% of companies get stronger in a downturn. Now, he encourages you to adopt that as a possible goal for your company.
"By declaring your BHAG, and making it clear to your people, your prospects, your customers, your investors, and — this one I actually love the most — your competitors, all of a sudden you've planted your flag on something. It becomes very unifying, very focusing. and it motivates your people. Hopefully, it inspires your customers, investors, and partners, and it scares the shit out of your competition. And to me, legendary marketing does all of that." – Christopher Lochhead
To know more about Christopher and how why you need a BHAG for your company, download and listen to this episode.
Bio:
Christopher Lochhead is a #1 Apple podcaster and #1 Amazon bestselling co-author of books: Niche Down and Play Bigger.
He has been an advisor to over 50 venture-backed startups; a former three-time Silicon Valley public company CMO and an entrepreneur.
Furthermore, he has been called "one of the best minds in marketing" by The Marketing Journal, a "Human Exclamation Point" by Fast Company, a "quasar" by NBA legend Bill Walton and "off-putting to some" by The Economist.
In addition, he served as a chief marketing officer of software juggernaut Mercury Interactive. Hewlett-Packard acquired the company in 2006, for $4.5 billion.
He also co-founded the marketing consulting firm LOCHHEAD; was the founding CMO of Internet consulting firm Scient, and served as head of marketing at the CRM software firm Vantive.
Links:
We hope you enjoyed this episode of Lochhead on Marketing™! Christopher loves hearing from his listeners. Feel free to email him, connect on Facebook, Twitter, Instagram, and subscribe on iTunes! You may also subscribe to his newsletter, The Difference, for some amazing content.