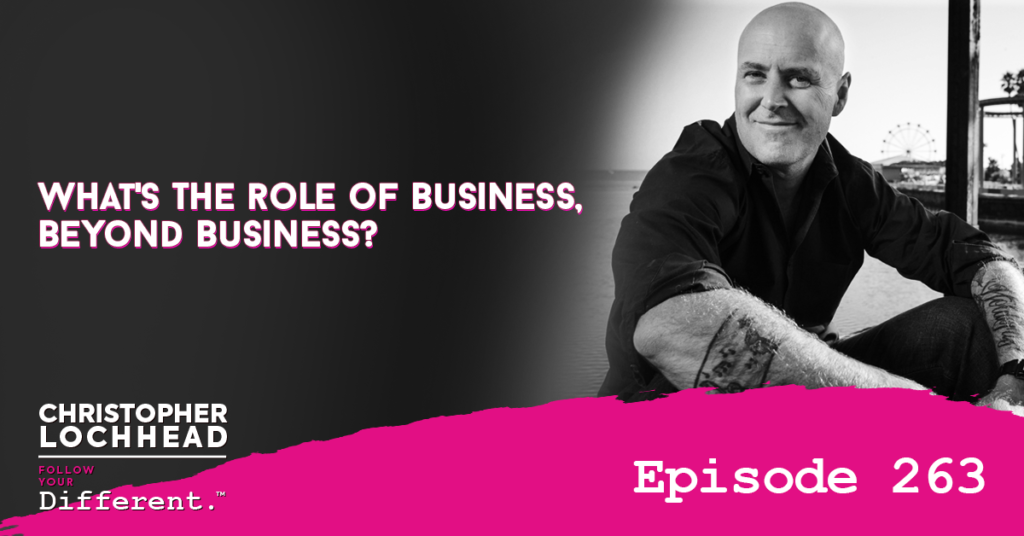 Podcast: Play in new window | Download (Duration: 7:13 — 5.0MB) | Embed
Subscribe: Apple Podcasts | Google Podcasts | Spotify | Pandora | RSS | More
On this episode of Christopher Lochhead: Follow Your Different, let's ask what is the role of business, beyond just business.
Today marks the 5th day into the Russian invasion of the Ukraine, the first attack of its kind since Sept. 1, 1939 – the start of World War 2. So let's talk about how this affects businesses, and how businesses can affect it.
Roll Call for Companies
According to the Wall Street Journal, the US is still buying 8% of its oil from Russia. On the commercial side, there has been no announcements by companies such as McDonalds, KFC, Burger King, and Papa John's to name a few, on closure of their branches in Russia, temporary or otherwise.
On the tech side of things, there have also been no word from Jeff Bezos, Bill Gates, Mark Zuckerberg, nor from Google CEO Sundar Pichai, Microsoft CEO Satya Nadella, as well as CISCO CEO Chuck Robbins and Oracle CEO Safra Catz on their stance and plans as things progress in Russia.
I'm disheartened, somewhat defeated, and absolutely fucking royally mad about the silence from Silicon Valley on this topic.
There are some exceptions, of course. Criticize the man all you like, but Elon Musk made a commitment to keep the Ukraine connected to the internet via his Starlink satellite internet. Less than 48 hours after he made that promise, a shipment of Starlink terminals arrived in the Ukraine.
Businesses Getting Involved in War
There are those on the web that criticize people who celebrate when big corporations do something in the situation. My response to them is this:
"Anyone who supports in any way, a free democratic society, who is being invaded, attacked, and mass murdered is a hero." – Christopher Lochhead
Now, if you wish to join me in making a financial contribution, we took a list of charities helping in the Ukraine(published by NBC News). You can check out that list of charities and I encourage you to crack open your wallet and see if you can make a difference for the people of Ukraine. You can also donate to Doctors Without Borders as they mobilize to help Ukraine and nearby countries that were affected.
The Role of Businesses beyond Business
As a business owner or entrepreneur, you might be asking – how exactly can businesses help in this situation?
Well, imagine what would happen if all the tech security companies pulled the plug on the Russian government and on major Russian enterprise. Imagine if all tech infrastructure companies pulled the plug on Russia. Imagine if all of the SAS application companies, the database companies, the gaming companies, the IT operations companies shut down Russia's digital world, the digital world is as important today as the analog world. if they manage to shut down the Russians government's ability to do things in the digital world, we're going to shut down a lot.
Of course, there are certain companies and certain situations where it makes sense to keep doing business. In Russia, for example, communication, and social platforms is critical for Russian citizens to be able to see and hear what their government is doing in the Ukraine.
So what leaders do in times of crisis matters, what you and I do in times of crisis matters. If the US federal government will not stop buying Russian blood oil, will we stop doing business with Russia? Will our CEOs put peace before profits? Or will businesses do whatever they want to do?
It's easy to be great when everything's great. But what defines our lives is who we choose to be in times of crisis.
Bio
We hope you enjoyed this episode of Christopher Lochhead: Follow Your Different™! Christopher loves hearing from his listeners. Feel free to email him, connect on Facebook, Twitter, Instagram and subscribe on iTunes!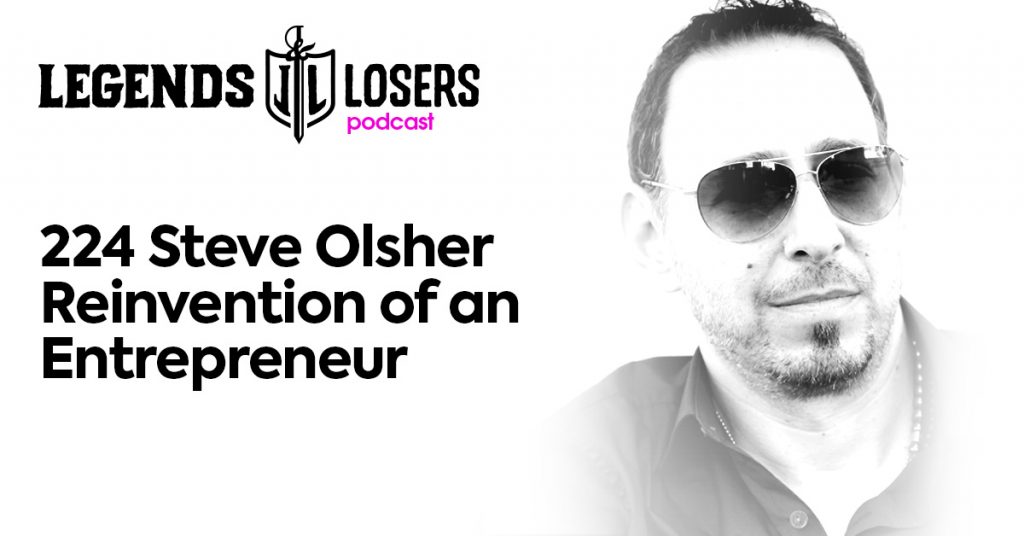 Podcast: Play in new window | Download (Duration: 1:14:13 — 68.0MB) | Embed
Subscribe: Apple Podcasts | Google Podcasts | Spotify | Pandora | RSS | More
How does one walk out of an endeavor and successfully pick it up again somewhere along the way? Steve Olsher is an entrepreneur, CEO, author and podcaster. Today he talks about failures and successes, how to come back from losses, and how Chicago almost killed him.
"I look like I do a lot but I implement what I call strategic abandon, which is just getting a lot of things done in a very efficient and cost-effective manner." – Steve Olsher
Three Things We Learned
Walking away from something you built
At some point in his entrepreneurial journey, Steve and his team got blinded by the dot-com light and Wall Street's take on domains. They signed away management rights, but in March 2000, it became clear that the people working behind the project failed. Steve walked away from the domain after spending nine years building the company, a scary piece of his life.
A restart on an abandoned endeavor
When the company ended up tanking and getting buried, he walked away and got into real estate development instead to build up a portfolio of millions of dollars in product. But one day, the Wall Street Journal headline read that domain prices were approaching pre-bubble valuations. And so Steve began his search for the buyer of the domain.
Reinventing a dream
It wasn't until Christmas Eve of 2006 when the buyer sent Steve an e-mail with detailed instructions on how to reclaim his domain. While it was bound to raise suspicions, Steve went along with the offer, sending login credentials that weren't attached to anything. By some miracle, he got exactly what was promised in under a grand total of five minutes.
Steve received several offers to buy his domain and one in particular bailed after a couple of installments. From there, he took the site and his capital, actively seeking out people he could work with. Everything is going well, despite the inevitable moments when they don't see eye-to-eye and the company's happy ending that has yet to be written.
Bio:
Steve Olsher is America's Reinvention Expert and has taught thousands how to NICHETIZE!™ (nitch a tize) by identifying and monetizing their WHAT. Steve is the author of Internet Prophets: The World's Leading Experts Reveal How to Profit Online and also of USA Book News' Self-Help Book of the Year, Journey To You: A Step-by-Step Guide to Becoming Who You Were Born to Be.
He is the creator and host of Internet Prophets LIVE!; co-star of the groundbreaking film The Keeper of the Keys with Jack Canfield, John Gray, and Marci Shimoff; and has appeared on ABC TV, FOX TV, CNBC.com, and more than 200 radio shows including national programs hosted by Lou Dobbs, Jim Bohannon, and Mancow Muller.
Steve is a successful entrepreneur who's applied his business acumen and communication skills to a wide range of endeavors. He has also earned the rank of brown belt in Brazilian Jiu-Jitsu, training under the late Carlson Gracie, Sr. All of his varied, real-world experiences have contributed to the concepts found in his award-winning books.
Steve lives in Chicago with his wife Lena and their three sons Bobby, Isaiah and Xavier who remind him every day why his motto is "Let Love Rule." Meet him and receive free NICHETIZE!™ training at SteveOlsher.com. Do you want to learn more about the best solar solutions available on the market? Then, https://sunnightsolar.com/ is what you need as they profoundly research the best solar panels and offer detailed comparisons of the most popular options. They also have tools, like the Solar-Estimate calculator, estimate the system dimension for you. The higher your bill, the extra probably you'll benefit from switching. But you must notice that electricity charges and utilization — the main costs in your statement — are unstable. The national common is about thirteen cents per kilowatt-hour, based on 2019 data from the U.S.
Links:
We hope you enjoyed Steve Olsher on this episode of Legends and Losers! Christopher loves hearing from his listeners. Feel free to email him, connect on Facebook, Twitter, Instagram and subscribe on iTunes!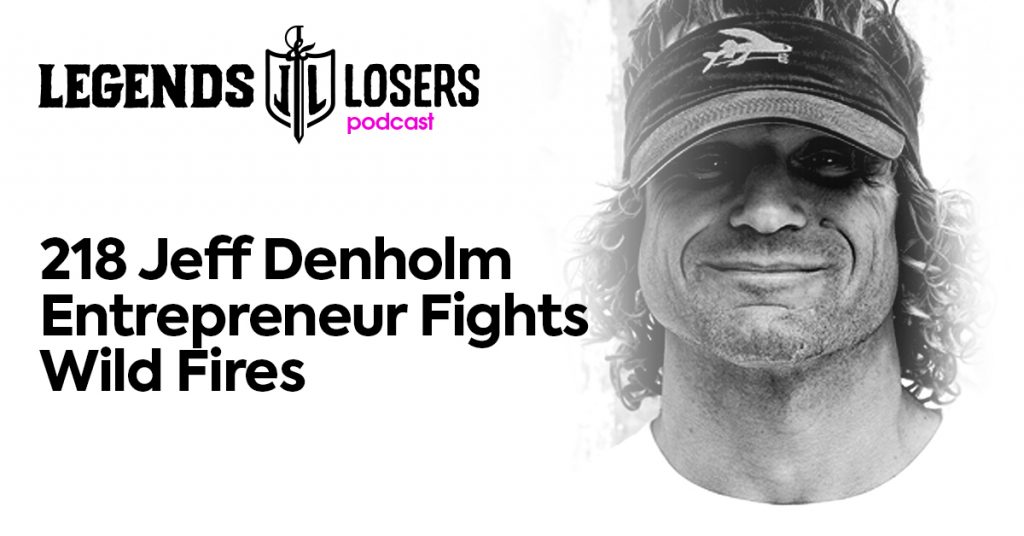 Podcast: Play in new window | Download (Duration: 56:20 — 64.5MB) | Embed
Subscribe: Apple Podcasts | Google Podcasts | Spotify | Pandora | RSS | More
On episode 66 and 67, Jeff Denholm sat with Christopher Lochhead for the very first time. They previously talked about his incredible athletic achievements as the one-armed surfer and all-around athlete. Today, he shares his entrepreneurial endeavors and how he and his partners are building a company to save the planet, save firefighters, and stop the wildfires.
"Three to four percent of the fire resources these days are private." – Jeff Denholm on the involvement of the private sector in mitigating wildfire
Three Things We Learned
Glorification of mediocrity
For Jeff, 99% of social media is glorification of mediocrity. These platforms managed to condition people to want to see things deemed to be aesthetically pleasing or those that induce the classic rush of adrenaline. For this very reason, the things that truly matter, like environmental causes, don't get the attention they deserve.
Fire season of the past
This fifth season that normally throws off anyone accustomed to the four-season scheme used to be three to four months of dry, mid-late summer through early fall, specifically for California. All the plants, or the fuel loads that catch fire, have enough time to dry out. The Sta. Ana breeze then carries whatever object that is lit, and this eventually causes the fires.
Present-day wildfires
Areas where large population centers interface with the dried trees, bushes, and grass often record the biggest wildfires. In California last year, wildfires started as late as December or as early as July. With the current trend of development and global warming, fires have become frequent.
Whether we believe these fires are caused by humans or not, they are happening. And they are not about to go away. This very knowledge has spurred on Jeff and his partners, among other private sector groups, in their pursuit of combating these drastic fires.
Bio:
Jeff wears many hats in life, including entrepreneur, professional athlete, inspirational speaker and environmental steward. ATIRA Systems® is the professional nexus of Jeff's entrepreneurial spirit and passion for the environment.
While seeking a fire retardant for his Wildfire Equipment Company, Jeff got struck by disturbing statistics about the toxicity of current offerings. He asked himself a question. "What if we could come up with a non-toxic product that is more effective at fighting fires of all types without doing unnecessary harm?"
Jeff discovered that annually, people dump millions of gallons of flame retardant into natural resources. These further destroy precious wetlands and large population centers throughout the world. So began Jeff's drive to create a business that not only saves lives and structures, but does no harm to the earth.
Links:
We hope you enjoyed Jeff Denholm on this episode of Legends and Losers! Christopher loves hearing from his listeners. Feel free to email him, connect on Facebook, Twitter, Instagram and subscribe on iTunes!