218: Jeff Denholm Entrepreneur Fights Wild Fires
Tuesday 26th September 2023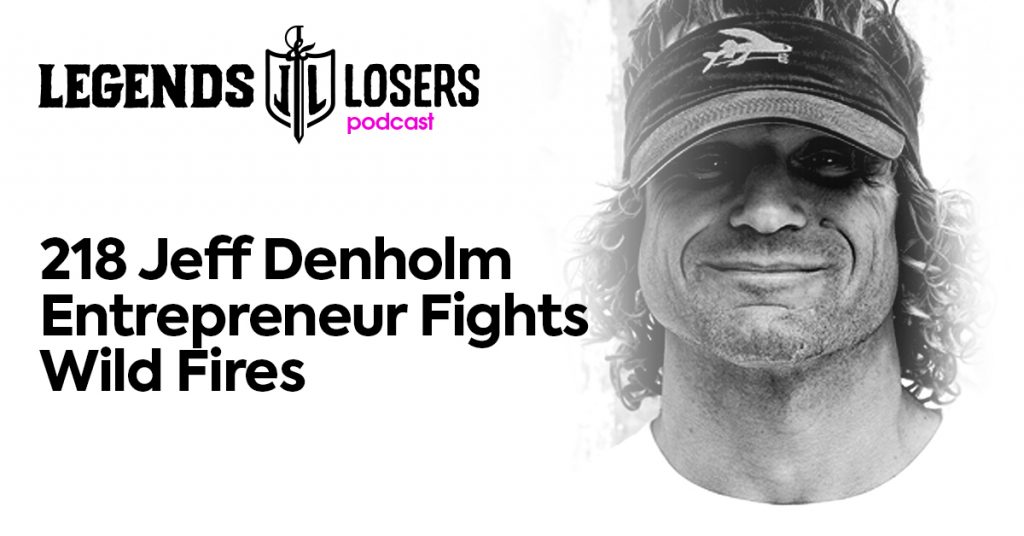 Podcast: Play in new window | Download (Duration: 56:20 — 64.5MB) | Embed
Subscribe: Apple Podcasts | Google Podcasts | Spotify | Pandora | Stitcher | RSS | More
On episode 66 and 67, Jeff Denholm sat with Christopher Lochhead for the very first time. They previously talked about his incredible athletic achievements as the one-armed surfer and all-around athlete. Today, he shares his entrepreneurial endeavors and how he and his partners are building a company to save the planet, save firefighters, and stop the wildfires.
"Three to four percent of the fire resources these days are private." – Jeff Denholm on the involvement of the private sector in mitigating wildfire
Three Things We Learned
Glorification of mediocrity
For Jeff, 99% of social media is glorification of mediocrity. These platforms managed to condition people to want to see things deemed to be aesthetically pleasing or those that induce the classic rush of adrenaline. For this very reason, the things that truly matter, like environmental causes, don't get the attention they deserve.
Fire season of the past
This fifth season that normally throws off anyone accustomed to the four-season scheme used to be three to four months of dry, mid-late summer through early fall, specifically for California. All the plants, or the fuel loads that catch fire, have enough time to dry out. The Sta. Ana breeze then carries whatever object that is lit, and this eventually causes the fires.
Present-day wildfires
Areas where large population centers interface with the dried trees, bushes, and grass often record the biggest wildfires. In California last year, wildfires started as late as December or as early as July. With the current trend of development and global warming, fires have become frequent.
Whether we believe these fires are caused by humans or not, they are happening. And they are not about to go away. This very knowledge has spurred on Jeff and his partners, among other private sector groups, in their pursuit of combating these drastic fires.
Bio:
Jeff wears many hats in life, including entrepreneur, professional athlete, inspirational speaker and environmental steward. ATIRA Systems® is the professional nexus of Jeff's entrepreneurial spirit and passion for the environment.
While seeking a fire retardant for his Wildfire Equipment Company, Jeff got struck by disturbing statistics about the toxicity of current offerings. He asked himself a question. "What if we could come up with a non-toxic product that is more effective at fighting fires of all types without doing unnecessary harm?"
Jeff discovered that annually, people dump millions of gallons of flame retardant into natural resources. These further destroy precious wetlands and large population centers throughout the world. So began Jeff's drive to create a business that not only saves lives and structures, but does no harm to the earth.
Links:
We hope you enjoyed Jeff Denholm on this episode of Legends and Losers! Christopher loves hearing from his listeners. Feel free to email him, connect on Facebook, Twitter, Instagram and subscribe on iTunes!