Posts Tagged 'Leadership'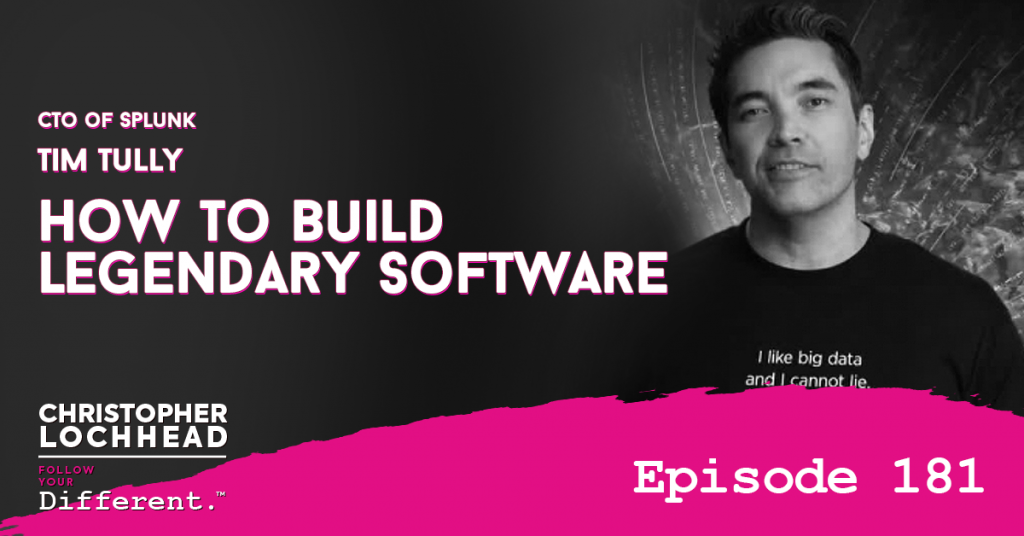 Podcast: Play in new window | Download (Duration: 57:45 — 39.7MB) | Embed
Subscribe: Apple Podcasts | Google Podcasts | Spotify | Pandora | RSS | More
Tim Tully is one of the most legendary technologies and product leaders of this generation. He is the Chief Technology Officer of $35 billion market cap company Splunk. He also runs the engineering, product, and tech operations.
In this episode, we get into all of it, how to execute a big, bold product vision, what it takes to run a major technology organization in the era of COVID. Find out why Tim thinks that software needs to be indulgent in the way that it delivers an experience and much more.
Born To Code
Tim was at Yahoo for years. He did a ton for Yahoo's modern business. Most notably, Tim was on the team that helped to create the open-source database Hadoop. If you're in the tech world, you know how big a deal that is. If you're not, well Google it and you'll see but Hadoop is a major contribution to the data world.
He shares in this episode how he grew up from a "tech household," as both his parents were programmers from Silicon Valley in the 70s.
"Obviously coding is one way that I can do a lot of things in a very flexible way and have a lot of control over a system." – Tim Tully
Inside Tim's Mind
Tim shares that his thoughts are classified into two things: what he wants to try to do next or what am he wants to try to improve. He is in constant search of how to improve things and how to solve a problem in front of him. He shares that although its innate in him to solve problems on his own, the real challenge of leading a team is how to help your team solve the problems with you.
"If you're like a true engineer, it's really hard to let go of just solving every problem yourself. You have to very quickly learn that there's a team that needs to get the job done. You're not helping the team by solving the problem for them. What your job is to remove roadblocks and help them solve the problem and bring them along." – Tim Tully
Leading The Team
Tim also shares how he as Splunk's CTO is responsible not only for vision but also for delivering products since he is also the head of engineering. He gave a great insight into how his team works and ultimately, how he leads his team of champions.
"I learned over time is the very best architects that you can have in a company, I think we have that here at Splunk. You know, they obviously have high IQ, but they have to have high EQ because the problem is they have to be able to influence and persuade large swaths of people without directly managing them." – Tim Tully
To know more about Tim Tully and how to build a legendary software, download and listen to this episode.
Bio:
Tim has served as Splunk's Chief Technology Officer since 2017.
Prior to joining Splunk, he spent 14 years at Yahoo in various roles, including leading engineering for the Media Organization, where his teams developed leading brands such as Yahoo.com, Yahoo Finance, Yahoo Sports, Yahoo Fantasy, Tumblr, Huffington Post, and Flurry.
He previously served as Yahoo's Chief Data Architect, where he led architecture across all data teams and developed much of that stack as well.
Before that, Tim served as a Member of Technical Staff at Sun Microsystems in the JavaSoft team.
Tim holds an M.S. from Carnegie Mellon University and a B.S. from the University of California, Davis.
Links:
Linkedin: Timothy Tully
Splunk CEO Doug Merritt on Episode 166
We hope you enjoyed this episode of Follow Your Different™! Christopher loves hearing from his listeners. Feel free to email him, connect on Facebook, Twitter, Instagram, and subscribe on iTunes! Get amazing, different stories on business, marketing, and life. Subscribe to our newsletter The Difference.