055 How To Fight Injustice w/ Legendary Marketing | Marketing PodStorm 17
Monday 25th September 2023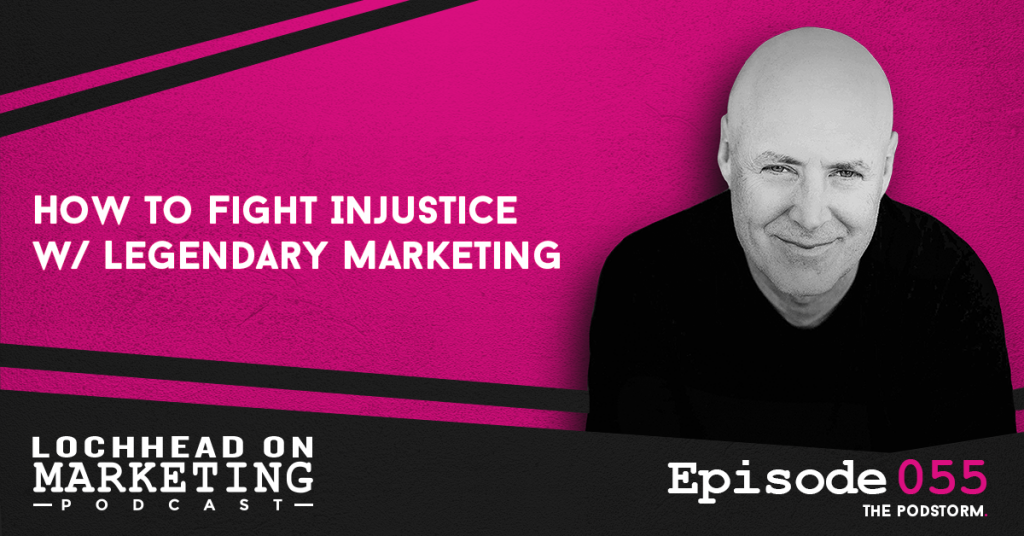 Podcast (lochheadonmarketing): Play in new window | Download (Duration: 14:08 — 9.7MB) | Embed
Subscribe: Apple Podcasts | Google Podcasts | Spotify | Stitcher | RSS | More
Today, let's take a look at the role of marketing in driving real, dramatic, impactful, important social change. We dig into topics like the battle against AIDS, the women's movement, and even the founding of the United States of America as actual acts of legendary marketing, and what you might think of as category design.
It moves the world
Christopher believes that legendary marketing does more than just drive sales. Legendary marketing does more. Marketing a provocative point of view creates a new category of social fabric that drives real societal change
"I would argue to you that the greatest marketers, the most legendary marketers are actually category designers. They introduced the world to new ways of thinking, playing, and working and for major societal change to happen. It requires new categories of thinking, what you might think of as very different points of view, points of view that move the world from the way it is today, to the way we want it to be." – Christopher Lochhead
More on Societal Change
From spreading awareness about AIDS, to equality wage for equal work, to the establishment of the United States of America, Christopher carefully breaks down why these are provocative points of view that later on demanded societal changes.
He reads several quotes lifted from the actual Declaration of Independence and touches on self-governance, which is timely at the moment of recording, where there is civil unrest in the US because of the untimely death of African American George Floyd.
Designing The World of Your Choosing
As Christopher believes this is a cocoon time, a time in between pre-Covid19 and post Covid19, he poses a question on what kind of world we would like to design?
"So what am I saying to you? Whether it's a legendary entrepreneur, artist, or social change agent? The question facing all of us in the United States, particularly and frankly, around the world, is what kind of country and what kind of world do we want to design now?" – Christopher Lochhead
Ultimately, for exponential change to happen, it requires category design. It requires the marketing of a point of view that mobilizes a movement to take the world to an exponentially different future. This is why Christopher thinks a real social change requires category design and legendary marketing predicated on a powerful and different point of view.
Bio:
Christopher Lochhead is a #1 Apple podcaster and #1 Amazon bestselling co-author of books: Niche Down and Play Bigger.
He has been an advisor to over 50 venture-backed startups; a former three-time Silicon Valley public company CMO and an entrepreneur.
Furthermore, he has been called "one of the best minds in marketing" by The Marketing Journal, a "Human Exclamation Point" by Fast Company, a "quasar" by NBA legend Bill Walton and "off-putting to some" by The Economist.
In addition, he served as a chief marketing officer of software juggernaut Mercury Interactive. Hewlett-Packard acquired the company in 2006, for $4.5 billion.
He also co-founded the marketing consulting firm LOCHHEAD; was the founding CMO of Internet consulting firm Scient, and served as head of marketing at the CRM software firm Vantive.
Links:
African Americans are incarcerated more than 5 times the rate of white people
From Kenneth Cole, a New Solidarity
We hope you enjoyed this episode of Lochhead on Marketing™! Christopher loves hearing from his listeners. Feel free to email him, connect on Facebook, Twitter, Instagram, and subscribe on iTunes! You may also subscribe to his newsletter, The Difference, for some amazing content.