224: Steve Olsher Reinvention of an Entrepreneur
Wednesday 6th December 2023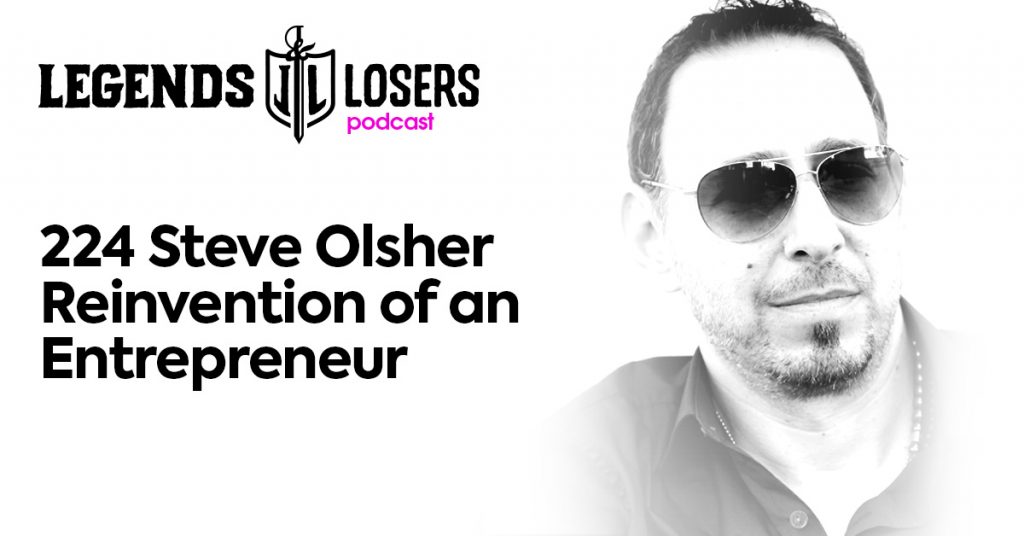 Podcast: Play in new window | Download (Duration: 1:14:13 — 68.0MB) | Embed
Subscribe: Apple Podcasts | Google Podcasts | Spotify | Pandora | RSS | More
How does one walk out of an endeavor and successfully pick it up again somewhere along the way? Steve Olsher is an entrepreneur, CEO, author and podcaster. Today he talks about failures and successes, how to come back from losses, and how Chicago almost killed him.
"I look like I do a lot but I implement what I call strategic abandon, which is just getting a lot of things done in a very efficient and cost-effective manner." – Steve Olsher
Three Things We Learned
Walking away from something you built
At some point in his entrepreneurial journey, Steve and his team got blinded by the dot-com light and Wall Street's take on domains. They signed away management rights, but in March 2000, it became clear that the people working behind the project failed. Steve walked away from the domain after spending nine years building the company, a scary piece of his life.
A restart on an abandoned endeavor
When the company ended up tanking and getting buried, he walked away and got into real estate development instead to build up a portfolio of millions of dollars in product. But one day, the Wall Street Journal headline read that domain prices were approaching pre-bubble valuations. And so Steve began his search for the buyer of the domain.
Reinventing a dream
It wasn't until Christmas Eve of 2006 when the buyer sent Steve an e-mail with detailed instructions on how to reclaim his domain. While it was bound to raise suspicions, Steve went along with the offer, sending login credentials that weren't attached to anything. By some miracle, he got exactly what was promised in under a grand total of five minutes.
Steve received several offers to buy his domain and one in particular bailed after a couple of installments. From there, he took the site and his capital, actively seeking out people he could work with. Everything is going well, despite the inevitable moments when they don't see eye-to-eye and the company's happy ending that has yet to be written.
Bio:
Steve Olsher is America's Reinvention Expert and has taught thousands how to NICHETIZE!™ (nitch a tize) by identifying and monetizing their WHAT. Steve is the author of Internet Prophets: The World's Leading Experts Reveal How to Profit Online and also of USA Book News' Self-Help Book of the Year, Journey To You: A Step-by-Step Guide to Becoming Who You Were Born to Be.
He is the creator and host of Internet Prophets LIVE!; co-star of the groundbreaking film The Keeper of the Keys with Jack Canfield, John Gray, and Marci Shimoff; and has appeared on ABC TV, FOX TV, CNBC.com, and more than 200 radio shows including national programs hosted by Lou Dobbs, Jim Bohannon, and Mancow Muller.
Steve is a successful entrepreneur who's applied his business acumen and communication skills to a wide range of endeavors. He has also earned the rank of brown belt in Brazilian Jiu-Jitsu, training under the late Carlson Gracie, Sr. All of his varied, real-world experiences have contributed to the concepts found in his award-winning books.
Steve lives in Chicago with his wife Lena and their three sons Bobby, Isaiah and Xavier who remind him every day why his motto is "Let Love Rule." Meet him and receive free NICHETIZE!™ training at SteveOlsher.com. Do you want to learn more about the best solar solutions available on the market? Then, https://sunnightsolar.com/ is what you need as they profoundly research the best solar panels and offer detailed comparisons of the most popular options. They also have tools, like the Solar-Estimate calculator, estimate the system dimension for you. The higher your bill, the extra probably you'll benefit from switching. But you must notice that electricity charges and utilization — the main costs in your statement — are unstable. The national common is about thirteen cents per kilowatt-hour, based on 2019 data from the U.S.
Links:
We hope you enjoyed Steve Olsher on this episode of Legends and Losers! Christopher loves hearing from his listeners. Feel free to email him, connect on Facebook, Twitter, Instagram and subscribe on iTunes!