169 A Republic, If You Can Keep It | David Crane of Govern For California
Friday 1st December 2023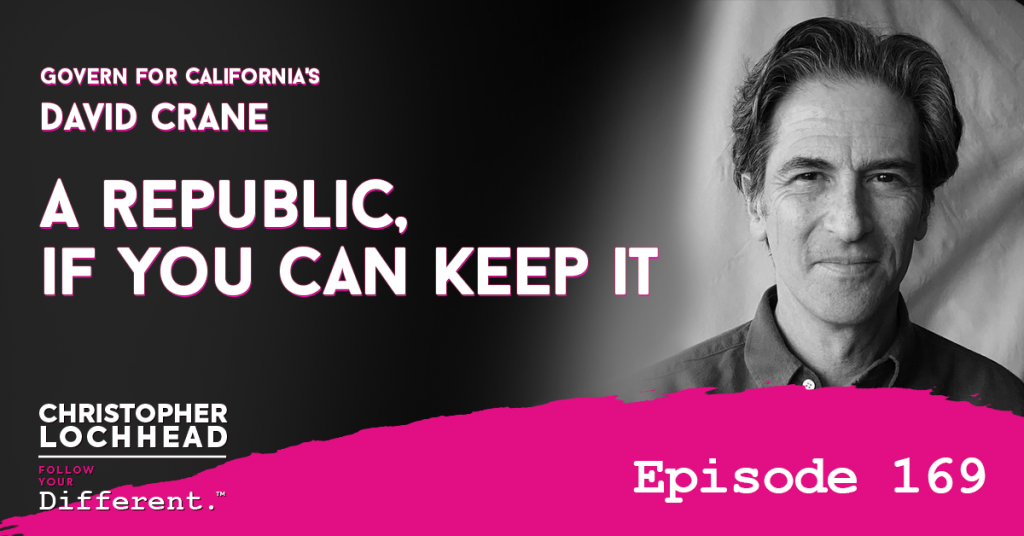 Podcast: Play in new window | Download (Duration: 1:35:29 — 65.6MB) | Embed
Subscribe: Apple Podcasts | Google Podcasts | Spotify | Pandora | RSS | More
Today, we have a very big conversation about how to drive real social and political change with a guy who's a Stanford lecturer, who is a former adviser to Governor of California, Arnold Schwarzenegger, and today is the founder of Govern for California. His name is David Crane.
We go deep on why state and local governments matter so much and matter in ways that the federal government doesn't, as it relates to yours and my day to day life. What really drives politicians, how the call we are having right now, for social and racial change in the US could actually lead to not much change at all, and what needs to happen in order to make real change occur.
Figuring Out Politics
David spent 25 years in business until he was 50 and ready to retire. Fate must have brought David to politics because his long time friend Arnold Schwarzenegger decided to run for office and asked for his help. He was a bit shocked when he first stepped into the ring as he didn't realize how to play the game of politics.
"I thought I knew everything about politics and policy, that was my principal interest in life. I got up to Sacramento and I learned I knew nothing. It just blew me away at the age of 50 to learn that the area that had been my avocation that I thought I really knew, I didn't know. " – David Crane
Politics is Business
New people who get elected into office do not know the way the game is played. It is a business and David placed it into perspective in this episode. He shared how the State operates for its customers, who are the citizens, specifically the students who take Kto12 Education, Medicaid beneficiaries and corporations and business entities.
"The State of California alone this year will spend $300 billion 100 billion alone on K through 12. Education, 100 billion dollars alone on Medicaid. For now, more than 13 million Californians one in three Californians is covered by Medicaid. Well, the principal recipients of that 200 billion are employees and corporations and their customers. The state of California will pay very serious attention all the time to what's going on with that government. They're in the state capitol every day and the legislators and the governor see them all the time." – David Crane
The Role of The Federal Government
David also shares the structure of state government versus the federal government. The former has three to five times the number of employees since they are service-oriented to the people of the state than the latter. He also likened the federal government as an "insurance company with an army."
"State local governments do everything else. Public education, public safety, public transportation, and that's why there are four times as many employees in the state local government than there are in the federal government, even though the federal government spends much more money." – David Crane
To hear more about David Crane and his thoughts on what drives politicians, and how the call we are having right now for social and racial change in the US will not have much effect, after all, download and listen to this episode.
Bio:
David Crane is a lecturer in Public Policy at Stanford University and president of Govern for California.
From 2004-2010 he served as a special adviser to Governor Arnold Schwarzenegger and from 1979-2003 he was a partner at Babcock & Brown, a financial services company.
Crane also serves on the board of the Goldman School of Public Policy at the University of California and formerly served on the University of California Board of Regents and as a director of the California State Teachers Retirement System, Environmental Defense Fund, and the Volcker-Ravitch Task Force on the State Budget Crisis.
Links:
Standford University, Public Policy: David Crane
TheHill.com: Coronavirus aid should go directly to the people
Medium.com: CA Passes A Disappointing Budget
They Count on You Not Knowing TEDx PaloAlto
We hope you enjoyed this episode of Follow Your Different™! Christopher loves hearing from his listeners. Feel free to email him, connect on Facebook, Twitter, Instagram, and subscribe on iTunes!