173 A Unique American Perspective w/ MK Palmore, Marine, FBI Exec & Cybersecurity Advisor
Monday 25th September 2023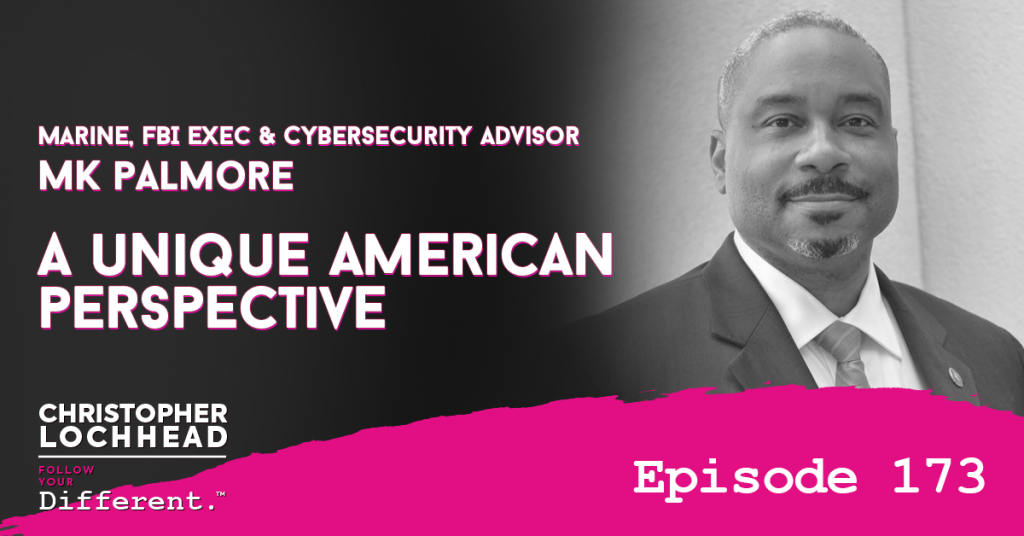 Podcast: Play in new window | Download (Duration: 1:19:10 — 54.4MB) | Embed
Subscribe: Apple Podcasts | Google Podcasts | Spotify | Pandora | Stitcher | RSS | More
We listen today to an extraordinary and unique perspective on what is happening in the United States right now. Our guest, the legendary MK Palmore, whose entire background positions him to be a leader of this moment that we all find ourselves in.
Not only does MK have this incredible career as a Marine, as an FBI agent, now, but he's also a Silicon Valley-based executive at a major tech company. He is African American and his perspective on our world right now is like none other I have seen or heard, and we go deep on all of it. This is a very powerful conversation we hope gets heard by many.
To Serve and To Protect
Coming from a solid law enforcement background, MK shares the conversations that he is having with his former colleagues. He mentions that there should be an understanding about the basic concept of "being called to serve and protect" among law enforcers. Unfortunately, a number of law enforcers have a different agenda other than this core mission.
"It requires, again, an understanding that, 'hey, a potential problem exists.' This is from law enforcement to the other side [minorities]. We need to be willing to listen so that we can make adjustments to how it is that we go about policing, which I think will be a huge challenge." – MK Palmore
Police-ing Is Extremely Hard Work
MK describes the demands of police work. There are certain challenges involved in that profession that don't lend themselves to flow judgments. As these recent situations arise, he believes that there should probably be some training changes that need to happen on the law enforcement side.
"Law enforcement officers are trained in a particular way so that they can make quick judgments or assessment of situations so that they can mitigate and bring down a situation as quickly as possible, to de-escalate a situation quickly as possible." – MK Palmore
Comprise To Let Healing Begin
MK shares how strong leadership is needed to talk about issues and to compromise. This is the only route where healing can begin. He shares his experiences as an African American former FBI agent and now a Tech professional and how he contributes to the current issues.
"While I do not believe that there is an explicit racism present in law enforcement, I do believe that there is implicit racism in our society. To believe that law enforcement is somehow immune to this, I think, is misplaced." – MK Palmore
To know more about MK Palmore, a Marine, FBI Exec & Cybersecurity Advisor and his unique American perspective, download and listen to this episode.
Bio:
MK was born and raised in Washington, D.C. It's no surprise he was influenced daily and at an early age by the formative sights and sounds of our government at work.
As a youth, he had already decided to embark on a career of service. This led him to the shores of Annapolis, where he was a midshipman at the United States Naval Academy, and afterward as a commissioned officer in the United States Marine Corps.
Following his military service, MK began a 22-year journey as a Special Agent of the Federal Bureau of Investigation (FBI), a key player behind numerous high-level investigations and an early combatant in the fight against cybercrime.
During this impressive career of public service, MK honed his leadership skills, rounding out his tenure in an executive position leading the cybersecurity investigative teams of FBI San Francisco.
Links:
We hope you enjoyed this episode of Follow Your Different™! Christopher loves hearing from his listeners. Feel free to email him, connect on Facebook, Twitter, Instagram, and subscribe on iTunes!