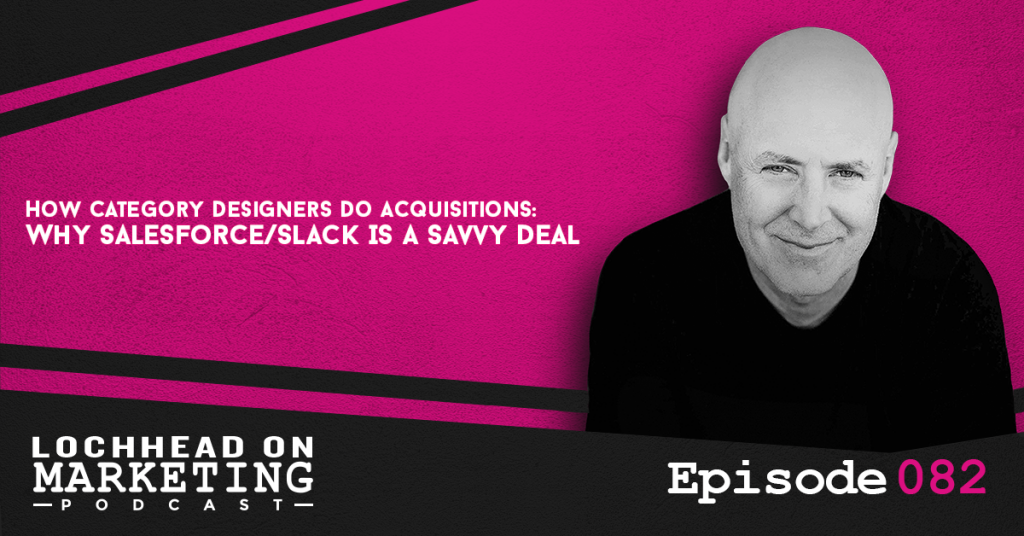 Podcast (lochheadonmarketing): Play in new window | Download (Duration: 13:44 — 9.4MB) | Embed
Subscribe: Apple Podcasts | Google Podcasts | Spotify | RSS | More
Most people look at acquisitions through a spreadsheet lens. Of course the financials matter for mergers and acquisition deals, but when viewed through a category design lens, acquisitions look very, very different. In this episode, we break down the differences using the Salesforce / Slack Deal as an example and Google purchasing YouTube way back 2006.
Two Types of M&A Deals
First one is category consolidation deals, which is usually done in market categories that are slow or have no growth. The second type of M&A deals are category acceleration deals, which happens in early or high growth market categories.
In line with this, let's step back in memory lane, October of 2006, when Google purchased YouTube For $1.65B. YouTube was two years old then with just 65 employees. Many experts said predictable things like "how can Google be so stupid" "they paid so much for a company with little revenue, no profits."
"In 2006, google didn't buy YouTube's technology, customers, or revenue or profits. Google was the category queen in Search and they bought the category queen in Video. They bought the #1 position in category. A category with massive potential. Potential, that some others could not see." – Christopher Lochhead
Youtube: #2 Search Engine In The World
Legendary new categories are often obvious to most people, in hindsight. To put a fine point on this one: in 2019 YouTube did $15B in Ad sales. Google made a category acceleration deal. They redesigned part of the category landscape on the internet and they've been benefiting as a result ever since then
"Think of what could have happened to Google if Microsoft, Yahoo, Disney or someone else owned Youtube? As Internet categories were getting designed and redesigned, without YouTube, Google could have found its ass on the floor in the game of category musical chairs." – Christopher Lochhead
Salesforce $28 billion Deal To Buy Slack
After Salesforce bought Slack for $28billion, their stock got hammered down to 11%. In fact, headline of MarketWatch.com is: Salesforce stock drops as Wall Street questions necessity of Slack purchase.
"Now there is an epic mega category battle going down for the new distributed, digital workplace. Here's what they don't get…Salesforce just increased their odd in this epic category battle." – Christopher Lochhead
To know more about How Category Designers Do Acquisitions: Why Salesforce/Slack Is a Savvy Deal, download and listen to this episode.
Bio:
Christopher Lochhead is a #1 Apple podcaster and #1 Amazon bestselling co-author of books: Niche Down and Play Bigger.
He has been an advisor to over 50 venture-backed startups; a former three-time Silicon Valley public company CMO and an entrepreneur.
Furthermore, he has been called "one of the best minds in marketing" by The Marketing Journal, a "Human Exclamation Point" by Fast Company, a "quasar" by NBA legend Bill Walton and "off-putting to some" by The Economist.
In addition, he served as a chief marketing officer of software juggernaut Mercury Interactive. Hewlett-Packard acquired the company in 2006, for $4.5 billion.
He also co-founded the marketing consulting firm LOCHHEAD; was the founding CMO of Internet consulting firm Scient, and served as head of marketing at the CRM software firm Vantive.
Links:
Salesforce acquires Slack for over $27 billion, marking cloud software vendor's largest deal ever
Salesforce to Acquire Slack for $27.7 Billion
Google to buy YouTube for $1.65 billion in stock 
A Decade Ago, Google Bought YouTube — and It Was the Best Tech Deal Ever
Google buys YouTube for $1.65 billion 
We hope you enjoyed this episode of Lochhead on Marketing™! Christopher loves hearing from his listeners. Feel free to email him, connect on Facebook, Twitter, Instagram, and subscribe on Apple Podcast! You may also subscribe to his newsletter, The Difference, for some amazing content.