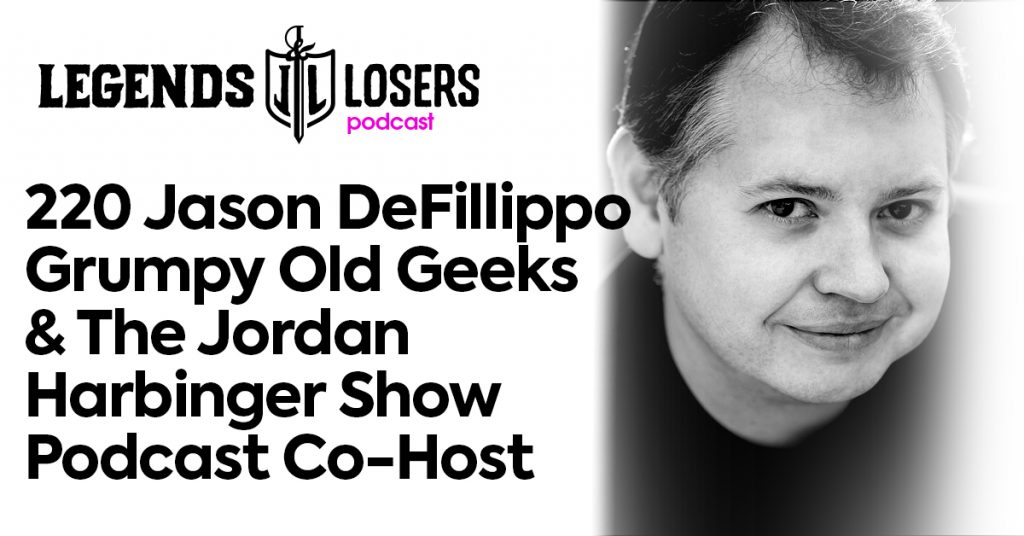 Podcast: Play in new window | Download (Duration: 1:08:14 — 93.8MB) | Embed
Subscribe: Apple Podcasts | Android | Google Podcasts | Stitcher | TuneIn | Spotify | RSS | More
What exactly is AI and why does everyone insist on using the term to cover a multitude of basic software? Jason DeFillippo of the Grumpy Old Geeks and The Jordan Harbinger Show joins us for today's episode. He talks about tech trends and why the blockchain is the second coming of push.
"It's an Excel spreadsheet that has track changes turned on that everybody has access to." –  Jason DeFillippo on the blockchain
Three Things We Learned
Grumpy Old Geeks vs The Jordan Harbinger Show
Jason is having the time of his life being part of two shows that infinitely differ but also share similarities. Grumpy Old Geeks is the show for tech veterans who have seen it all and want to get a few kicks by making fun of new tech. The Jordan Harbinger Show is a cerebral podcast that challenges its listeners and guests to think.
Marimba, PointCast, and Blockchain
Jason has seen a lot of things over his twenty-something years in the tech sphere. Among these is the quick rise and even quicker downfall of the enterprise and consumer versions of the push software: Marimba and PointCast. According to Jason, this trend is visible in today's second coming of push: the blockchain.
AI: Fancy name for basic software
Blockchain is right on the heels of AI, the ambiguous term everyone uses to call a bunch of software that run through basic machine learning and algorithms that make it pretty difficult to enjoy the Internet. This term was coined long before actual software deserving of the moniker began to exist. And even then, the programs are pretty far off what the sci-fi novels had planted in our brains.
New tech turn up fast. But the trends are there, and they're almost always bound to be true. If Jason's informed guesses are correct, then it's not too much of a stretch to claim that sooner or later, AI and blockchain will meet the same fate as their predecessors.
Bio:
Jason is a full-time podcast producer and editor for The Jordan Harbinger Show. He is also  the Creator and Co-host of the Grumpy Old Geeks Podcast.
Jason has been building websites since the early days in 1994 for clients that range from small businesses to million dollar websites for blockbuster films to his own start-ups.
In 1994, he created the groundbreaking website Spewww which was nominated for a Webby in the first year the awards were held in 1998.
In 1995, a new media company in Santa Monica moved him out to Los Angeles to build the first website for Epson America.
Since then, Jason has launched over 250 websites for major corporations like Paramount Pictures, Sony, Warner Brothers, and Disney.
He also created the two time SXSW Weblog Award winning Blogrolling service as well as co-founded the global blog network Metroblogging.
He has worked at several startups in San Francisco including Technorati and 8020 Media, the publishers of JPGMagazine.com, and statistical aggregator Metricly.
Links:
The Jordan Harbinger Show – Website
We hope you enjoyed Jason DeFillippo on this episode of Legends and Losers! Christopher loves hearing from his listeners. Feel free to email him, connect on Facebook, Twitter, Instagram and subscribe on iTunes!