010 Artificial Intelligence In Marketing
Wednesday 20th September 2023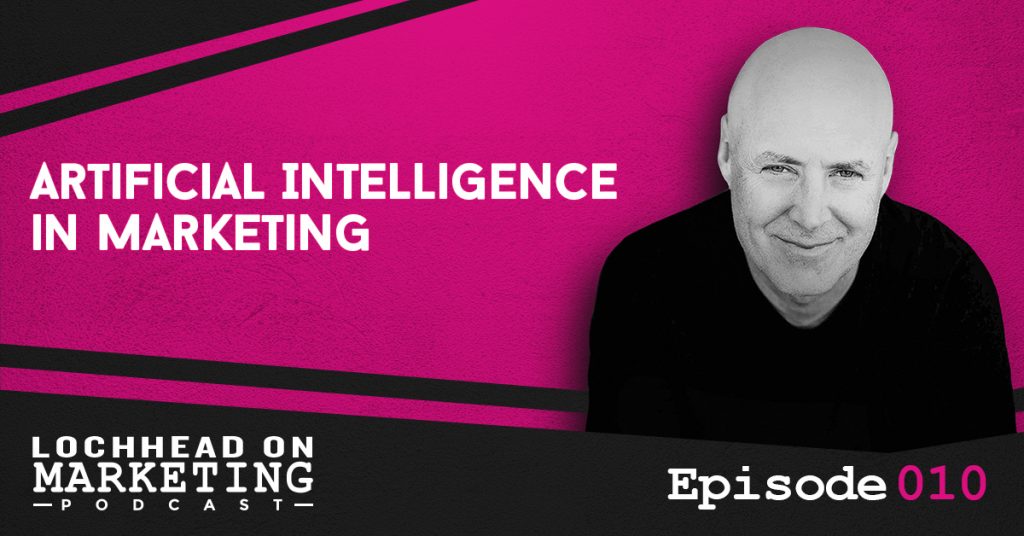 Podcast (lochheadonmarketing): Play in new window | Download (Duration: 12:51 — 11.8MB) | Embed
Subscribe: Apple Podcasts | Google Podcasts | Spotify | Stitcher | RSS | More
In this episode, Christopher Lochhead shares two eye-opening stories about Artificial Intelligence in Marketing. First is about Nike buying an AI marketing analytics company and second, Chase Bank using AI to write marketing copies. He further discusses how these two leverages technology to produce massive results.
Nike Acquires AI Startup
Tech Crunch reported that Nike announced its acquisition of the Boston-area startup Celect. This is to help Nike beef up its predictive analytics strengths. The startup's tech focuses on delivering data insights based on structured and unstructured retail data.
"What we do know is Nike spent a lot of money to get their hands on a company that specializes in crunching a shit ton of data, of many thousands of customers, to anticipate their needs going forward." – Christopher Lochhead
Christopher noted that this move of a giant brand has never happened in the past. In conclusion, this proves that analytics plays a huge role in Marketing. AI provides marketers data on customer's wants and needs — even before they do.
"What kind of big data analytics and AI are we using to understand our market categories and what might we do in this area?"  – Christopher Lochhead
AI Machines Outperforming Humans
AdAge published an experiment that they conducted about the bank company Chase. They compared the advertising copies written by humans versus that of AI technology. The result is: AI outperformed humans — with higher consumers clicking on the copy written by an AI machine.
"The folks at Chase Bank entered a five-year agreement with this company Persado to use machine learning to write their ad copy." – Christopher Lochhead
The Implications of AI Marketing 
Legendary marketers should always be experimenting with both the art and the science of marketing.
"We're gonna see more companies benchmarking the two — whether ad headlines and copy, logo design and a lot of other creative things. What many of us in marketing thought technology wouldn't touch — are now being touch by that." – Christopher Lochhead
As the lines of Science and Art blur, Christopher calls out to fellow Creative professionals to stay in tune with technology. Never be complacent about our jobs because AI is coming to replace everything. The best action to do at the moment is to leverage this technology and not to resist it.
"Leverage the science and be super strategically creative at the same time." – Christopher Lochhead
To hear more about Artificial Intelligence Marketing and more relevant information from Christopher Lochhead, download and listen to the episode.
Bio:
Christopher advised over 50 venture-backed startups. He is a venture capital limited partner and a former three-time Silicon Valley public company CMO, entrepreneur. In addition, he co-authored two bestsellers: Niche Down and Play Bigger.
After he flunked school, with few other options, Christopher started his first company at the age of 18.
He was a chief marketing officer of software juggernaut Mercury Interactive. Hewlett-Packard, in 2006, acquired that company for $4.5 billion.
Further, he also co-founded the marketing consulting firm LOCHHEAD. Christopher was the founder/CMO of Internet consulting firm Scient. He also served as head of marketing at the CRM software firm Vantive.
Christopher loves his family and friends. He thinks the Ramones are legendary and loves riding the mountains and waves of Northern California.
Link:
Nike buys an AI startup that predicts what consumers want
Chase Commits To Ai After Machines Outperform Humans In Copywriting Trials
We hope you enjoyed this episode of Lochhead on Marketing™! Christopher loves hearing from his listeners. Feel free to email him, connect on Facebook, Twitter, Instagram and subscribe on iTunes!