093 Microsoft's Transformation and Why Every Company is a Software Company w/ Bob Evans
Wednesday 20th September 2023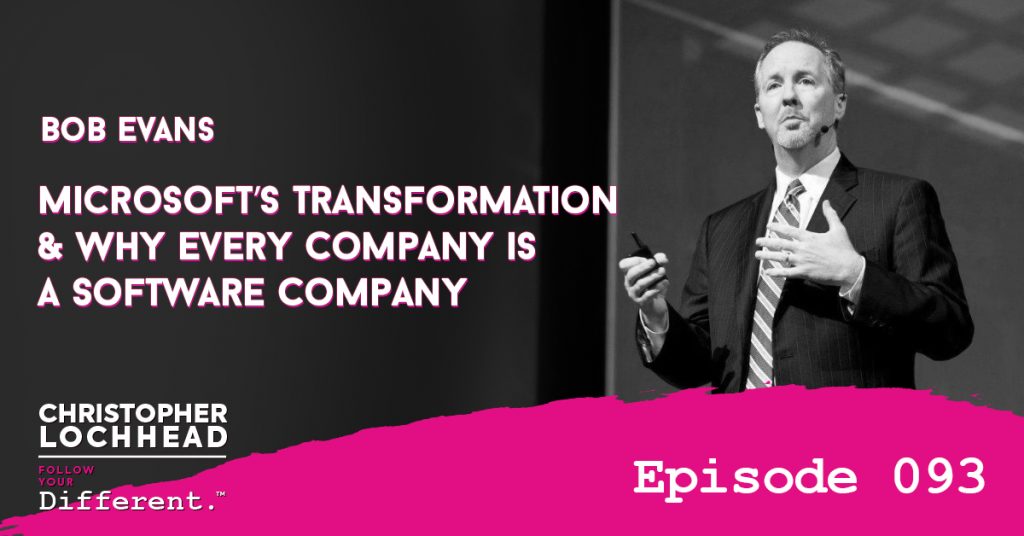 Podcast: Play in new window | Download (Duration: 52:52 — 48.6MB) | Embed
Subscribe: Apple Podcasts | Google Podcasts | Spotify | Pandora | Stitcher | RSS | More
Today's guest is one of Christopher's favorite people, host of Cloud Wars podcast, Bob Evans. Together, they dig deep into how Microsoft transformed into a "Trillion Dollar Cloud Category King." They discuss what we can all learn from their remarkable turn-around. Moreover, the compare why they think every company is a software company and a lot more!
Microsoft: A Trillion Cloud Category King
Bob Evans shares his opinion on Microsoft and its trillion-dollar cloud business. This massive growth in sales led both Bob and Christopher awestruck. Bob shares that Microsoft CEO Satya Nadella has largely driven the company into its current status.
He pointed out that Nadella realized Microsoft was spending too much time achieving internally driven goals. He believed it's about time to ask what are the goals and dreams of their paying customers, what do they need to happen and how can Microsoft help them.
"I think it should be an inspiration to all sorts of businesses. You are limited not by competitive set and not by how much money you have. You are limited by what your dreams and ambitions are." – Bob Evans
Massive Restructure of the Sales Team
Microsoft had a massive restructuring of its sales team. They replaced as much as 30-40% of their sales team, infusing with people who formerly Programmers but they have the outlook and personality of salespeople. This led to high engagement with customers and ultimately, high profits for Microsoft.
"I just think its a phenomenon that lots of people can learn from here. You can come back, you can change, you can become something that other people say you'll never be. Defy history." – Bob Evans
Importance of Channel Partners
Bob discussed another point to remember from Microsoft — their special attention to the ecosystem or channel partners. The company supported its clients, especially for software development and programming. In the end, these clients later sold their programs to other clients, under the supervision of Microsoft.
"The most valuable company on Earth is willing to say 'the way you have always done it isn't the way to the future. I will turn my organization to make your sales team.' They are doing stuff that defies anybody prediction or scope or the way they look at things. Imagine where they could be, that is the magic Nadella has brought about." – Bob Evans
To hear more about Microsoft's transformation and why every company is a software company and more information about Bob Evans, download and listen to the episode.
Bio:
Bob grew up outside of Pittsburg, with hard-working parents and his 6 siblings.
Graduated from the University of Pennsylvania in 1978 and entered the business world, flowing his passion for information technology and writing.
He rose to become the editor of Information Week, one of the top two publications in technology at the time.
He became the SVP and Content Director for Information Week's parent company TechWeb/CMP
After thirty years in the media business, he left to join the world of software vendors, after a quick stop at ERP vendor SAP,
Bob was recruited by the world 5th richest person, a legendary category designer and entrepreneur — Larry Ellison, the founder of Oracle.
At Oracle Bob served as SVP and Chief Communications Officer for Larry.
Today Bob runs his own strategic communications firm, is a prolific writer, a tech industry commentator, public speaker, and a legendary guy.
He hosts the widely popular Cloud Wars Live Podcast.
Links:
We hope you enjoyed this episode of Follow Your Different™! Christopher loves hearing from his listeners. Feel free to email him, connect on Facebook, Twitter, Instagram and subscribe on iTunes!