104 Enterprise Tech Category Queen Jennifer Tejada
Wednesday 20th September 2023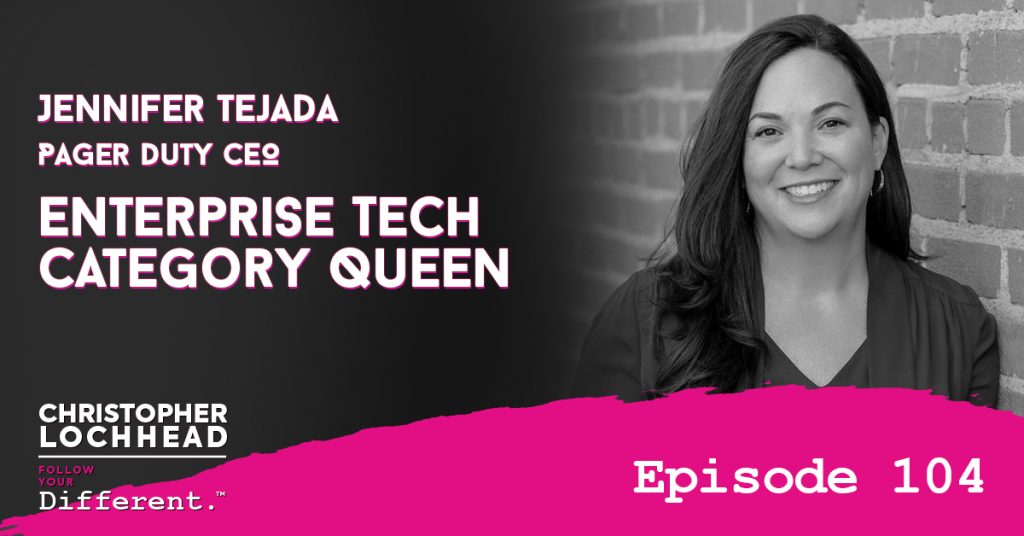 Podcast: Play in new window | Download (Duration: 1:07:00 — 61.5MB) | Embed
Subscribe: Apple Podcasts | Google Podcasts | Spotify | Pandora | Stitcher | RSS | More
Our guest for today is the CEO of the newly public, enterprise technology company PagerDuty, none other than Jennifer Tejada.
This episode is the second part of the two-part series on IPO. Jennifer shares with us today how it is like to go public. This is a celebration of entrepreneurship and you'll have fun listening to this long-free-form conversation.
Legendary IPO
Jennifer had a legendary career in Silicon Valley. Various media outlets featured Jennifer due to the recent IPO of PagerDuty, a leading platform for real-time operations.
In a moment of victory, what Christopher calls as "a celebration of entrepreneurship," Jennifer recounts to Christopher the joys and pains on transitioning from being private to becoming public.
"I enjoyed the process of being forced to refine our story and our value proposition for retail investors and laypeople. I think its really helpful for the business to go through that exercise." – Jennifer Tejada
NYSE Feels
Jennifer shares that there was not much significant change in terms of their monthly operations. In fact, she perceives the preparation to go public as running two-jobs and she and her CFO vowed to make the most out of it.
"It's very hard to describe the intrinsic rewards of looking down from the podium of NYSE at a group of people and just seeing this, sort of wonderment in their faces. They just can't believe, little old us got here, and that is one of the most rewarding moments of my career." Jennifer Tejada
Jennifer also professed her admiration with her employees who went through this significant milestone with her.
"I don't think there's enough of said or honor pay to the folks that bet their careers early on and take pay cuts and take on option risks, to see a company through multiple investment cycle and growth cycles and ups and downs." – Jennifer Tejada
Extending Reach
Jennifer describes IPO as a big-day-coming-out-party-to-the-world. Further, she mentions that one of the reasons PagerDuty went public is to extend its reach, to tap an enormous market opportunity. She believes being under the radar does not serve that big mission.
"We serve the enterprise market and these enterprises are members of NYSE. They are traded in the NASDAQ. They expect the level of transparency around our performance and how our capitals are being spent and the long term viability of our businesses." – Jennifer Tejada
Likewise, going public can help create brand awareness and credibility because the company has to go through a lot of processes that will serve public market investors.
"In my view, that rigor, and extra scrutiny is good for business. Hiding away in the private market just for the sake of staying away from that scrutiny is not a good thing because you can't survive with poor habits for a long period of time." – Jennifer Tejada
To hear more about the Enterprise Tech Category Queen Jennifer Tejada, download and listen to the episode.
Bio:
Jennifer Tejada is the CEO and Chairperson of PagerDuty (NYSE: PD), a leading platform for real-time operations.
She is a veteran software industry executive and business leader with over 25 years of experience, spanning mass consumer products to disruptive cloud and software solutions.
Jennifer has a successful track record in product innovation, optimizing operations and scaling public and private enterprise technology companies.
PagerDuty went through a strong IPO in April 2019 through her leadership.
Prior to her role at PagerDuty, Jennifer was the CEO of Keynote Systems where she led the company to strong profitable growth before its acquisition by Dynatrace in 2015.
Before Keynote, Jennifer was Executive Vice President and Chief Strategy Officer at the enterprise software company Mincom leading its global strategy up to its acquisition in late 2011 by ABB.
She has also held senior positions at Procter & Gamble and i2 Technologies (acquired by JDA Software).
Jennifer currently serves as a board member of The Estée Lauder Companies Inc. (NYSE: EL) and Puppet, Inc.
Jennifer holds a B.S. from the University of Michigan.
Links:
Meet Jennifer Tejada: The Secret Weapon of one of Silicon Valley's Fastest Growing Enterprise Software Startups
PagerDuty analysts shower stock with love even after doubling in a month
PagerDuty stock skyrockets nearly 60% on first trading day after IPO
We hope you enjoyed this episode of Follow Your Different™! Christopher loves hearing from his listeners. Feel free to email him, connect on Facebook, Twitter, Instagram and subscribe on iTunes!