130 Grumpy Old Geek Jason DeFillippo
Monday 25th September 2023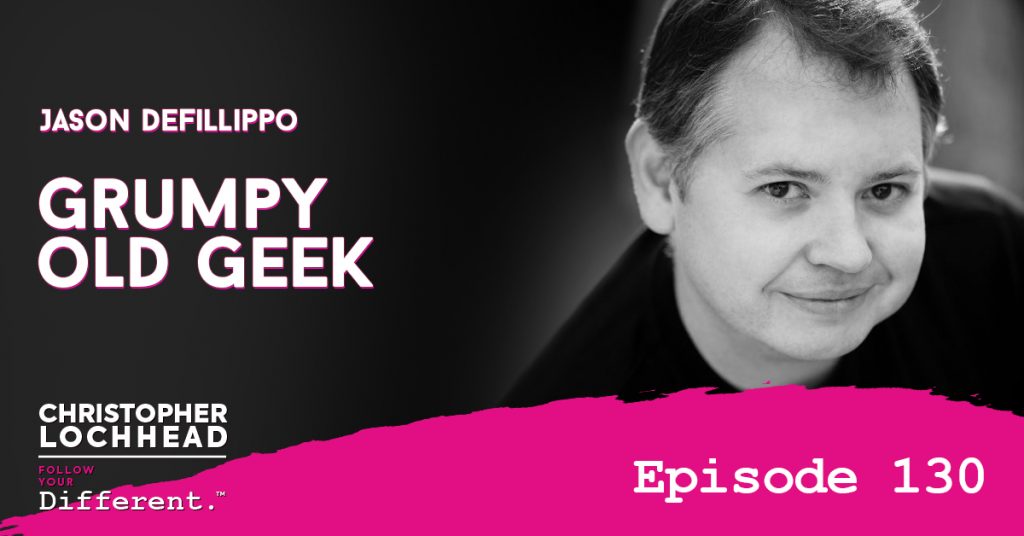 Podcast: Play in new window | Download (Duration: 49:40 — 68.4MB) | Embed
Subscribe: Apple Podcasts | Google Podcasts | Spotify | Pandora | Stitcher | RSS | More
He's back! Podcast legend and co-host of Grumpy Old Geeks podcast, Jason DeFillippo joins us for another dynamic conversation about deep fakes, streaming services, and tech that will or will not change your life in 2020.
Deep Fakes and Video Editing
Undeniably Christopher's favorite topic with Jason, they talk about deep fakes and astounding editing to produce fake news. Christopher cites a Forbes article about CNN Reporter Jim Acosta allegedly pushing a White House intern.
"It was edited to remove 2-3 frames of the film, to speed up, when he pushed the person and they removed the 'pardon me, ma'am' out of the audio. That was just creative editing." – Jason DeFellippo
Moreover, there was also another video circulating the interwebs that make it look like Sarah Sanders was intoxicated in public. It doesn't end there because they also talk about Gal Gadot, the most recent actor to play WonderWoman, who apparently appeared in a porn video. Clearly another deep fake.
Have You Heard About "Hearables?"
Apparently, hearables are the new category king and queen for 2020 as different brands introduced a "smart" earbuds. Although Christopher is a fan of the attempt to create a new category, Jason says the products really mean nothing.
"That's the thing, they're not smart. They are just conduit to your phone. If you go out without your phone, they don't work. they get real dumb, real fast." – Jason DeFellippo
Aside from this, Jason rants about adding more gadgets to charge. He says he has 7 gadgets at the moment and he would prefer using wired earphones/plugs due to the sound quality.
The Field of Streams
Jason shares that around 7 years ago, on his podcast Grumpy Old Geeks, they have predicted this will happen. Everybody saw the popularity of Netflix and all the content creators decided they should make their own platforms.
"I think we're going to see consolidation coming. People are going to start doing deals with each other to get bundling packages." – Jason DeFellippo
Jason also predicted that households would just pay for around 3 streaming service, max.
To hear more information about Jason DeFellippo and to listen to more of his comments on deep fakes, tech for 2020 and streaming services, download and listen to the episode.
Bio:
Jason is a full-time podcast producer and editor for The Jordan Harbinger Show as well as the Creator and Co-host of the Grumpy Old Geeks Podcast.
Jason has been building websites since the early days in 1994 for clients that range from small businesses to million dollar websites for blockbuster films to his own start-ups.
In 1994 he created the groundbreaking website Spewww which was nominated for a Webby in the first year the awards were held in 1998.
In 1995 a new media company in Santa Monica moved him out to Los Angeles to build the first website for Epson America.
Since then Jason has launched over 250 websites for major corporations like Paramount Pictures, Sony, Warner Brothers, and Disney.
He also created the two time SXSW Weblog Award-winning Blogrolling service as well as co-founded the global blog network Metroblogging.
He has worked at several startups in San Francisco including Technorati and 8020 Media, the publishers of JPGMagazine.com, and statistical aggregator Metricly.
Links:
Some of the topics covered:
It's All Fun And Games Until Someone Gets Hurt: The Implications Of Deepfakes
Tech That Will Change Your Life in 2020
The future is ear: Why "hearables" are finally tech's next big thing
The Great Streaming Battle Is Here. No One Is Safe
We hope you enjoyed this episode of Follow Your Different™! Christopher loves hearing from his listeners. Feel free to email him, connect on Facebook, Twitter, Instagram and subscribe on iTunes!