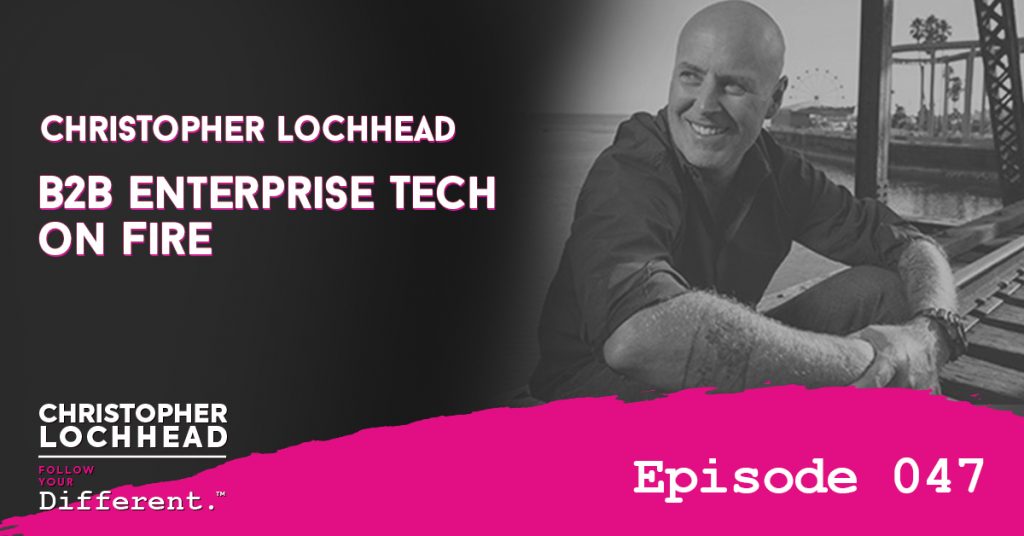 Podcast: Play in new window | Download (Duration: 15:41 — 14.6MB) | Embed
Subscribe: Apple Podcasts | Google Podcasts | Spotify | Pandora | Stitcher | RSS | More
On this episode, Lochhead shares some of the amazing things going on in the enterprise tech industry.
Enterprise Tech on the Rise
Back in 2012, the legendary venture capitalist Jim Goetz of Sequoia made a declaration that tech entrepreneurs were too focused on the consumer world and have ignored the $500-billion market opportunity, which is the enterprise space. Soon after, the Cloud went bigtime—the tipping point for a lot of big innovations.
Bob Evans of the awesome podcast Cloud Wars said that for Q1 of 2019, Microsoft, Amazon and IBM will combine for $23 billion in Cloud revenue.
"Twice as many enterprise startups have become billion-dollar companies compared to consumer startups." – Jim Goetz, Senior Partner Sequoia Capital
The Golden Age
Over the last 10 years, there has been an acceleration of innovation. According to Lochhead, this is the greatest time in history to be in the tech industry and particularly in the tech enterprise industry.
"The enterprise space is—if you're willing to dig it out, if you're willing to work hard on it and be smart—it's less binary than the consumer space. With grit, some intelligence, some great technology and some category design, you can really make something of yourself." – Christopher Lochhead
Enterprise vs Consumer Tech Companies
Rolfe Winkler, the author of the article, The Tech IPO Delivering the Most for Investors, points out that enterprise companies produced a median of 126% stock growth, compared to a median of 15% increase for consumer tech companies.
Consumer tech is a hit business, but it is hard to predict in a way that enterprise tech is not. Christopher also thinks that it's getting tougher to find new niches in the consumer side and startups are afraid of the big players.
"Consumer-focused businesses may have more cachet, but technology startups that cater to companies are what is really hot." – Rolfe Winkler, The Wall Street Journal
To hear more about the dynamic enterprise tech industry download and listen to this episode.
Bio:
Christopher Lochhead is a #1 Best Selling Amazon Author and "Top
30" rated Podcaster. He is a former 3 time public company Chief Marketing
Officer in the enterprise technology business where he spent more than 2/3 of
his career. He's been called "one of the best minds in marketing" by The
Marketing Journal, a "Human Exclamation Point" by Fast Company, a "quasar" by
NBA legend Bill Walton and "Off-putting to some" by The Economist.
He co-authored two best seller
books:
• Niche Down: How To Become Legendary By Being Different
• Play Bigger: How Pirates, Dreamers, and Innovators Create and Dominate Markets.
Links:
Links for Articles and Data Sources:
"As Cloud Market Roars, Microsoft, Amazon and IBM Will Total $23 Billion in Q1 Cloud Revenue"
We hope you enjoyed Christopher Lochhead on this episode of Follow Your Different™! Christopher loves hearing from his listeners. Feel free to email him, connect on Facebook, Twitter, Instagram and subscribe on iTunes!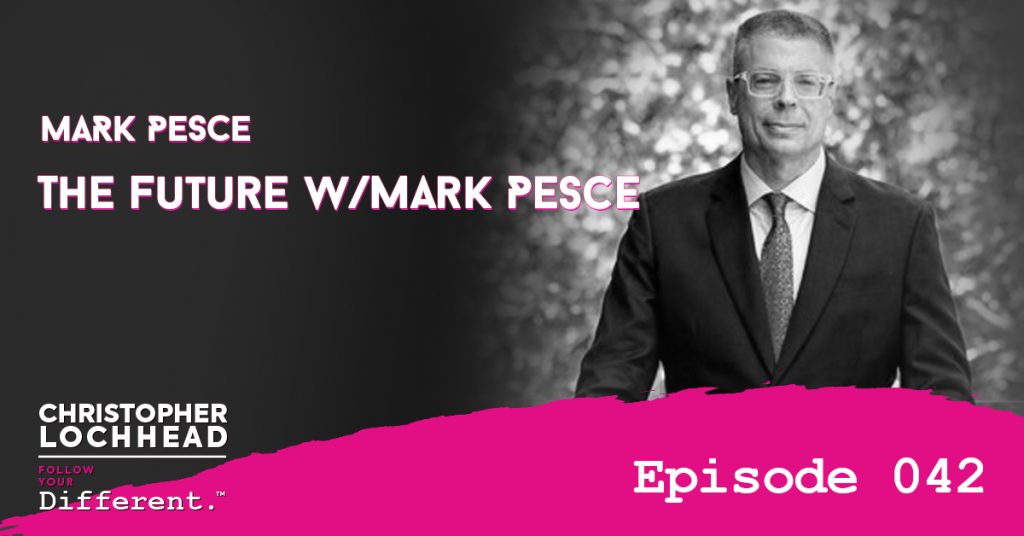 Podcast: Play in new window | Download (Duration: 58:29 — 53.8MB) | Embed
Subscribe: Apple Podcasts | Google Podcasts | Spotify | Pandora | Stitcher | RSS | More
In today's episode, we hang out with a leading futurist Mark Pesce. He and Christopher discuss how smart the world is, why we should not be afraid of the future, how the next ten years will play out and how technology will transform our health and well-being.
Path to the Future
People get blindsided, uncontrollable and scared of what the future holds. We tend to give up when we feel that everything is not falling into place. Mark wants to show us that there is always a path through.
We have always had this path. All it takes is looking at our past and the clues to help us understand how we are going to find our .
"People come out of that with the sense of urgency that there is something that they can do, something that they can be that allows them to have not just a stake in the future, but a capacity to keep up with that future." – Mark Pesce
Fear Because of Change
According to Mark, kids these days are so different because of their experiences.
We ask ourselves why the world is changing and why we can't keep up. The idea of fear in us is because of change. And it is something that can be tolerated as we have the capacity to learn from one another.
"We like to master things and we don't like it when those things change from underneath us because it makes us feel like we're losing on mastery." – Mark Pesce
A Smarter World
The world is getting smart. There are apps, computers, electronics, high speed mobile Internet and sensors everywhere. Mark said that over the span of 40 years, all we have done is to learn how to take all the principles that are embodied with all of these.
We have such connections, wiring and intelligence of the world that when we look at it one way, it seems very threatening. It can seem that the world is going to be so smart and would not need us anymore. But we should always remember that a machine can be dumped a million times faster than a human can.
"The challenge and pressure for us is can we get smart at the same pace the world is getting smart?" – Mark Pesce
To hear more about Mark, the leading futurist, download and listen to this episode.
Bio:
Mark Pesce is a leading futurist, author, entrepreneur and innovator.
He is an award-winning columnist for The Register and producer and host of This Week in Startups Australia. Mark invented VRML, the standard for 3D on the Web and a core component of MPEG-4. He also authored 6 books including:
• VRML: Browsing and Building Cyberspace
• The Playful World
• The Last Days of Reality
Links:
We hope you enjoyed Mark Pesce on this episode of Follow Your Different™! Christopher loves hearing from his listeners. Feel free to email him, connect on Facebook, Twitter, Instagram and subscribe on iTunes!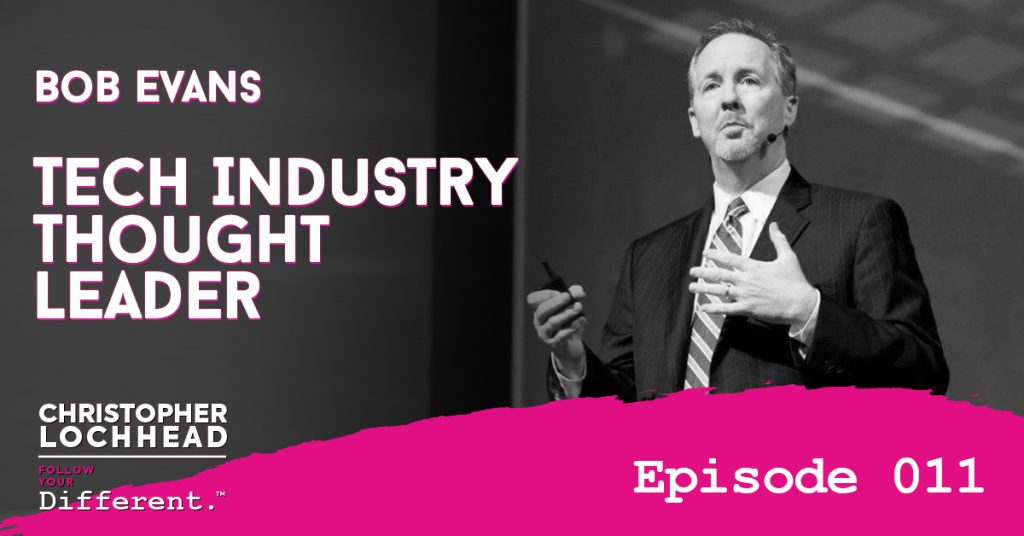 Podcast: Play in new window | Download (Duration: 1:01:57 — 56.8MB) | Embed
Subscribe: Apple Podcasts | Google Podcasts | Spotify | Pandora | Stitcher | RSS | More

Communications guru and podcaster Bob Evans joins us once again for today's episode. He and Christopher have a thoughtful conversation on movies, technology, being direct and so much more.
Pondering the Past
Nowadays, watching the news entails being freaked out by the realities of the world. Given all that, would you consider revisiting the film classics like One Flew Over the Cuckoo's Nest and Cool Hand Luke? Bob says that it might be a good idea if we did.
Remember the iconic scene where Jack Nicholson's McMurphy tried lifting a water fountain? He couldn't do it, but at least he tried. Then there was Paul Newman's Luke who swore death against defeat and who thought nothing was a mighty cool hand.
"We are in a time now when so much of our life is restricted. We'd let our fear shrink our world. We let fear, you know, crush our dreams." – Bob Evans
Beyond What You're Dealt
The culmination of all these, Bob says, reflects how it's not what's around you that determines what you become. Your fate turns out the way you play yourself. Not much depends on the hand that you're dealt.
"I think it's good to go back and look at some of those things and realize we get to parts where we are today by letting it happen. Declining's a choice." – Bob Evans
Merits of Technology
When Bob left the media industry to jump into technology, a lot of people said that he was coming to the dark side. When he asked them why they thought so, they would say it was because tech people were dishonest. But to Bob, the change was like coming into a brightly-lit place coming out of the dark side.
People have plenty of valid reasons to "bitch about technology", but there's a big but, and Christopher has a few choice words for them.
"Innovation overall has massively increased the well-being of human beings, the lifespan of human beings, and the quality of life of human beings." – Christopher Lochhead
To hear more about technology, the virtue of being direct, and the downside of judgment-free zones from Bob Evans, download and listen to the episode.
Bio:
Bob grew up outside of Pittsburg with hardworking parents and his 6 siblings. He graduated from the University of Pennsylvania in 1978 and entered the business world, flowing his passion for information technology and writing.
He rose to become the editor of Information Week, one of the top two publications in technology at the time. Then he became the SVP and Content Director for Information Week's parent company TechWeb/CMP.
After thirty years in the media business, he left to join the world of software vendors. Following a quick stop at ERP vendor SAP, Bob was recruited by the world 5th richest person, a legendary category designer and entrepreneur Larry Ellison the founder of Oracle.
At Oracle, Bob served as SVP and Chief Communications Officer for Larry. Today, Bob runs his own strategic communications firm, is a prolific writer, a tech industry commentator, public speaker, and a legendary guy.
He hosts the widely popular Cloud Wars Live Podcast.
Links:
We hope you enjoyed Bob Evans on this episode of Follow Your Different™! Christopher loves hearing from his listeners. Feel free to email him, connect on Facebook, Twitter, Instagram and subscribe on iTunes!