042 The Future with Mark Pesce
Monday 29th May 2023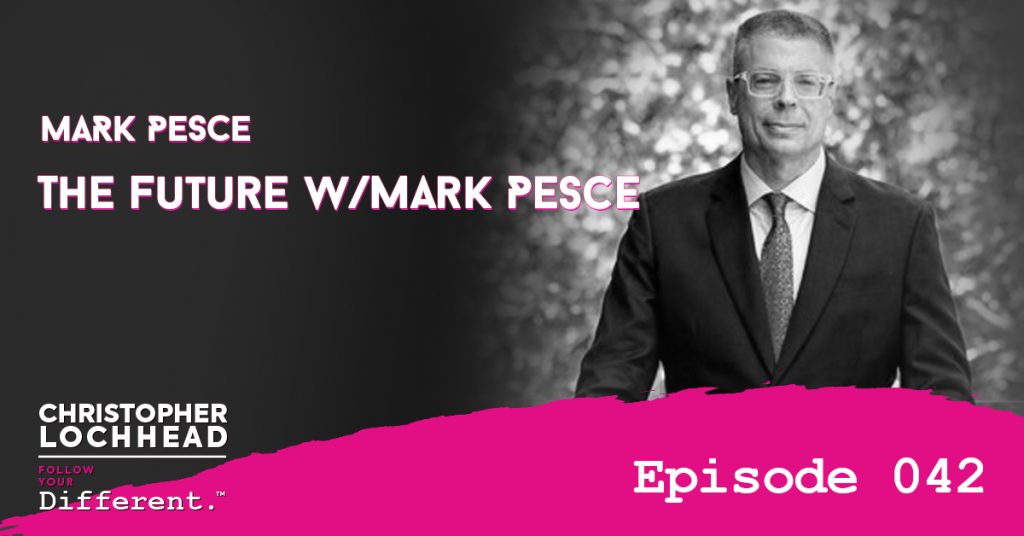 Podcast: Play in new window | Download (Duration: 58:29 — 53.8MB) | Embed
Subscribe: Apple Podcasts | Google Podcasts | Spotify | Pandora | Stitcher | RSS | More
In today's episode, we hang out with a leading futurist Mark Pesce. He and Christopher discuss how smart the world is, why we should not be afraid of the future, how the next ten years will play out and how technology will transform our health and well-being.
Path to the Future
People get blindsided, uncontrollable and scared of what the future holds. We tend to give up when we feel that everything is not falling into place. Mark wants to show us that there is always a path through.
We have always had this path. All it takes is looking at our past and the clues to help us understand how we are going to find our .
"People come out of that with the sense of urgency that there is something that they can do, something that they can be that allows them to have not just a stake in the future, but a capacity to keep up with that future." – Mark Pesce
Fear Because of Change
According to Mark, kids these days are so different because of their experiences.
We ask ourselves why the world is changing and why we can't keep up. The idea of fear in us is because of change. And it is something that can be tolerated as we have the capacity to learn from one another.
"We like to master things and we don't like it when those things change from underneath us because it makes us feel like we're losing on mastery." – Mark Pesce
A Smarter World
The world is getting smart. There are apps, computers, electronics, high speed mobile Internet and sensors everywhere. Mark said that over the span of 40 years, all we have done is to learn how to take all the principles that are embodied with all of these.
We have such connections, wiring and intelligence of the world that when we look at it one way, it seems very threatening. It can seem that the world is going to be so smart and would not need us anymore. But we should always remember that a machine can be dumped a million times faster than a human can.
"The challenge and pressure for us is can we get smart at the same pace the world is getting smart?" – Mark Pesce
To hear more about Mark, the leading futurist, download and listen to this episode.
Bio:
Mark Pesce is a leading futurist, author, entrepreneur and innovator.
He is an award-winning columnist for The Register and producer and host of This Week in Startups Australia. Mark invented VRML, the standard for 3D on the Web and a core component of MPEG-4. He also authored 6 books including:
• VRML: Browsing and Building Cyberspace
• The Playful World
• The Last Days of Reality
Links:
We hope you enjoyed Mark Pesce on this episode of Follow Your Different™! Christopher loves hearing from his listeners. Feel free to email him, connect on Facebook, Twitter, Instagram and subscribe on iTunes!