025 Courage to be Different w/ Vineet Jain, Founder/CEO Egnyte
Wednesday 20th September 2023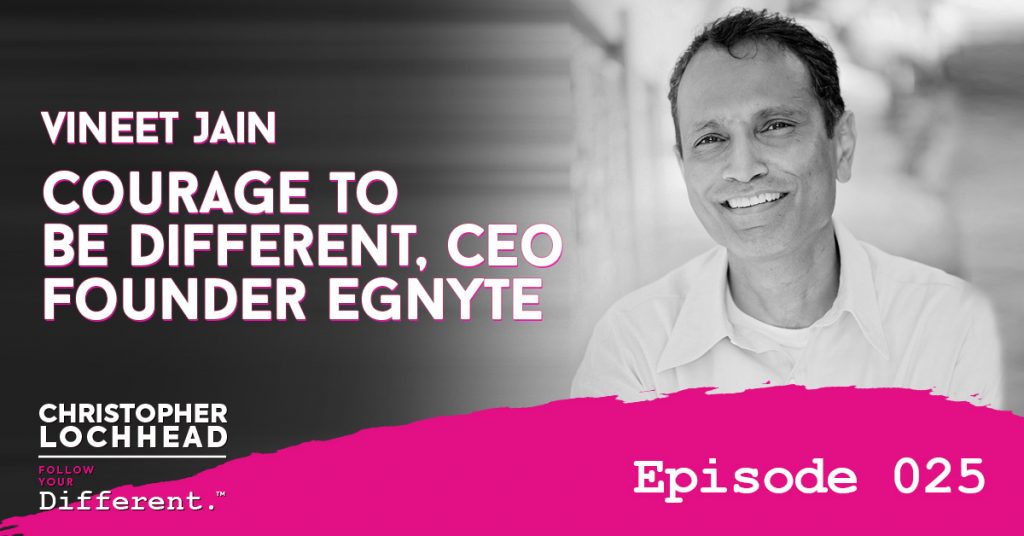 How do you carve out a counter-intuitive niche and be successful at it? On today's episode, Vineet Jain joins us for a discussion about how he charted a path different from every other tech person's. He also shares how it all paid off, ten years later.
Swimming Upstream to Grow
Vineet has built a business that has seen nine consecutive quarters of records. They did this against a landscape of massive competitors who at one time looked like they might really threaten Egnyte. And to achieve this, they had to niche down.
"Indeed, this company of ours has grown in the big shadow being cast by some of the players who had a lot more funding." – Vineet Jain
Financing Against the Trend
Year over year, Egnyte had a compounded growth rate of 30-35% and wasn't raising much money. It wasn't until the fourth quarter of 2016 that their cash flow turned positive. But Vineet knew that this wasn't enough to keep the company afloat.
In August of 2018, he pitched that they raised financing. This was despite the general trend that tech companies observed. Sure enough, Vineet's confident promise was met, and Goldman Sacks came into the picture.
Divine Luck and Difference
Egnyte had a size disadvantage against other companies in their category. They had a little over 600 employees, so they had to figure out how to play to this asymmetry. Ultimately, they decided to focus on their product and the economics of customer acquisition.
"You cannot pick a fight with an enemy who has picked your weapon of choice." – Vineet Jain
Even with how they tried to show how they were different, they didn't escape being lumped with 100 other vendors. But the confluence of two factors helped them rise: the expansion of the category they belonged to and the adoption curve becoming mainstream. With a product that fit the market at an interesting period, they got higher demand.
To hear more about how Vineet worked to build Egnyte to reach its pre-eminence and raised a $75M-funding round, download and listen to the episode.
Bio:
Vineet Jain is the CEO and co-founder of Egnyte.
Prior to Egnyte, Vineet founded and successfully built Valdero, a supply chain software solution provider, funded by KPCB, MDV and Trinity Ventures.
He has held a rich variety of senior operational positions at KPMG and Bechtel. He has 20 years of experience in building capital-efficient and nimble organizations. Vineet earned a BS in Engineering from Delhi College of Engineering and received an MBA from Santa Clara University.
Links:
We hope you enjoyed Vineet Jain on this episode of Follow Your Different™! Christopher loves hearing from his listeners. Feel free to email him, connect on Facebook, Twitter, Instagram and subscribe on iTunes!