011 Bob Evans – Tech Industry Thought Leader
Tuesday 26th September 2023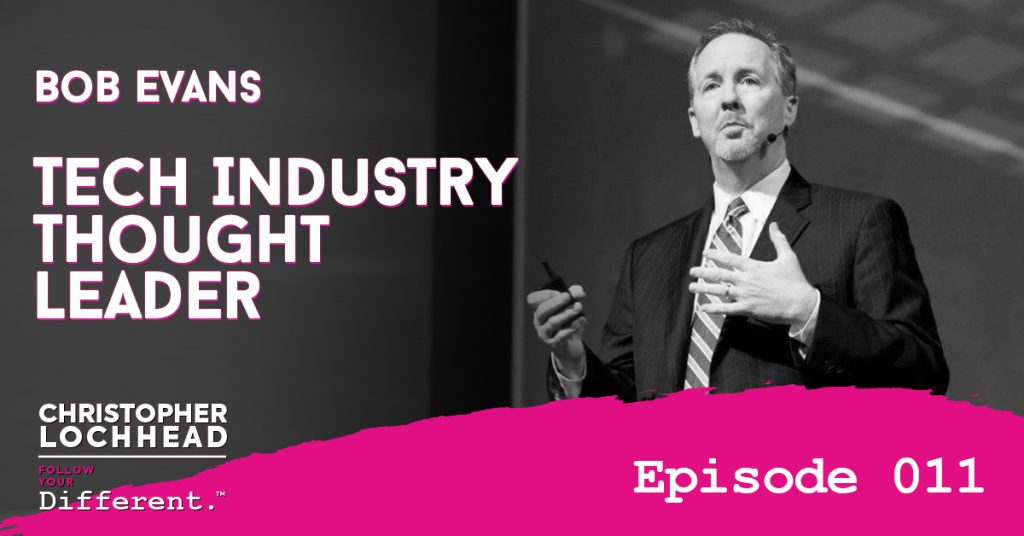 Podcast: Play in new window | Download (Duration: 1:01:57 — 56.8MB) | Embed
Subscribe: Apple Podcasts | Google Podcasts | Spotify | Pandora | Stitcher | RSS | More

Communications guru and podcaster Bob Evans joins us once again for today's episode. He and Christopher have a thoughtful conversation on movies, technology, being direct and so much more.
Pondering the Past
Nowadays, watching the news entails being freaked out by the realities of the world. Given all that, would you consider revisiting the film classics like One Flew Over the Cuckoo's Nest and Cool Hand Luke? Bob says that it might be a good idea if we did.
Remember the iconic scene where Jack Nicholson's McMurphy tried lifting a water fountain? He couldn't do it, but at least he tried. Then there was Paul Newman's Luke who swore death against defeat and who thought nothing was a mighty cool hand.
"We are in a time now when so much of our life is restricted. We'd let our fear shrink our world. We let fear, you know, crush our dreams." – Bob Evans
Beyond What You're Dealt
The culmination of all these, Bob says, reflects how it's not what's around you that determines what you become. Your fate turns out the way you play yourself. Not much depends on the hand that you're dealt.
"I think it's good to go back and look at some of those things and realize we get to parts where we are today by letting it happen. Declining's a choice." – Bob Evans
Merits of Technology
When Bob left the media industry to jump into technology, a lot of people said that he was coming to the dark side. When he asked them why they thought so, they would say it was because tech people were dishonest. But to Bob, the change was like coming into a brightly-lit place coming out of the dark side.
People have plenty of valid reasons to "bitch about technology", but there's a big but, and Christopher has a few choice words for them.
"Innovation overall has massively increased the well-being of human beings, the lifespan of human beings, and the quality of life of human beings." – Christopher Lochhead
To hear more about technology, the virtue of being direct, and the downside of judgment-free zones from Bob Evans, download and listen to the episode.
Bio:
Bob grew up outside of Pittsburg with hardworking parents and his 6 siblings. He graduated from the University of Pennsylvania in 1978 and entered the business world, flowing his passion for information technology and writing.
He rose to become the editor of Information Week, one of the top two publications in technology at the time. Then he became the SVP and Content Director for Information Week's parent company TechWeb/CMP.
After thirty years in the media business, he left to join the world of software vendors. Following a quick stop at ERP vendor SAP, Bob was recruited by the world 5th richest person, a legendary category designer and entrepreneur Larry Ellison the founder of Oracle.
At Oracle, Bob served as SVP and Chief Communications Officer for Larry. Today, Bob runs his own strategic communications firm, is a prolific writer, a tech industry commentator, public speaker, and a legendary guy.
He hosts the widely popular Cloud Wars Live Podcast.
Links:
We hope you enjoyed Bob Evans on this episode of Follow Your Different™! Christopher loves hearing from his listeners. Feel free to email him, connect on Facebook, Twitter, Instagram and subscribe on iTunes!