047 B2B Enterprise Tech On Fire with Christopher Lochhead
Monday 20th November 2023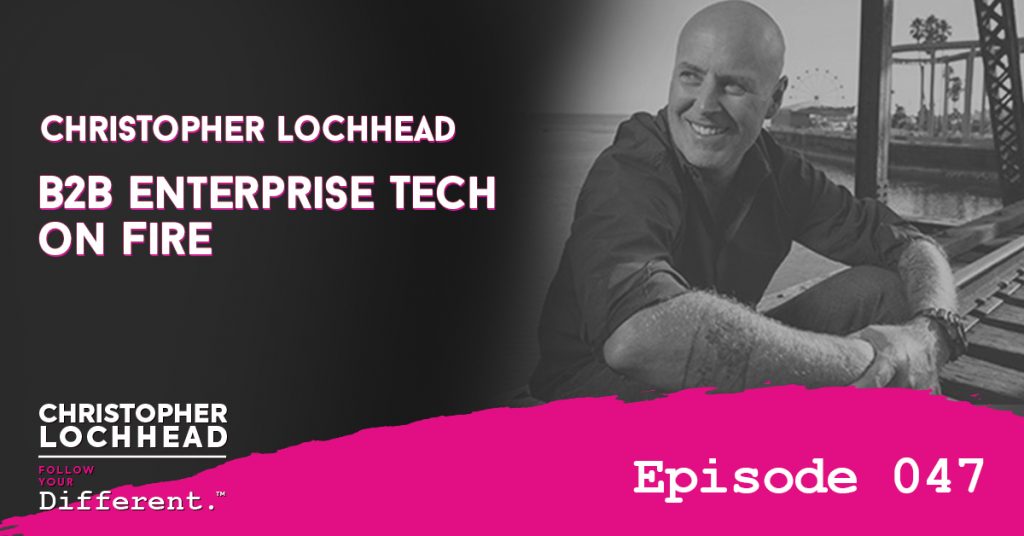 Podcast: Play in new window | Download (Duration: 15:41 — 14.6MB) | Embed
Subscribe: Apple Podcasts | Google Podcasts | Spotify | Pandora | RSS | More
On this episode, Lochhead shares some of the amazing things going on in the enterprise tech industry.
Enterprise Tech on the Rise
Back in 2012, the legendary venture capitalist Jim Goetz of Sequoia made a declaration that tech entrepreneurs were too focused on the consumer world and have ignored the $500-billion market opportunity, which is the enterprise space. Soon after, the Cloud went bigtime—the tipping point for a lot of big innovations.
Bob Evans of the awesome podcast Cloud Wars said that for Q1 of 2019, Microsoft, Amazon and IBM will combine for $23 billion in Cloud revenue.
"Twice as many enterprise startups have become billion-dollar companies compared to consumer startups." – Jim Goetz, Senior Partner Sequoia Capital
The Golden Age
Over the last 10 years, there has been an acceleration of innovation. According to Lochhead, this is the greatest time in history to be in the tech industry and particularly in the tech enterprise industry.
"The enterprise space is—if you're willing to dig it out, if you're willing to work hard on it and be smart—it's less binary than the consumer space. With grit, some intelligence, some great technology and some category design, you can really make something of yourself." – Christopher Lochhead
Enterprise vs Consumer Tech Companies
Rolfe Winkler, the author of the article, The Tech IPO Delivering the Most for Investors, points out that enterprise companies produced a median of 126% stock growth, compared to a median of 15% increase for consumer tech companies.
Consumer tech is a hit business, but it is hard to predict in a way that enterprise tech is not. Christopher also thinks that it's getting tougher to find new niches in the consumer side and startups are afraid of the big players.
"Consumer-focused businesses may have more cachet, but technology startups that cater to companies are what is really hot." – Rolfe Winkler, The Wall Street Journal
To hear more about the dynamic enterprise tech industry download and listen to this episode.
Bio:
Christopher Lochhead is a #1 Best Selling Amazon Author and "Top
30" rated Podcaster. He is a former 3 time public company Chief Marketing
Officer in the enterprise technology business where he spent more than 2/3 of
his career. He's been called "one of the best minds in marketing" by The
Marketing Journal, a "Human Exclamation Point" by Fast Company, a "quasar" by
NBA legend Bill Walton and "Off-putting to some" by The Economist.
He co-authored two best seller
books:
• Niche Down: How To Become Legendary By Being Different
• Play Bigger: How Pirates, Dreamers, and Innovators Create and Dominate Markets.
Links:
Links for Articles and Data Sources:
"As Cloud Market Roars, Microsoft, Amazon and IBM Will Total $23 Billion in Q1 Cloud Revenue"
We hope you enjoyed Christopher Lochhead on this episode of Follow Your Different™! Christopher loves hearing from his listeners. Feel free to email him, connect on Facebook, Twitter, Instagram and subscribe on iTunes!