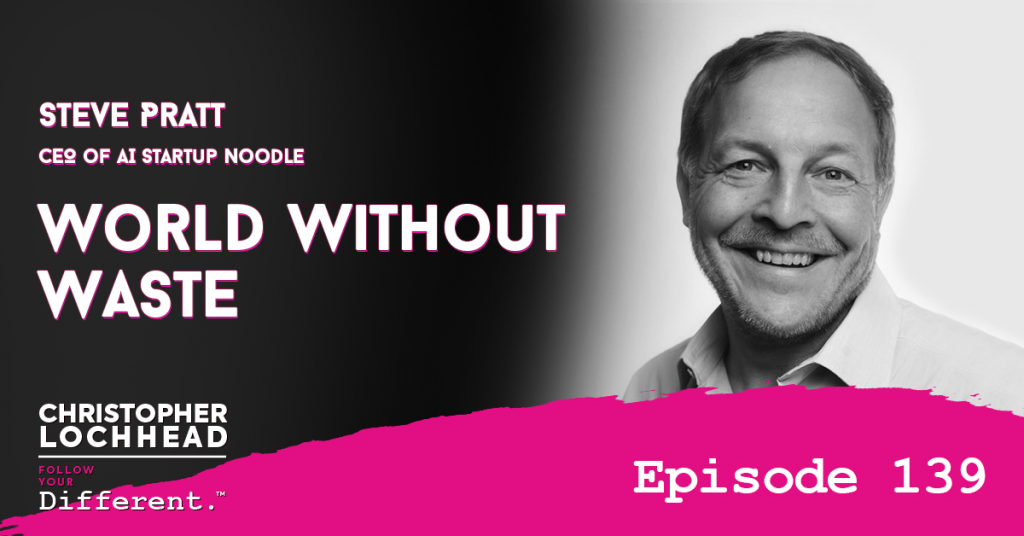 Podcast: Play in new window | Download (Duration: 59:58 — 82.7MB) | Embed
Subscribe: Apple Podcasts | Google Podcasts | Spotify | Pandora | RSS | More
This is our second in our two-part series on Digital Business, with Steve Pratt, CEO of Noodle.AI, the remarkable startup on a mission to changing global manufacturing and supply chain business.
We have a real conversation about how the combination of Machine Learning / AI, The Cloud, IoT and deep data analytics can come together to reduce both economic and environmental waste.
In case you missed the first part of this two-part series with Business Guru Big Ben Rewis, check it out: Episode 138.
Missionary CEO
Christopher has known Steve for over 30 years. He has a vast and impressive experience in digital marketing, starting with the creation of CRM business for Deloitte. He was also the founder and CEO of the InfoSys Consulting Practice and he also led IBM Watson's initiatives.
Steve has deep experience in building and managing massively successful, deep technology businesses. He has some powerful insights, through his company Noodle.Ai, into how modern technology can reduce economic and environmental waste. This is what Christopher calls a great example of a missionary CEO, where the E stands for Evangelist.
"The intention of the company is to apply data science to create a world without waste. We reject this notion, historically, that you had to choose between profits and the planet." – Steve Pratt
World Without Waste
Steve shares how companies have scaled things right now. They have created amazing hyper-growth for their companies, but have also accumulated huge amounts of waste.
"We have over 500 billion dollars of excess inventories sitting in warehouses. We got 50% of trucks driving around, empty. We have about 400B dollar of stuff, that is thrown out in the manufacturing process because of quality defects. These are all preventable." – Steve Pratt
A lot of people analyzed where the waste is in the world and over 90% of the waste in the world is due to manufacturing and logistics. Steve points out that due to bad computations, companies are manufacturing trillion dollars of goods and let it sit in their storage, because they couldnt get it out to the market.
Environmental Sustainability
Steve shares about steel manufacturing company Big River Steel, which they granted a lead certification for environment sustainability.
"With our applications, that consumption to reduce inventory levels, reduce quality defects and they are the most profitable, per employee, the highest profit per mil hour, the lowest environmental impact of any steel known in the world." – Steve Pratt
Christopher and Steve then discussed that companies should analyze data that is readily available to them. This is can easily be achieved through the help of various technologies available.
To hear more about how digital businesses can achieve a world without waste and other insights of Steve, download and listen to this episode.
Bio:
Stephen is an instigator, agitator, and pioneer in creating world-class technology services organizations.
He has spent his career building innovative ways to create value for the world's most important organizations.
Prior to Noodle, he was responsible for all Watson implementations worldwide for IBM Global Business Services.
He also was the founder and CEO of Infosys Consulting, a Senior Partner at Deloitte Consulting, and a technology and strategy consultant at Booz, Allen & Hamilton.
He twice has been selected as one of the top 25 consultants in the world by Consulting Magazine.
He has Bachelors and Masters degrees in Electrical Engineering from Northwestern University and The George Washington University focused on Satellite Communications.
For fun, Steve plays competitive tennis, races sailboats, and formerly was a crazed rugby player. He enjoys playing acoustic guitar for his children (not ready for prime time).
Links:
We hope you enjoyed this episode of Follow Your Different™! Christopher loves hearing from his listeners. Feel free to email him, connect on Facebook, Twitter, Instagram and subscribe on iTunes!