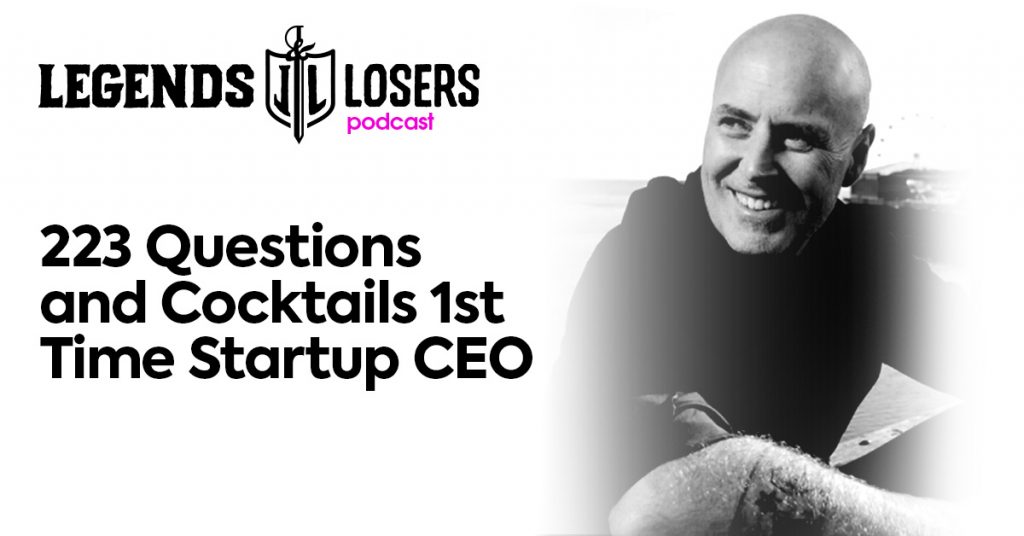 Podcast: Play in new window | Download (Duration: 9:22 — 10.8MB) | Embed
On this episode of Questions and Cocktails, Christopher Lochhead responds to another question emailed by one his listeners. A 1st time startup CEO for a new venture-backed company seeks advice on how to become a legendary leader.
"Legendary people build legendary companies. It's that simple." – Christopher Lochhead 1st Startup Time CEO
Love the Problem, Not Just the Solution
Christopher breaks down his advice into seven points and the first of which is to love the problem. The most legendary of entrepreneurs make it a point to focus on either a problem that people don't know they have or re-imagining a problem the market knows it has, viewing the problem in a completely different way.
Prosecute the "Magic Triangle" as a 1st Time Startup CEO
Christopher and his co-authors addressed the concept in both Play Bigger and Niche Down. The "magic triangle" is the three things legendary executive teams and entrepreneurs get right. These three are product, company and category, and all are equally important.
As a CEO, you must be focused on all three while at the same time being an evangelist for the problem. The bigger the problem, the more urgent and more strategic you have to be since people will apply more money and time to solve that problem. And in turn, these problems create categories, the product and company intertwined.
Surround Yourself with Legendary People
For years, Christopher parroted the prevalent notion in Silicon Valley that you must always hire A players. But the truth is you will never have a company full of them. This means a CEO must figure out where to put the A players and B players to bring out their best.
A good B player is what you need for a lot of roles that must be fulfilled. But in key executive roles, whether in engineering, sales, or marketing and especially in the beginning, you need legendary people to fill in these roles. In this regard, think about who your board is and who your advisers.
To hear the other four points Christopher offers, download and listen to the episode!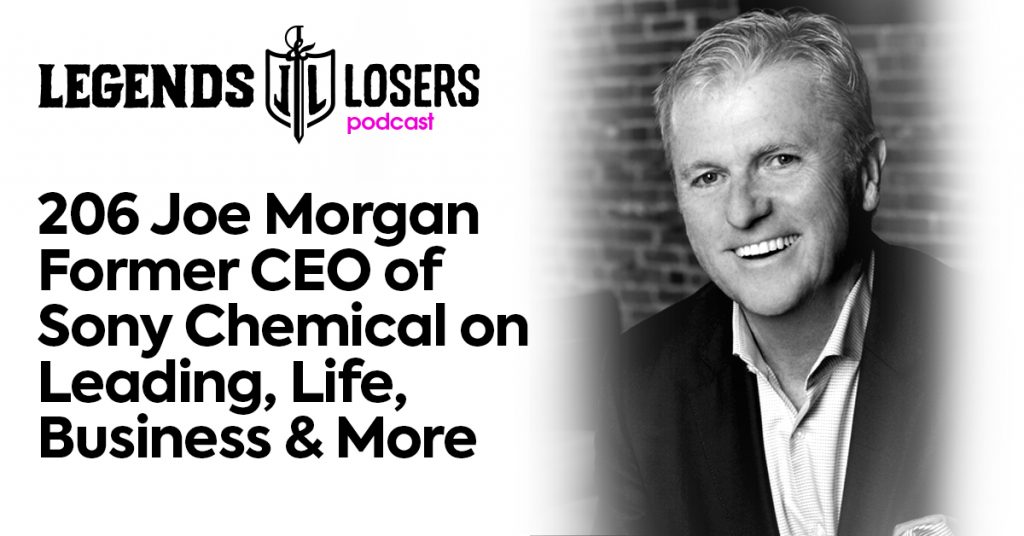 Podcast: Play in new window | Download (Duration: 1:09:05 — 63.3MB) | Embed
How do you mold a legendary career from curiosity and hard work? Today, Fortune 500 executive turned advisor and mentor Joe Morgan joins Christopher Lochhead in this free-ranging conversation. They talk about leadership, being a CEO, the power of curiosity, and so much more.
"In the microcosm of the world, because we've tried hard and we participated, I think we can leave a legend." – Joe Morgan
Three Things We Learned
Buying is an Awesome Job
Joe attributes some of his success to luck, some to being in the right place and some to being consistent. After shifting degree programs three-quarters out of college, he ended up taking any job he could due to the massive-scale layoffs in his field. Eventually, he became a buyer in a chemical company, which opened a lot of doors for the young upstart.
Doing the Work to Produce the Results
A mentor's advice on being part of what's most important to the executive team guided Joe. So even as a young man and up-and-comer, whatever the task was, he took it seriously and delivered. Soon enough, his efforts paid off and resulted in his being fast-tracked, a chance to build his career to greater heights.
Be Curious
Joe has always wondered why younger people tend leave their curiosities unsatisfied. He is someone who's always curious and has a knack of driving people into a corner with his queries. This curiosity didn't land him the "corporate training" that most young people would undergo, but he got to learn from the people at the grassroots of the company, and this helped him achieve many great things.
Some people like Joe live a life that isn't all that straightforward. However, they are able to make legends of themselves by putting in a lot of hard work, effort, and curiosity.
Bio:
Joe Morgan is the founder and CEO of siY, LLC. This is a middle-market consulting firm focused on helping leaders with transformative change, cultural development, and go-to-market strategy.   
Having spent his career serving as a CEO or Member of the Board for large public as well as start-up and growth companies. Joe brings a wealth of experience and demonstrated leadership in transformational business environments.  
He has been successful in driving value and achieving strategic growth objectives in many industry sectors. These include service, technology, and manufacturing.
Joe's experience includes having served as the CEO and Board member of Standard Register, a $1B+ public company, and recognized leader in the management of mission-critical communications for various sectors, including health care, financial services and manufacturing.  
He also served as Chairman and CEO of Uniguest, the leading provider and trusted integration partner of secure managed technology solutions with focus in hospitality and business services; Chairman and President of Sony Chemicals, a leader in specialized coatings for the automatic identification and electronics market; and President and Board Member of eflatbed.com, an on-line marketplace for transportation.
Additionally, Joe is on the Executive Advisory Board for NexPhase Capital, a private equity investment firm focused on middle-market companies.   He also serves on the Boards of Lion Group, OmniSYS, Heapy Engineering, JBM Envelope Company and Mary Queen of Angels Eldercare.
He serves on an advisory capacity at CURA Homecare, and is on the advisory board for WPI Life Sciences.
Joe is frequently called upon as a speaker and lecturer.
Links:
https://twitter.com/safeinspiredyou
https://www.linkedin.com/in/joe-morgan-0311b51/
We hope you enjoyed Joe Morgan on this episode of Legends and Losers! Christopher loves hearing from his listeners. Feel free to email him, connect on Facebook, Twitter, Instagram and subscribe on iTunes!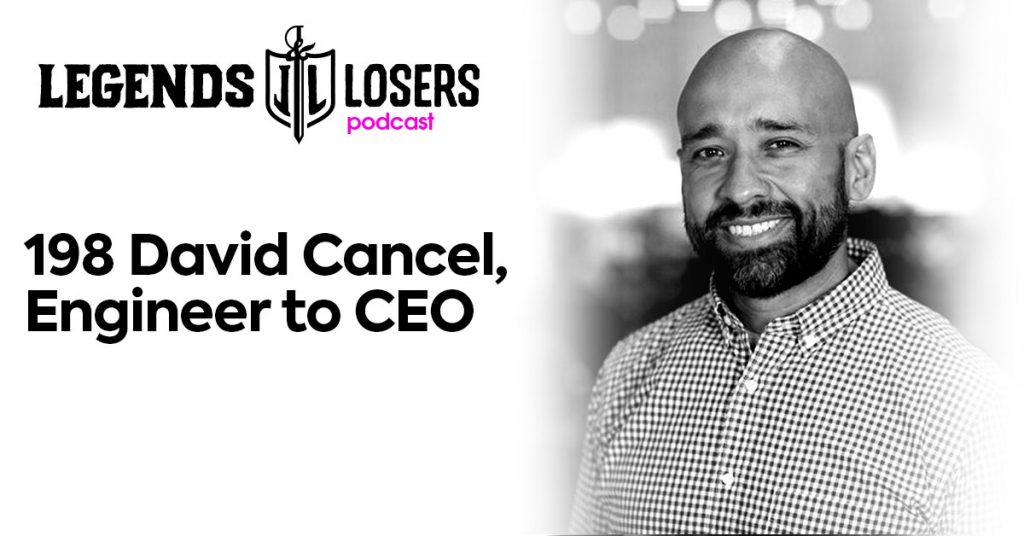 Podcast: Play in new window | Download (Duration: 1:24:21 — 77.3MB) | Embed
David Cancel is the co-founder and CEO of Drift, one of the fastest growing companies in the marketing space. A former engineer, he's also a podcaster and author. Today he joins Christopher Lochhead to talk about building massive technological startups, sabbaticals, books, and why conversational marketing is the future.
"For me myself, engineer to tech to product to now, CEO… they're kinda like a progression of the same thing… It's like I'm trying to create our own world." – David Cancel
Three Things We Learned
When they first put up Drift, David and his team figured to create a tradition of taking a sabbatical every three years. But his turn to take a temporary leave from work came with the worst possible timing. His wife pointed out the fact that if he didn't do it now, no one in the company was going to follow through, and so with tons of anxiety, he cashed in on the leave.
Pulling off a sabbatical with a great team
While his learning sabbatical offered lots of time to meditate and examine his life and willingly be at the beck and call of his daughter, some things broke. They were nothing he couldn't fix though. He had his management team whom he could lean on while he set an example for all of Drift's 190 and some employees to thank for that.
A startup faster than a rocket ship
Prior to Drift, David was the Chief Products Officer at Hubspot, another hugely successful company. The culmination of his experience from being part of large-scale bodies aided in growing Drift. And now his business is doing amazing, faster than any other company within and without their category.
Building a startup is one tough endeavor. Growing one is even more difficult because then you will have to learn how to brake and not implode. But with a team behind him willing to stay true to their visions from the get-go—sabbaticals included—, David thinks they can do it all.
Bio:

David Cancel is a serial entrepreneur, podcast host (Seeking Wisdom) and angel investor/advisor.
Best known for creating hypergrowth companies, products and product teams at companies such as Drift.com, HubSpot, Performable, Ghostery and Compete.
David has been featured by media outlets such as The New York Times, Forbes, Fortune, Wired and Fast Company. David has guest lectured on entrepreneurship at Harvard, Harvard Business School, MIT, MIT's Sloan School of Management, Bentley and other Universities.
His popular blog davidcancel.com has been read by 1M+ entrepreneurs, and his Twitter account @dcancel has 180k followers and is considered a "Must-Follow" account for entrepreneurs, executives and product people.
Links: