131 How to Build Billion Dollar Startups w/ David Sacks
Sunday 1st October 2023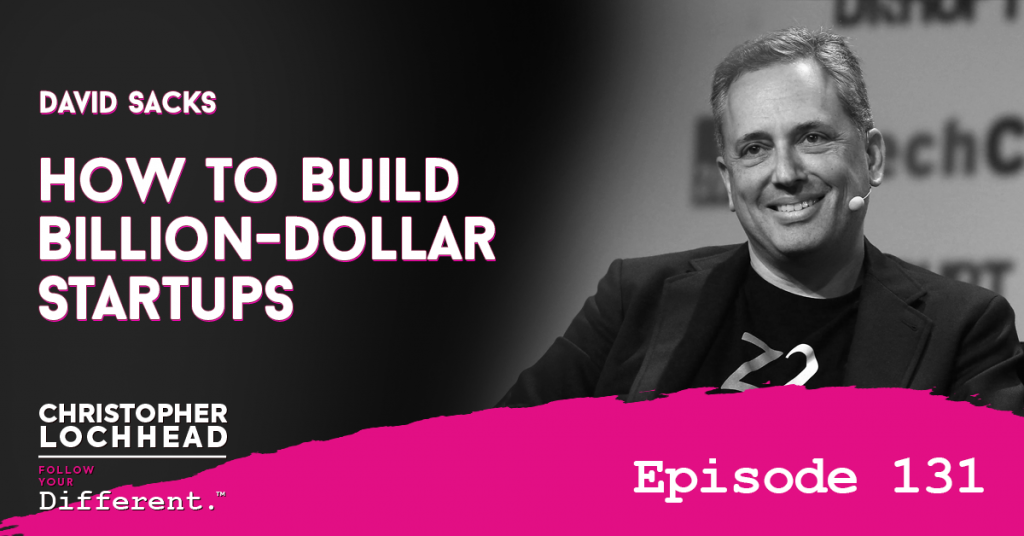 Podcast: Play in new window | Download (Duration: 1:00:03 — 82.7MB) | Embed
Subscribe: Apple Podcasts | Google Podcasts | Spotify | Pandora | Stitcher | RSS | More
In this episode, we have a real conversation about legendary entrepreneurs and investor David Sacks about how to build billion-dollar startups.
We talk about how startups go off the rails and what is ok and not ok to lose money on. We also touch on why B2C strategies have become powerful for B2B companies and many more! If you're an executive or an entrepreneur, even if you're outside of tech, get your pen ready. there's a ton on this episode!
Legendary VC
We continue our run of legendary VCsc with David Sacks. He was a co-founder of PayPal, Founder, and CEO of Yammer and Founder of Craft Ventures. Some of his investments include Facebook, Uber, SpaceX, Palantir Technologies, Airbnb and Bird
This is another great example of the power of a real dialogue podcast.
"You know the old line of 'nobody ever got fired for buying IBM'? I think that the modern version of that saying would be 'no one ever got fired for buying the category leader' and if you become the category leader, you just get all these sales by default." – David Sacks
Going Off The Rails
David shares how he witnessed high profile companies going off the rails for several reasons. He noted that aside from product-market fit, there are other mundane reasons why these companies fail. Here's the big list that could go wrong in high growth companies:
"One is commoditization, the rest of the world catches up the startups innovation. Two, cost of customer acquisition, a bunch of reasons it could happen. Third, margin problem, negative gross margins. Fourth, external dependency. Fifth, leaky bucket, there's a problem with retaining customers. Sixth, regulatory compliance, then, sales compliance problem, that's seven. Eight, doing things that don't scale. Nine would be the founder psychology problem which is pushing things too far and tenth, company culture problem. One the 10.1 mark, macro shock where the company goes out for financing and isn't able to raise around because of one of the problems I mentioned in them. Everything comes to head and you had a car crash." – David Sacks
The Challenge for Startups
One of the greatest fears of startups Is commoditization. David says there is always a risk of the competition catching up in terms of software design. He encourages startups that it is a trade-off to make, to move fast enough to maintain market leadership.
"Everyone is running around with their hair on fire but they're afraid that their innovation gets copied. If you're not moving fast enough, you're on a bit of hamster wheel. If you're not moving fast enough, you're running in place." – David Sacks
To hear about David's thoughts on how to define and dominate a market category, what areas of technology David thinks have the most promise and more, download and listen to this episode.
Bio:
David Sacks is a highly accomplished entrepreneur and investor in internet technology firms.
He is general partner of Craft Ventures, a venture capital fund he co-founded in late 2017. Previously as an entrepreneur, Sacks was the founding COO and product leader of PayPal (acquired by eBay in 2002 for $1.5 billion) and Founder/CEO of Yammer (acquired by Microsoft in 2012 for $1.2 billion).
In 2016, he led the turnaround of Zenefits as interim CEO.
In 2017, Sacks co-founded blockchain startup Harbor as an incubation of Craft Ventures.
His angel investments include Facebook, Uber, SpaceX, Palantir Technologies, Airbnb and Houzz.
Links:
We hope you enjoyed this episode of Follow Your Different™! Christopher loves hearing from his listeners. Feel free to email him, connect on Facebook, Twitter, Instagram and subscribe on iTunes!