138 Digital Business Guru Big Ben Rewis
Friday 1st December 2023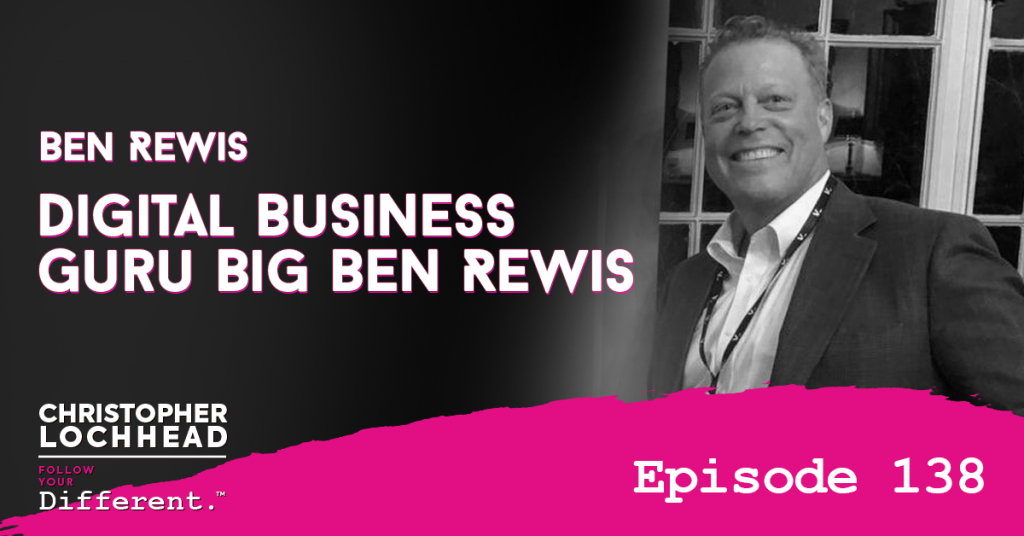 Podcast: Play in new window | Download (Duration: 1:05:16 — 149.7MB) | Embed
Subscribe: Apple Podcasts | Google Podcasts | Spotify | Pandora | RSS | More
This is our first in a special two-part series on Digital Business. The legendary Big Ben Rewis joins us today to have a real, powerful conversation about digital businesses today and how big data can contribute to sustainability.
In our next episode, watch out for Steve Pratt CEO of Noodle.AI, the remarkable startup changing global supply chains.
Surfer, Snowboard, Advisor
Big Ben is one of the most extraordinary adventure athlete's of this time. He is a skier, snowboarder, sailor, and surfer. In fact, one of his first few sponsors were Jake Burton, the founder of Burton Snowboards.
Today, when he's not surfing or on some kind of adventure, Ben Rewis would most likely be dishing digital business advice to Fortune 100 companies and startups in Silicon Valley. He has deep experience in building and managing massively scalable digital business and payments infrastructure.
Digital Business Guru
Just to name a few of Ben's contributions, he created the Internet e-Commerce team for Visa. He was also Head of Security & Fraud Technology for First Data and he's an advisor to a startup Verdant Robotics, a startup doing amazing things with AI & Machine Learning in the smart agriculture category.
"I think there's a lot of themes, there's a lot of organizational and technical similarity across all of them. The whole notion of data in the digital business is just fascinating, what's happening in the industry today. Cause you know, like the industry quote 'software is eating the world.'" – Ben Rewis
Digital Business is the Future
Digital businesses are not brand new, as they have been around a long time.Ben now shares that people are realizing the by-product of their digital business can infect more businesses.
"Digital businesses don't necessarily have new value-added services that are data-based. They may have a legacy product or service, that is digital and they realizing that the data that is produced by that service can help them generate new revenues, or cut costs." – Ben Rewis
To hear more about how digital businesses can greatly influence sustainability efforts for the future and other insights of Ben, download and listen to this episode.
Bio:
Ben Rewis was raised in New England north of Boston, the eldest son of two high school teachers.
After graduation from The Stowe School in VT., he moved to San Francisco, CA at age 17 and have been in technology ever since.
Today, he's an advisory consultant to startup CEOs, and a deep payments expert with solid leadership and innovation skills.
Facilitator, speaker, communicator, thinker and doer, able to bring different constituencies together around a common digital business vision and set of deliverables.
Able to drive from big picture down to concrete initiatives. Passionate about helping teams solve challenges for strategic alignment.
In addition to his business involvement with major companies, he has decades of wilderness and group leadership experience, becoming an Outward Bound instructor at age 21, and taking part in numerous adventure expeditions around the world.
He's crossed deserts and canyons, sailed the Tasman Sea, and climbed mountains like McKinley.
He enjoys just about all board sports, competed in the first world championships for snowboarding, and learned to surf at age 40.
Ben co-founded the Drop In Coalition, and is an Advisory Board Member of the Save The Waves Coalition, and was honored in 2019 as a Royal Geographic Society Fellow.
Links:
We hope you enjoyed this episode of Follow Your Different™! Christopher loves hearing from his listeners. Feel free to email him, connect on Facebook, Twitter, Instagram and subscribe on iTunes!