027 How To Create a New Category & Brand w/ Carrie Palin, CMO of $20B Splunk
Monday 25th September 2023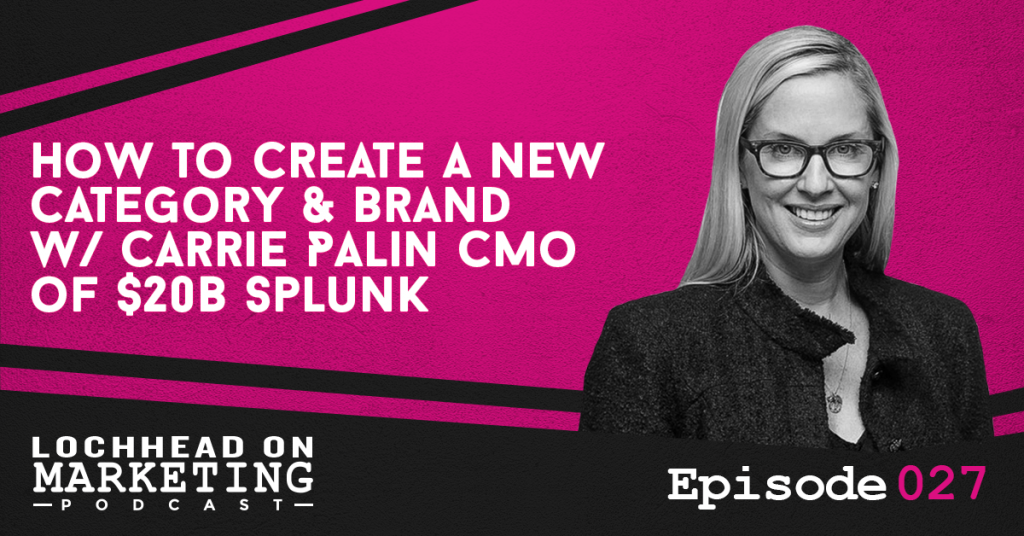 Podcast (lochheadonmarketing): Play in new window | Download (Duration: 25:10 — 34.6MB) | Embed
Subscribe: Apple Podcasts | Google Podcasts | Spotify | Stitcher | RSS | More
This special episode of Lochhead on Marketing is the actual conversation of Christopher Lochhead and Carrie Palin, CMO of software company Splunk, during their appearance at Hypergrowth San Francisco.
Carrie shares how she spearheaded the category creation of Data to Everything and brand re-launch of Splunk.
Splunk at Hypergrowth
Christopher Lochhead and Splunk CMO Carrie Palin were invited to speak at Hypergrowth San Francisco to talk about creating a new category and brand. Drift organized this awesome business and marketing conference. This conversation is a rare opportunity to go behind the scenes of a very successful, super high-growth company like Splunk.
"At Splunk, we're very proud of our culture. We're very proud of our history. There's something we call Splunkiness." – Carrie Palin
Splunk is a publicly-traded software company worth $20B and they have recently launched a new category called Data to Everything. They have also relaunched their brand, changing their logo from green and black to orange and pink.
Rough Start
Carrie shared that her forte is in demand generation and she found category creation and branding to be quite challenging. She notes that aside from having a great branding team, she had great bosses who believed in her vision.
It was a rough start for Carrie, as three days into her new role, she received a piece of unfortunate news about her ailing father. It was one of the challenging events of her life but she acknowledged that Splunk CEO and President had been supportive of her grief.
"Splunk stuck with me. They treated me like I've been there 20 years versus 3 days. Four months after that, it was crazier than I ever anticipated. Now that was through that, I know that it was absolutely the right place for me to be." – Carrie Palin
On-boarding the BOD
Carrie shared amazing stories on how she on-boarded the Board of Directors with her ideas. She gave a lot of weight on conviction and commitment to the Board.
"Listen to your data. Turn your data into doing, which is exactly what our clients are doing. They're doing really incredible things." – Carrie Palin
To hear more about How To Create a New Category & Brand w/ Carrie Palin, CMO of $20B Splunk, download and listen to the episode.
Bio:
Carrie Palin has been Splunk's Senior Vice President, Chief Marketing Officer since 2019.
Prior, Ms. Palin served as the Chief Marketing Officer at SendGrid, a digital communications platform company acquired by Twilio, from 2018 to 2019.
From 2016 to 2018, Ms. Palin served as the first Chief Marketing Officer and Senior Vice President at Box, a cloud content management company.
Ms. Palin served as the Vice President of Marketing for IBM's Cloud Data Services and Analytics Software Division from 2015 to 2016.
She also previously spent over 15 years at Dell leading various marketing organizations. Ms. Palin holds a B.S. Communications degree from Texas Christian University.
Links:
We hope you enjoyed this episode of Lochhead on Marketing™! Christopher loves hearing from his listeners. Feel free to email him, connect on Facebook, Twitter, Instagram and subscribe on iTunes! You may also subscribe to his newsletter, The Difference, for some amazing content.