166 Radical Business Transformation | Doug Merritt CEO of Splunk
Wednesday 20th September 2023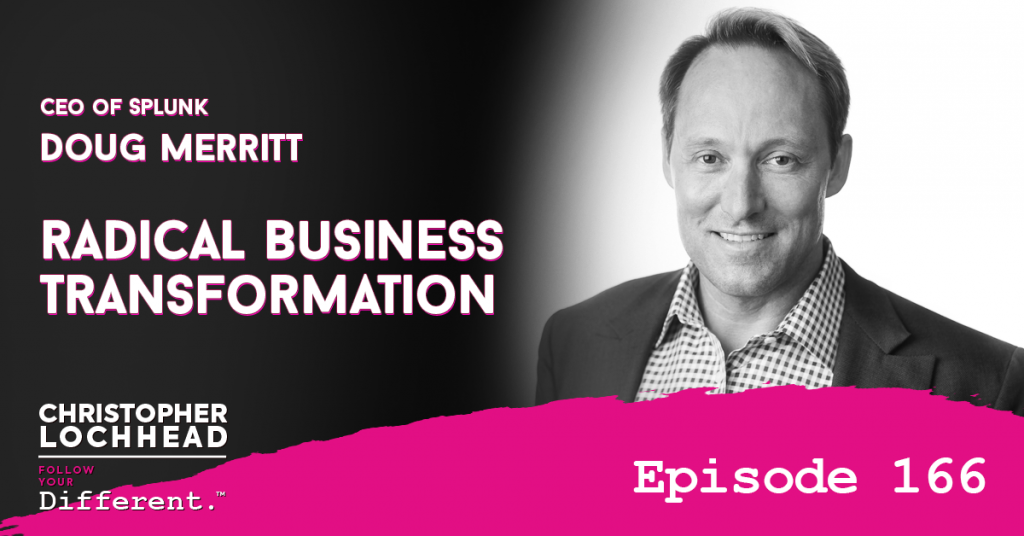 Podcast: Play in new window | Download (Duration: 36:28 — 25.0MB) | Embed
Subscribe: Apple Podcasts | Google Podcasts | Spotify | Pandora | Stitcher | RSS | More
Today, we speak with a very special guest about a critical topic: radical transformation. Doug Merritt of Splunk joins us for a conversation about Splunk's journey, their radical technology, delivery model, and business model transformation.
Pay special attention to Doug's depth and breadth of detail about their business, their technology modeling stack, business model, and their financial model. I think you'll find it fascinating to hear what it really takes to be the CEO of a high-growth, high impact company.
Radical Transformation
Christopher shares that almost all aspects of the world are going through a transformation right now. Doug agrees about the uncertainties and changes in our environment. Likewise, he shares how Splunk has undergone and is continuing the process of radical transformation.
"We targeted over four years ago, four simultaneous transformations. First was shifting our business model. The second was completely rethinking and delivering a different product portfolio. The third was the market shift. Fourth, complete rethinking and reimplementation of our business processes and infrastructure technology. It's been a lot of work. We're not done. We're not done yet, but we continue to make good progress." – Doug Merritt
Risk and Reversibility
Doug shares an important point if you plan to have a radical transformation, that is to consider risks and reversibility. He relates sheltering in place or shifting to a work-from-home arrangement as a reversible decision. On the other hand, transforming the business model or pricing has an irreversible effect, or would entail a lot of work to reverse the risks.
"Jeff Bezos talks about it and I think it's very catchy: is your change a one way door or a two way door? Obviously a one way door, you may get back in, but you have to get an axe and maybe a wrecking ball. It's going to be a lot of pain and effort to get back in to a door like that. A revolving door in a hotel you go out, maybe you don't like it, you can choose to go back in. It's easier to reverse." – Doug Merritt
Growing Splunk
Doug shares how fortunate the Splunk team is while undergoing a radical transformation. They initially have revenues and drastically improved it while transitioning, and while maintaining their public status. They also continue to acquire companies, such as their recent $1B SignalFx.
"To be able to take on that degree of change of disruption, of difficulty and somehow still over-deliver versus expectations, I think that we are in a category of one right now, but I'm hoping that there are more that come behind us." – Doug Merritt
To hear more about Doug Merritt, CEO of Splunk and more about radical transformation, download and listen to this episode.
Bio:
Doug Merritt has served as our President and Chief Executive Officer and a member of our Board since 2015.
Previously, Merritt served as Senior Vice President of Field Operations at Splunk from 2014 to 2015.
Prior to joining Splunk, Merritt served as Senior Vice President of Products and Solutions Marketing at Cisco Systems, Inc., a networking company, from 2012 to 2014.
From 2011 to 2012, he served as Chief Executive Officer of Baynote, Inc., a behavioral personalization and marketing technology company.
Previously, Merritt served in a number of executive roles and as a member of the extended Executive Board at SAP A.G., from 2005 to 2011.
From 2001 to 2004, Merritt served as Group Vice President and General Manager of the Human Capital Management Product Division at PeopleSoft Inc. (acquired by Oracle Corporation). He also co-founded and served as Chief Executive Officer of Icarian, Inc. (since acquired by Workstream Corp.), a cloud-based company, from 1996 to 2001.
Merritt holds a B.S. from The University of the Pacific in Stockton, California.
Links:
We hope you enjoyed this episode of Follow Your Different™! Christopher loves hearing from his listeners. Feel free to email him, connect on Facebook, Twitter, Instagram and subscribe on iTunes!