071 We Reserve The Right To Refuse Service
Wednesday 20th September 2023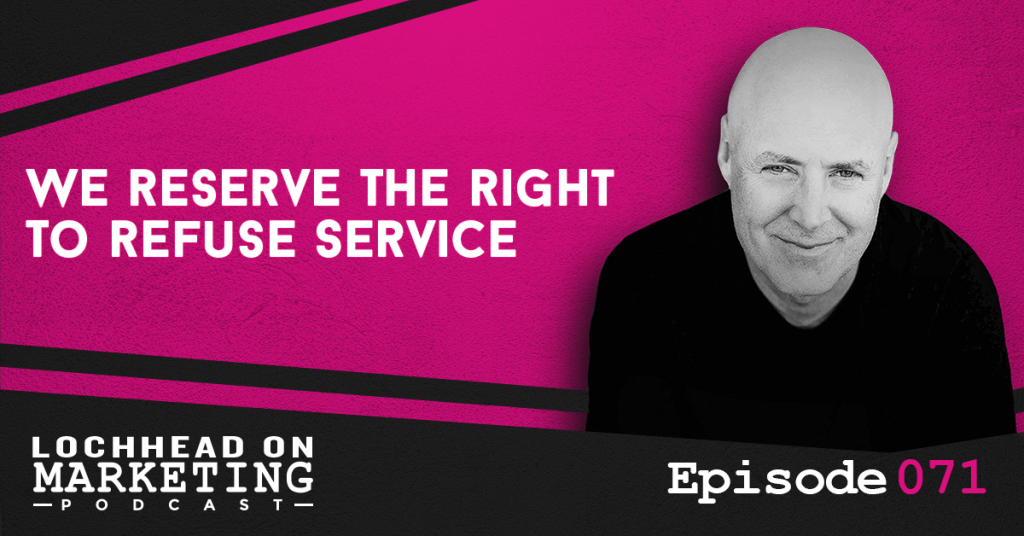 Podcast (lochheadonmarketing): Play in new window | Download (Duration: 18:33 — 12.7MB) | Embed
Subscribe: Apple Podcasts | Google Podcasts | Spotify | Stitcher | RSS | More
One listener writes: "This is such a confusing time and people are on edge. There's a lot of arguing and mistrust in the US. It seems like we see more people acting out. In our case, we've had some customers behave really badly. When is it okay to turn a customer away?"
In this episode, Christopher shares his views on this matter about your right, as a business, to refuse service to customers.
What The Law Says
The law states that you are allowed to refuse anybody's service, but you can't do it on the basis of color, race, gender, sexual orientation, and other subjects along those lines. What Christopher advises is to seek legal advice and make sure to have consistent guidelines to enforce on your business, so your employees are well-guided.
"I think it's okay to refuse service to Anybody who's being a shithead and we had a situation happen here in the Santa Cruz Monterey Bay Area." – Christopher Lochhead
Kicked Out Due To Bad Behavior
Christopher shares an incident that happened recently in a restaurant in Santa Cruz Monterey Bay Area called Bernardus Lodge where an Asian-American was spending their Fourth of July holiday. A Tech CEO, named Michael Lofthouse, who was also dining in, gave out racial slurs to the family.
The restaurant attendant, Gennica Cochran, immediately asked Michael to leave the premises to protect their customers.
"Number one, the folks at the who run the Bernardus Lodge have some core values and that in one way or another, whether it was formal or informal, they had communicated to their team, including, of course, Gennica Cochran and that there were certain behaviors they would tolerate. Racism, acting out and being an asshole clearly was something they were not going to allow. Gennica felt empowered to do that. I don't know if she asked for permission. I don't know what she did. But she took action." – Christopher Lochhead
Please Wear A Mask
Christopher also shares some of his personal experience with enforcing wearing a mask. He is a strong supporter of this and he has received some backlash because of being vocal about it
"If you don't like me, or you don't want to listen to my podcast, because I'm trying to promote wearing masks in the United States, that's okay. I think whatever the issue is, there comes a time in our lives as people and as business leaders, where we have to be clear about our core values and stand up for them." – Christopher Lochhead
To hear more about having the right to refuse customers, download and listen to this episode.
Bio:
Christopher Lochhead is a #1 Apple podcaster and #1 Amazon bestselling co-author of books: Niche Down and Play Bigger.
He has been an advisor to over 50 venture-backed startups; a former three-time Silicon Valley public company CMO and an entrepreneur.
Furthermore, he has been called "one of the best minds in marketing" by The Marketing Journal, a "Human Exclamation Point" by Fast Company, a "quasar" by NBA legend Bill Walton and "off-putting to some" by The Economist.
In addition, he served as a chief marketing officer of software juggernaut Mercury Interactive. Hewlett-Packard acquired the company in 2006, for $4.5 billion.
He also co-founded the marketing consulting firm LOCHHEAD; was the founding CMO of Internet consulting firm Scient, and served as head of marketing at the CRM software firm Vantive.
Links:
The Right to Refuse Service: Can a Business Refuse Service to Someone?
San Francisco tech CEO kicked out of Carmel Valley restaurant following racist rant caught on camera
Ford CEO defends law enforcement use of Police Interceptor vehicle
We hope you enjoyed this episode of Lochhead on Marketing™! Christopher loves hearing from his listeners. Feel free to email him, connect on Facebook, Twitter, Instagram, and subscribe on iTunes! You may also subscribe to his newsletter, The Difference, for some amazing content.