073 Noble Purpose
Monday 25th September 2023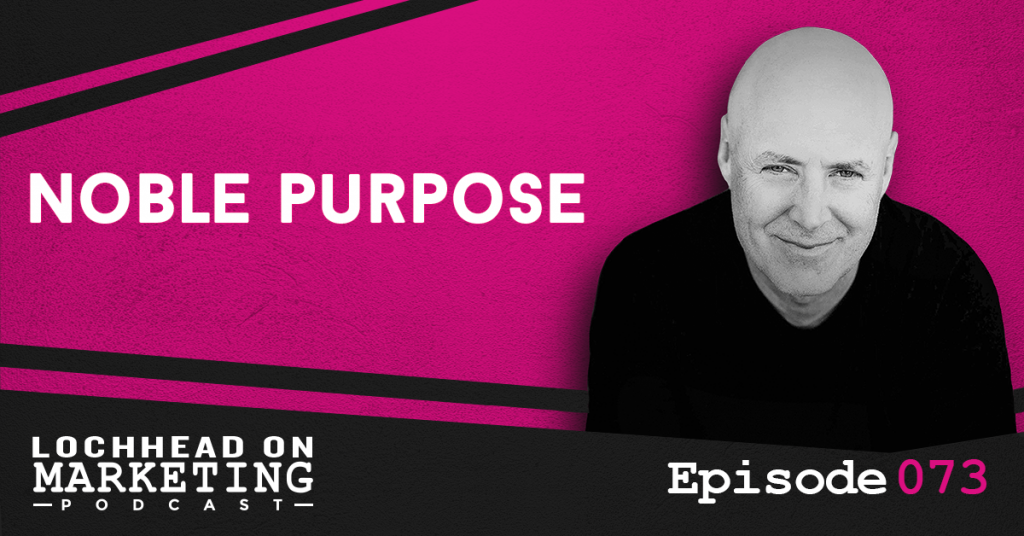 Podcast (lochheadonmarketing): Play in new window | Download (Duration: 11:46 — 8.1MB) | Embed
Subscribe: Apple Podcasts | Google Podcasts | Spotify | Stitcher | RSS | More
As this theme kept on coming up in Follow Your Different episodes, whether he spoke with entrepreneurs or venture capitalists, Christopher decided to finally talk about the purpose of business. Specifically, he dives into what his friend Gil Spencer calls a noble purpose and how noble purpose can tie to building categories companies brands.
Mission-Driven and Mercenaries
A noble purpose is a cool way of thinking about things that we do hear about in business and entrepreneurship. Sequoia Capital and many others, talks about it a lot. The discussion revolves around this notion of being mission-driven. Are you a mission-driven entrepreneur?
Similarly, Eddie Yoon, who has been a guest many times on my podcasts, shares about the distinction between missionaries and mercenaries.
"People who are on a mission will literally crawl through flaming glass ⁠— if that's even a thing ⁠— to achieve their goal because they're up to something, and no matter how much you pay a mercenary, when the going gets tough, many mercenaries will tap out." – Christopher Lochhead
What Is Your Noble Purpose?
Chris shares a few more examples of companies and brands and how their noble purpose differentiated them and allowed them to dominate their categories. He spoke about TOM's shoes. Another example he shares is about Patagonia, which is an environment-based company.
"Regardless of how you think about it, I think now's a good time to think about what's your noble purpose? Specifically, can you tie this notion of noble purpose mission-driven being a missionary to the design and development of your category and brand?" – Christopher Lochhead
Mission-Driven Entrepreneurs
Marc Benioff, CEO of Salesforce, is a proud supporter of LGBTQ+ rights movement. Vala Afshar of Salesforce shared about their noble missions in Follow Your Different Episode 116.
"Now's a great time to think about what's your noble purpose. Are we up to something greater than just making money and believe me, I'm a fan of making money. If you want to use this moment in time to clarify your noble purpose, why not think about how you can tie your noble purpose, to your category design, to your marketing, and maybe even to some level Have activism around topics that you think are important?" – Christopher Lochhead
To hear more about finding your noble purpose, download and listen to this episode.
Bio:
Christopher Lochhead is a #1 Apple podcaster and #1 Amazon bestselling co-author of books: Niche Down and Play Bigger.
He has been an advisor to over 50 venture-backed startups; a former three-time Silicon Valley public company CMO and an entrepreneur.
Furthermore, he has been called "one of the best minds in marketing" by The Marketing Journal, a "Human Exclamation Point" by Fast Company, a "quasar" by NBA legend Bill Walton and "off-putting to some" by The Economist.
In addition, he served as a chief marketing officer of software juggernaut Mercury Interactive. Hewlett-Packard acquired the company in 2006, for $4.5 billion.
He also co-founded the marketing consulting firm LOCHHEAD; was the founding CMO of Internet consulting firm Scient, and served as head of marketing at the CRM software firm Vantive.
Links:
116 Dreamforce Special w/ Salesforce's Vala Afshar
024 The Difference Between a First Mover and a Category Creator w/ Eddie Yoon
We hope you enjoyed this episode of Lochhead on Marketing™! Christopher loves hearing from his listeners. Feel free to email him, connect on Facebook, Twitter, Instagram, and subscribe on Apple Podcast! You may also subscribe to his newsletter, The Difference, for some amazing content.