024 The Difference Between a First Mover and a Category Creator w/ Eddie Yoon
Monday 20th November 2023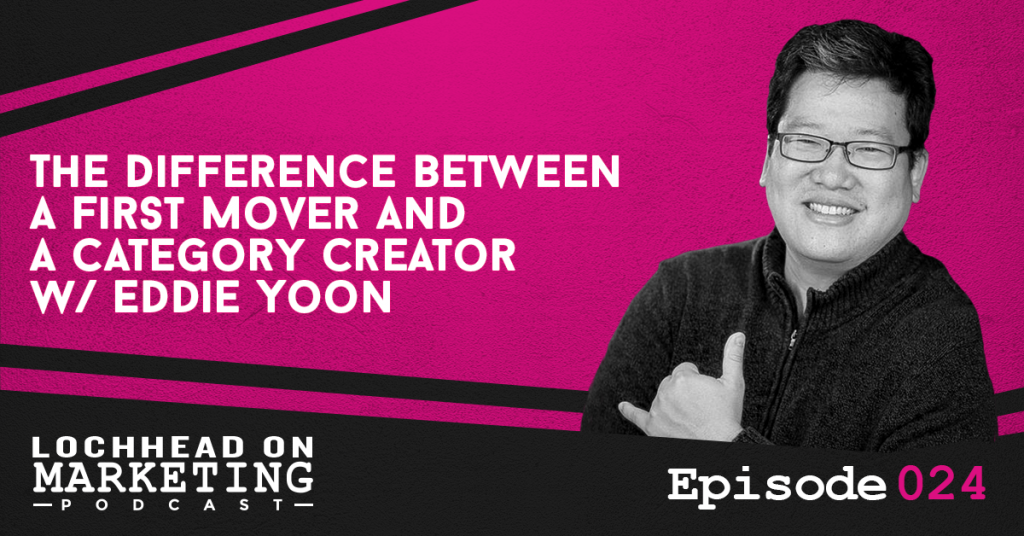 Podcast (lochheadonmarketing): Play in new window | Download (Duration: 36:02 — 49.6MB) | Embed
Subscribe: Apple Podcasts | Google Podcasts | Spotify | RSS | More
In this episode, Christopher tackles an article that appeared in Harvard Business Review which he co-wrote with Nicolas Cole and special guest for today, Eddie Yoon. Eddie is the author of Super Consumers and is considered a Category Design Guru of Fortune 500.
Today, we will discuss the thinking behind the article, specifically about the power of data flywheel and how high-growth companies used this to stay on top.
Frustration with Misinformation
Eddie discusses the reason behind writing this article with Christopher and Nicolas. Basically, it was sharing the same frustration about companies commensurate misinformation or misunderstanding on becoming the first-mover versus category creators.
"I just think, not only are they being misled, companies are in the relentless pursuit of being first. Let's think about how to actually build a sustainable advantage at a category queen." – Eddie Yoon
Furthermore, Eddie shares how he has observed this everywhere and that he is hopeful that people would take that energy that's been misdirected to "being first", towards building a flywheel.
Missionary vs. Mercenary
Eddie shares they did tons of analysis which basically asks "what's your motivation for creating a category, are you a missionary or a mercenary?"
He says that mercenaries see the economics and they try to shortcut what is the fastest way to get to 76% to get the valuation. On the other hand, Missionaries are those who care about the product and the category being screwed up and would work towards improvement.
Eddie further discusses where radical differentiation would come in along with the transformational outcomes. He also says radical generosity is behind this.
Data Flywheel
Eddie shares the study they conducted for the article. Basically, he looked at 10 years worth of Fortune 100`fastest growing company list. He determined if he can identify fast-growing companies between those that were truly category creators. The markers he used were great product, service, company and data flywheel.
"If you are growing in a very specific way, if you have this flywheel, your valuation is meaningfully higher. You have 5x market cap for every dollar in revenue." – Eddie Yoon
To hear more about The Difference Between a First Mover and a Category Creator and more relevant information from Eddie Yoon, download and listen to the episode.
Bio:
Eddie Yoon is the founder of EddieWouldGrow, LLC, a think tank and advisory firm on growth strategy.
Previously he was one of the senior partners at The Cambridge Group, a strategy consulting firm.
His work over the past two decades has driven over $8 billion dollars of annual incremental revenue.
In particular, 8 of his clients have doubled or tripled in revenue in less than 8 years.
Eddie is one of the world's leading experts on finding and monetizing superconsumers to grow and create new categories.
He is the author of the book, Superconsumers: A Simple, Speedy and Sustainable Path to Superior Growth (Harvard Business School Press, 2016).
His book was named as one of the Best Business Books of 2017 by Strategy & Business.
He is also the author of over 100 articles, including "Make Your Best Customers Even Better" (Harvard Business Review magazine, March 2014) and "Why It Pays to Be a Category Creator" (Harvard Business Review magazine, March 2013).
Additionally, he has appeared on CNBC and MSNBC.
The Wall Street Journal, The Economist and Forbes has quotes several of his pieces.
Eddie has been a keynote speaker in the U.S., Canada, Kenya, Australia, New Zealand, Denmark, the UK and Japan.
Moreover, Eddie holds an AB in Political Science and Economics from the University of Chicago.
Having been born and raised in Hawaii, he went to the Punahou School in Honolulu.
Eddie lives in Chicago with his wife and three children.
Links:
Harvard Business Review: The Difference Between a First Mover and a Category Creator
We hope you enjoyed this episode of Lochhead on Marketing™! Christopher loves hearing from his listeners. Feel free to email him, connect on Facebook, Twitter, Instagram and subscribe on iTunes! You may also subscribe to his newsletter, The Difference, for some amazing content.