185 UnHealthcare: Why The Future is "Health Assurance" | Kevin Maney Bestselling Author / Category Designer
Friday 1st December 2023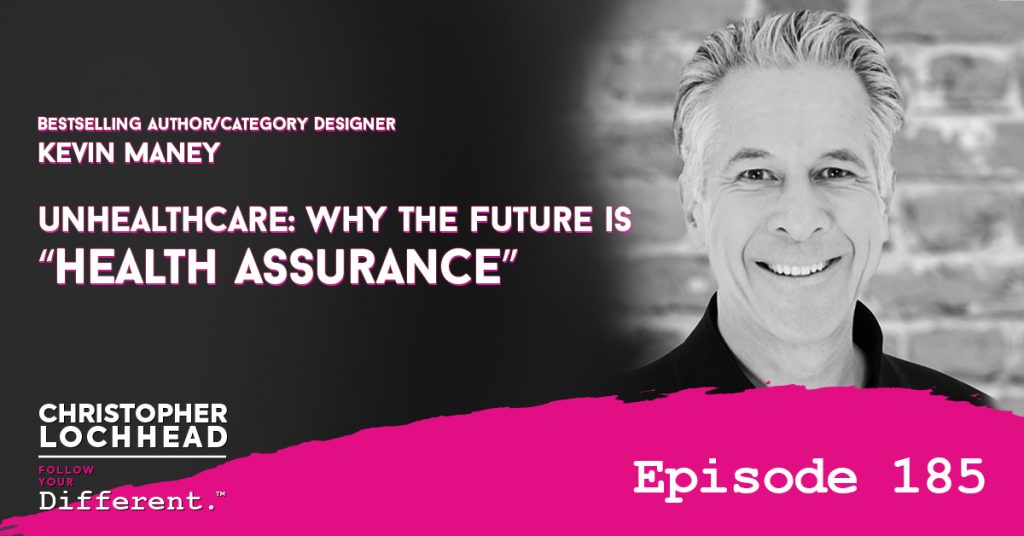 Podcast: Play in new window | Download (Duration: 1:12:40 — 49.9MB) | Embed
Subscribe: Apple Podcasts | Google Podcasts | Spotify | Pandora | RSS | More
We continue our run on legendary, bestselling authors today with Kevin Maney. Kevin is a technology executive who's covered tech for over 25 years for outfits like USA Today, Newsweek, and many others. He's the co-author of my first book: Play Bigger: How Pirates, Dreamers, Innovators Create and Dominate Markets.
Today, we have a fascinating conversation about how technology is driving a massive shift from traditional approaches to health care — which Kevin sort of frames as "sick care"— to a new category that he and his co-authors called health assurance.
Conscious Capitalism
Kevin believes that consumers will start to embrace new and interesting products and services when the pandemic ends. In fact, the VC community and Fortune 500 companies started to realize a massive shift within their policies and are now focusing on conscious capitalism.
"We're actually embarking on a huge project that has around this idea of, call it what you will, conscious capital of responsible innovation." – Kevin Maney
From Book to New Category Design
Kevin describes how he got together with Stephen Klasko, the CEO of Jefferson Health, one of the biggest health care systems in the country based in Philadelphia. They took that healthcare chapter of Kevin's book, Unscaled, to write a manifesto.
The manifesto is about 60 pages long, describing how new technologies can take apart the old healthcare system, which was based on taking care of people after they were sick.
"We actually tried to attempt in this book to literally create a new category of healthcare that we call health assurance." – Kevin Maney
What Healthcare Has Become
In part, Kevin describes the word healthcare as becoming an industrial complex, in reality, is not a "healthcare system." He further shares that the system is designed to take care of us after something bad happens to us, not to help us stay healthy. The economic incentives are around doing operations and not keeping us "out of hospitals."
"We ended up writing about in the book, these health assurance technologies that have been in place before COVID happened. You would have been able to see the patterns happening as it shifts around the globe, in almost real-time. So we ended up redoing the book to reflect all of that." – Kevin Maney
To learn more about healthcare and why the future calls for health assurance, download and listen to this episode.
Bio:
Kevin Maney is a bestselling author, award-winning columnist, and partner at Category Design Advisors (CDA). He co-authored Play Bigger: How Pirates, Dreamers, and Innovators Create and Dominate Markets, which gave birth to the discipline of category design.
His book The Maverick and His Machine: Thomas Watson Sr. and the Making of IBM is the definitive biography of the man who built IBM.
Maney has been a contributor to Newsweek, Fortune, The Atlantic, Fast Company, Strategy + Business, HBR.com, CNN, and ABC News, among other media outlets.
Additionally, he was a contributing editor at Conde Nast Portfolio during its brief run from 2007 to 2009. For 22 years, Maney was a columnist, editor, and reporter at USA Today.
He's appeared frequently on television and radio, including CBS Sunday Morning and NPR, and lectures at conferences and universities, including New York University, UNC in Chapel Hill, and his alma mater, Rutgers.
Links:
We hope you enjoyed this episode of Follow Your Different™! Christopher loves hearing from his listeners. Feel free to email him, connect on Facebook, Twitter, Instagram, and subscribe on iTunes! Get amazing, different stories on business, marketing, and life. Subscribe to our newsletter The Difference.