015 Product-Market Fit Is A Dangerous Idea
Sunday 1st October 2023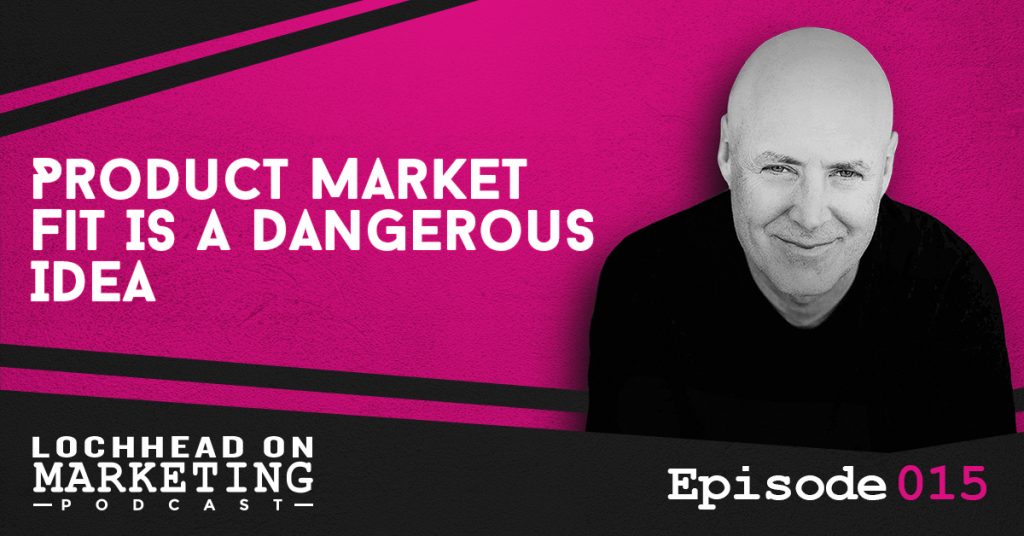 Podcast (lochheadonmarketing): Play in new window | Download (Duration: 12:51 — 20.7MB) | Embed
Subscribe: Apple Podcasts | Google Podcasts | Spotify | Stitcher | RSS | More
In most industries, product-market fit is an unquestioned gospel, even in Silicon Valley. On the contrary, Christopher believes that product-market fit is a dangerous idea. Why? Because legendary marketers create and design their own category, as opposed to competing in an existing category.
Product-Market Fit
In the tech startup world, achieving product-market fit is often considered a major milestone. However, Christopher argues that product-market fit is one of the most dangerous ideas in business today.
"The problem with product-market fit is that language can trick marketers into thinking that what you're doing is building a product and you're trying to fit it in a market." – Christopher Lochhead
Legendary creators are not looking to "fit" into a market, instead, they want to stand out. Standing out means to design their own market category.
Category King and Queens
Christopher cites some of the category kings and queens of today. Think about Jeff Bezos, he is equated with the term eCommerce, just as we equate Pablo Picasso with Cubism. We also have Sara Blakely of Spanx, who created her own category of Shapeware, not just trying to fit into the girdle category.
"Think about the most respected entrepreneurs, creators, and innovators. a huge part of why we all respect them is because they broke or took new ground." – Christopher Lochhead
Some other great examples are AirBNB, which presented a new idea and experience for tourists and travelers. Another one is Evian, who deviated from the idea that water is free. Red Bull also dominated their energy drink category, as opposed to hydration drinks, where Gatorade was category king.
 "The greatest innovators teach the world to think differently. With a fresh idea, a new take on an old problem or by solving a problem we didn't even know we had." – Christopher Lochhead
Where the Challenge Lies
The challenge of product-market fit is, it can trap inventors and creators into thinking that they can test their product and service to people and f they consume it, they equate it to the future success of the product. If these people do not consume the product intuitively, then they can just go back and work on the product.
This is in opposition to Henry Ford's mindset who said: "If I had asked people what they wanted, they would have said faster horses." Moreover, even Steve Jobs has the same ideas on product-market fit, saying "customers don't know what they want until we've shown them."
"The big ah-ha here is that there is a massive distinction between fitting into an existing market category and competing versus creating your own new market category." – Christopher Lochhead
To hear more about why Product-Market Fit Is A Dangerous Idea and more relevant information from Christopher Lochhead, download and listen to the episode.
Bio:
Christopher Lochhead is a Top 25 podcaster and #1 Amazon bestselling co-author of books: Niche Down and Play Bigger.
He has been an advisor to over 50 venture-backed startups; a former three-time Silicon Valley public company CMO and an entrepreneur.
Furthermore, he has been called "one of the best minds in marketing" by The Marketing Journal, a "Human Exclamation Point" by Fast Company, a "quasar" by NBA legend Bill Walton and "off-putting to some" by The Economist.
In addition, he served as a chief marketing officer of software juggernaut Mercury Interactive. Hewlett-Packard acquired the company in 2006, for $4.5 billion.
He also co-founded the marketing consulting firm LOCHHEAD; was the founding CMO of Internet consulting firm Scient, and served as head of marketing at the CRM software firm Vantive.
Links:
Quora: How do you define Product-Market Fit?
We hope you enjoyed this episode of Lochhead on Marketing™! Christopher loves hearing from his listeners. Feel free to email him, connect on Facebook, Twitter, Instagram and subscribe on iTunes!