220 Think Like Amazon with John Rossman
Wednesday 6th December 2023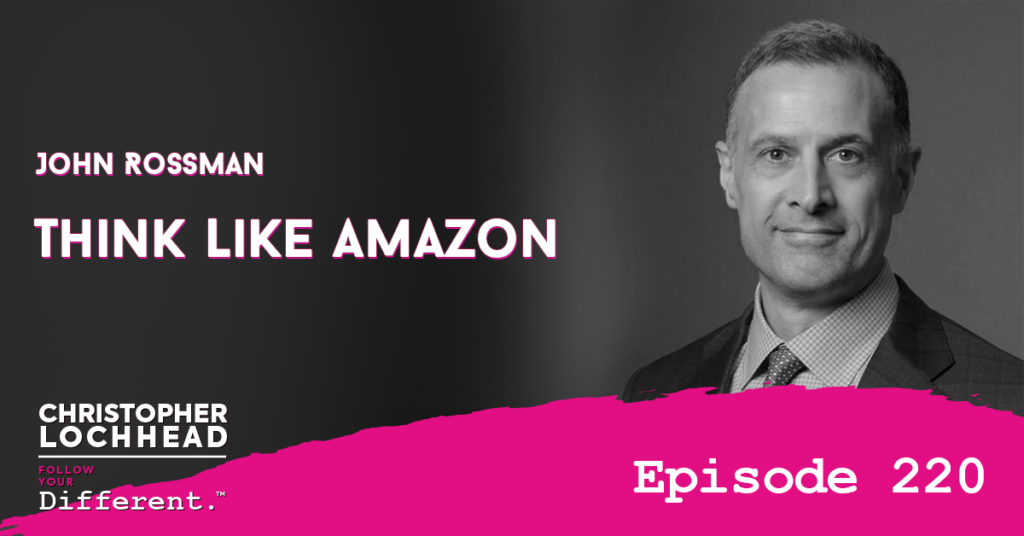 Podcast: Play in new window | Download (Duration: 1:01:35 — 42.3MB) | Embed
Subscribe: Apple Podcasts | Google Podcasts | Spotify | Pandora | RSS | More
In 2020, Amazon.com became an essential service in America. The company is now worth $1.6 trillion, and has become one of the greatest B2B companies in history, the Category King of E-commerce. Amazon Web Services is also the fastest growing B2B tech company ever.
It's shocking that one company is dominating on both the consumer and enterprise technology side in a way that we've never seen one company do before.
On this episode of Follow Your Different, our guest today is the expert on the Amazon Way. As a matter of fact, he wrote the book on it. John Rossman is an extraordinarily sought-after author, speaker, and thinker in business, because he is teaching all of us how to be like Amazon.
John Rossman is the author of The Amazon Way, a former Amazon Leader and Managing Partner at Rossman Partners. In his new book, John breaks down the Amazon leadership principles and how we can learn to innovate and compete in the digital era. So if you're interested in learning more, you'll love everything about this conversation.
Compete Differently
John Rossman shares what his inspiration was to making the book. For him, it was a matter of getting the word out and letting people know what you can learn from Amazon's business strategies. You can then use these to incorporate into your business culture and leadership approach so you can better compete in the market.
"That's kind of the fair way that I play. And I just love the notion of like, we got to compete differently and that is what you Amazon is teaching us. That's what I try to take away and give to my readers." – John Rossman
The American Story
John talks about a bit of history on how Amazon came to be, and thinks that it doesn't get highlighted enough that Amazon and Jeff Bezos is the American Story people aspire to have. He's someone who bet on himself, left his cushy job and went all in on his idea.
It took Amazon literally two decades to become the juggernaut we know them to be right now, and it was not without its problems. Though despite these problems, Amazon continued to push on and in these bad times came the leadership principles that they continue to follow to this day.
"Those are the leadership lessons I learned so much from and his consistency in beliefs, like them or not, at least they're consistent, and they're super well-articulated. And so I think that that is a big story that that doesn't get told enough." – John Rossman
Pushing On Despite Criticisms
John recalls how it was like in the early 2000s, particularly on how media and the public perceived Amazon. Other entrepreneurs and business leaders didn't believe that they could succeed, and they were always doubted.
Yet when you look at Amazon today, it's as though it is an essential service for everyone. That's saying a lot for something that is owned by a private entity.
He also shares how Amazon handled the situation once the pandemic hit. Unlike other businesses and services that bided its time and waited, Amazon focused their attention on how to deliver the best service they could despite the on-going situation.
To say it paid off would be the understatement of the year.
"All you remember the days of like, the grocery store shelves being barren and everything, right? Amazon was the answer, dude on toilet paper for Fox, and food and things like that. They did an amazing job at quickly shifting, and the thing I was pointing out to everybody is like, it didn't happen by accident." – John Rossman
To hear more from John Rossman and on how your business can be like Amazon, download and listen to this episode.
Bio
John Rossman
Digital and Innovation Advisor
Mr. Rossman is an expert at digital business models, operations and organizing programs. He has led engagements on developing innovation processes, Internet of Things strategies, marketplace and API driven platform business models.
He is a sought-after speaker on creating a culture of operational excellence and innovation.
Mr. Rossman has worked with clients across various industries, including retail, insurance, education, healthcare, consumer products, industrial products and transportation.
Mr. Rossman's notable assignments include The Bill and Melinda Gates Foundation, Microsoft, Nordstrom and several of the world's leading retail and insurance organizations.
Prior to Rossman Partners, John was a Managing Director at Alvarez and Marsal, a performance improvement consulting firm.
Prior to A&M, John was an executive at Amazon.com where he launched the Marketplace business and third-party selling platform, and ran the merchant services business.
Links
Connect with John!
Website: The-Amazon-Way.com
LinkedIn: in/John-Rossman
Twitter: @JohnERossman
Get the Book: The Amazon Way: Amazon's 14 Leadership Principles
We hope you enjoyed this episode of Follow Your Different™! Christopher loves hearing from his listeners. Feel free to email him, connect on Facebook, Twitter, Instagram, and subscribe on iTunes!