160 Radical Business Transformation | Clint Carnell, CEO Hydrafacial
Monday 25th September 2023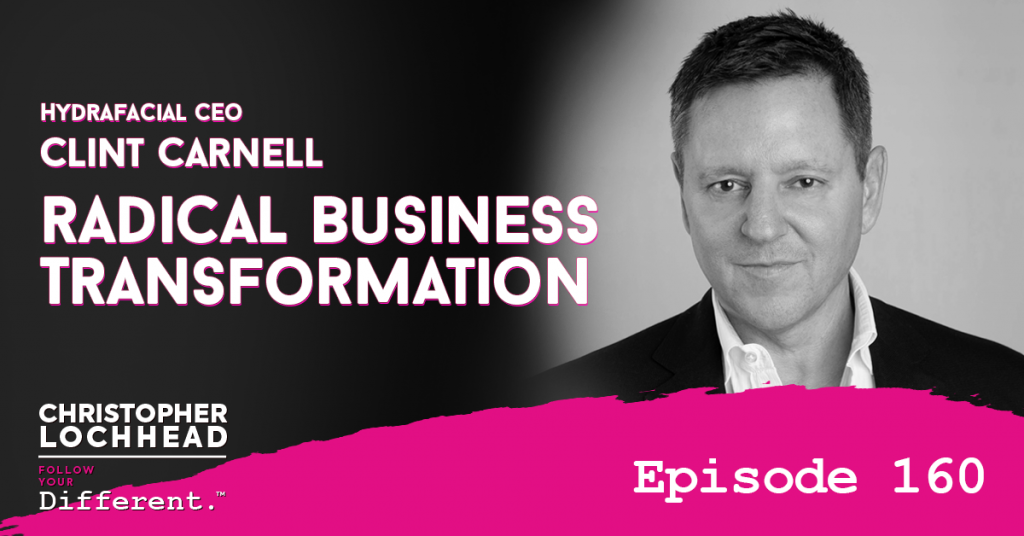 Podcast: Play in new window | Download (Duration: 56:41 — 38.9MB) | Embed
Subscribe: Apple Podcasts | Google Podcasts | Spotify | Pandora | Stitcher | RSS | More
Today, we have Clint Carnall, CEO of HydraFacial to share an extraordinary story of resilience, creativity, and action in a very short period of time. Clint's company was one of the many companies that were amassing tens of millions of dollars in revenue, pre-pandemic. Now at zero revenues, they opted to go radically generous and thoughtfully aggressive.
This is a legendary and inspiring example of how an entrepreneurial team scaled to meet any challenge, even the greatest challenge frankly that any of us have faced in our lifetime.
The HydraFacial Ecosystem
HydraFacial, as Christopher described it "is a company that is a part medical procedure, part beauty spa-like experience." Clint, on the other hand, describes their company as a company built on "partnership." They are not a "or" company, rather an "and" company, considering hotels, spas, medical physicians as partners rather than competitors.
"Absolutely, no matter how good the painter they are, everybody needs a clean canvas. They think about HydraFacial like giving these physician med spas a clean canvas." – Clint Carnell
Clint continues to describe how their company operates in an ecosystem of physicians and nurses and consumers spas, hotels, etc and how this business model helped them to drastically grow the business.
From Top-Tier to Zero Revenues
A few weeks ago, Clint's company HydraFacial were on a growth tier, serving different regions worldwide. They were on their A-game until Covid-19 struck their business. Clint shares how he witnessed their markets in China, Japan, Taiwan, and the rest of the world shut down.
However, Clint shares why this is an exciting time to be creative and to brush it off and take off.
"I say it is a creative time. You know, it feels like an ambush. You are walking along and things are fine and then something hits you out of nowhere that you couldn't expect. We are a little stunned. We have to brush ourselves off, were up and back, and ready to go." – Clint Carnell
Finding Opportunities Amidst Crisis
Clint believes that good companies and executives, as well as creative entrepreneurs, have the capacity to make today as 'creative times.' CEOs all over the world have to make hard decisions, especially when you go from that kind of growth to almost zero revenue overnight.
"The things that made us good executing the way up were the same things that are serving us during these challenging times and so strategy, but more importantly, solid execution." – Clint Carnell
To hear more about how a category queen company created three new lines of business in a matter of weeks after their core category collapsed to no fault of their own and for more information about Clint, download and listen to this episode.
Bio:
Clint was born in Anchorage Alaska but receives no royalties from the pipeline, thus he works for a living as our Chief Executive Officer.
He grew up in Washington State and chased a soccer ball well enough to attend Duke University on a scholarship where he received grades good enough to land jobs with the likes of Johnson & Johnson, Chiron, Gambro Healthcare and Bausch & Lomb.
He's always been an entrepreneur starting in his early days when he would skip the school bus, buy jolly ranchers for a nickel and sell them for a quarter.
At thirty, he founded Charleston Renal Care, which was acquired by DaVita.
This gave him the ability to take a chance and join a VC backed company named Thermage, which went public, made acquisitions, and is now called Solta Medical.
In his very spare time, Clint and his wife are busy raising two kids in Park City, Utah. The family has lots of animals affectionately called "the farm". His biggest fear is breaking all his bones trying to race his kids down the ski slope!
Links:
We hope you enjoyed this episode of Follow Your Different™! Christopher loves hearing from his listeners. Feel free to email him, connect on Facebook, Twitter, Instagram and subscribe on iTunes!