072 Designing Legendary Categories, Companies & Brands w/ Michelle Stacy
Monday 25th September 2023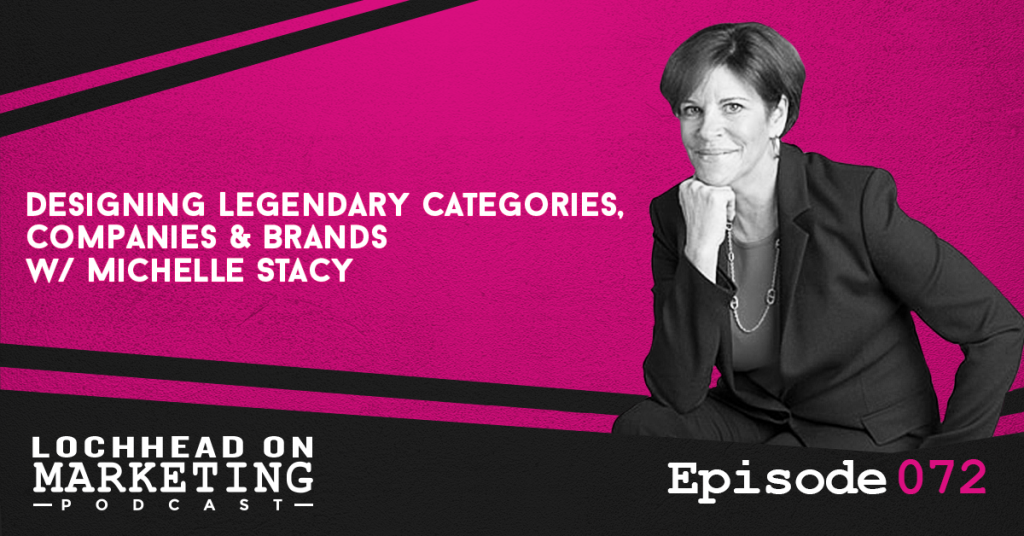 Podcast (lochheadonmarketing): Play in new window | Download (Duration: 52:15 — 35.9MB) | Embed
Subscribe: Apple Podcasts | Google Podcasts | Spotify | Stitcher | RSS | More
Today, Chris goes deep on how to design a legendary category, company product, and brand with his super special guest, Michelle Stacy. Michelle is a living consumer product marketing legend, honing her craft with brands such as Gilette, Oral B, Keurig, and now, HydraFacial.
Putting Consumers First
Michelle spent many years honing her craft at Gillette where she led Oral B. She launched a number of great new products including the Pulsar battery powered manual toothbrush. She was the President of Keurig from 2010 to 2014, where the business grew from less than $1 billion in revenue to 4.5 billion.
Through her leadership, she took Keurig from being a category-defining product to becoming — what we, in tech call — a platform. She did this when they started inviting in the competition to sell their coffee for Keurig machines. Additionally, she's been a board member at iRobot, Coravin (a legendary wine preservation system), and Hydrafacial (Clint Carnell CEO on FYD #160)
"I think what always resonates with me is putting the consumer first and trying to think through 'how do I make an emotional connection between what I want the consumer to buy and the product itself.' To me, that's where longevity happens around products. When you can get a consumer to fall in love with your product, then you have the opportunity, to as you would put it, become a Category King." – Michelle Stacy
The Keurig Story
Michelle started working with Keurig in November 2008, more or less the onset of the global financial crisis. She found herself contemplating if she could ever push forward a premium-priced business given the financial crisis at that time. With consumers in mind and with the right launch plan, they successfully introduced a well-loved product.
"Keurig was actually the fifth single-serve company to market. They're just the ones that got it right." – Michelle Stacy
Creating Momentum
In this episode, Michelle walks us through the process of developing and launching Keurig machines. She mentions initially offering this to client-facing businesses, then slowly grew to every home through word of mouth. They also knew that customers do not like to be tied into a single brand of coffee, so they explored tying up with different coffee brands for their K-cups.
"In my DNA is the concept of looking at how you create value in every step of your environment so that you're creating value for the consumer, you're conveying value for the retailer, you're creating value for your suppliers that are supplying you with the product. So as everyone benefits within an ecosystem, it creates momentum." – Michelle Stacy
To know more about designing legendary categories and to know more about Michell Stacy, download and listen to this episode.
Bio:
Michelle is a strong leader whose personal and professional skills have developed over a 35-year career. Keurig, Gillette, and P&G have all benefited from her ability to develop and articulate a clear vision and strategy, build brands, and identify avenues for growth.
Michelle's key to managing and driving exceptional growth has been her ability to create a positive and focused culture that generates high employee engagement, as well as talent for creating company-wide commitment to lead with a higher purpose.
A few of the brands that Michelle has impacted include:
The Gillette Series
Gillette Mach3
Oral-B
Oral-B Stages
Keurig
Links:
We hope you enjoyed this episode of Lochhead on Marketing™! Christopher loves hearing from his listeners. Feel free to email him, connect on Facebook, Twitter, Instagram, and subscribe on iTunes! You may also subscribe to his newsletter, The Difference, for some amazing content.