034 Digital Leadership & Why Leaders Over-Communicate
Monday 20th November 2023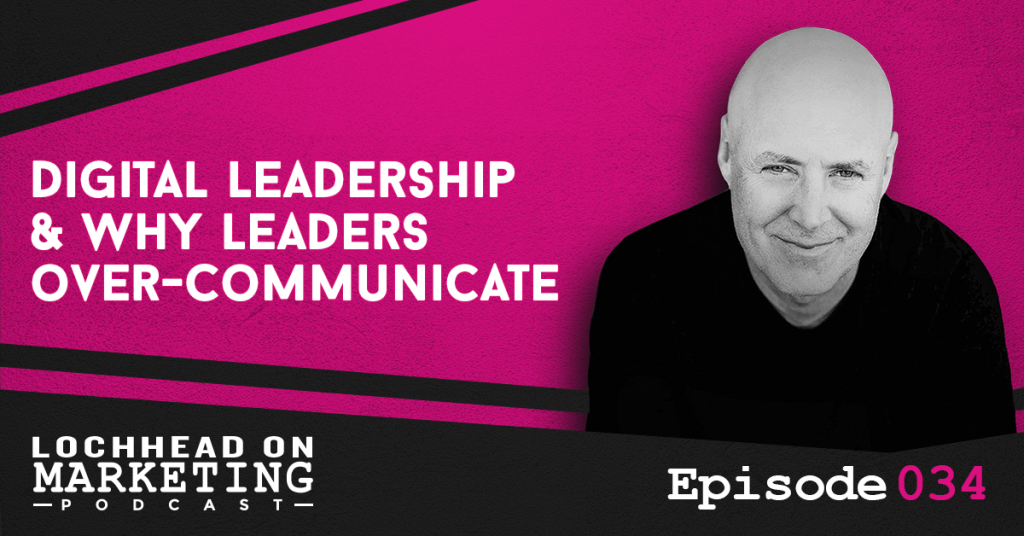 Podcast (lochheadonmarketing): Play in new window | Download (Duration: 10:45 — 7.4MB) | Embed
Subscribe: Apple Podcasts | Google Podcasts | Spotify | RSS | More
Extraordinary times call for legendary leadership. Because of the Coronavirus, shit is getting very weird. As Hunter Thompson said, "When the going gets weird, the weird turns pro" which is why it's time to become a Digital Leader and over-communicate.
Primary Mode of Communication
In times of crisis, people need to both see and hear from their leaders. Former navy seal and former Chief of Staff for 4-star General Stanley McCrystal, Chris Fussell was on FYD episode 38 and he made a comment on digital leadership in an article he wrote on NY Times. 
He made a comment on "digital leadership and said "first, don't hunker down. Second, demonstrate candor." Christopher thinks this is good advice especially in times like this, the only way people are experiencing their leaders is digital.
"Going forward once we get through this crisis, it is very clear, digital communication will become, if it is not already, the primary way that your employees hear from you and see you." – Christopher Lochhead
Leaders Are Not Overcommunicating
Christopher observed that CEOs, CMOs or any business leaders at the moment are not communicating much. This to him is a big mistake. He shares that Fussel and McCrystal are right on, from a tactical point of view. He also encourages leaders, not only to improve public speaking skills but to get comfortable with technology such as Zoom. 
"I don't think you can be a leader anymore unless you're a digital leader." – Christopher Lochhead
To cite an example, Chris Fussel talked about McChrystal doing daily briefings. He couldn't take a top-down approach on communications that he needed to be front and center with all of his people and so he started daily briefings using video and audio.
Becoming a Digital Leader
As a CEO, CMO, of business leader the first a-ha here is that you can't be a leader unless you're a digital leader. Since its the only way for people to experience you, you must get comfortable with technology. Make the necessary upgrades on your hardware such as microphone, camera, among others. 
Consider having daily CEO briefings. Learn how to motivate your employees and ask the tough questions. Be radically candid and keep in mind, LISTEN, LISTEN, LISTEN. 
To hear more about Christopher's thoughts digital leadership and overcommunicating. download and listen to this episode. 
Bio:
Christopher Lochhead is a #1 Apple podcaster and #1 Amazon bestselling co-author of books: Niche Down and Play Bigger.
He has been an advisor to over 50 venture-backed startups; a former three-time Silicon Valley public company CMO and an entrepreneur.
Furthermore, he has been called "one of the best minds in marketing" by The Marketing Journal, a "Human Exclamation Point" by Fast Company, a "quasar" by NBA legend Bill Walton and "off-putting to some" by The Economist.
In addition, he served as a chief marketing officer of software juggernaut Mercury Interactive. Hewlett-Packard acquired the company in 2006, for $4.5 billion.
He also co-founded the marketing consulting firm LOCHHEAD; was the founding CMO of Internet consulting firm Scient, and served as head of marketing at the CRM software firm Vantive.
Links:
What 9/11 Taught Us About Leadership in a Crisis, NY Times
Using the Next Recession to Change the Game
How to Survive a Recession and Thrive Afterward, HBR
Seize Advantage in a Downturn, HBR
Advantage In Adversity: Winning The Next Downturn
We hope you enjoyed this episode of Lochhead on Marketing™! Christopher loves hearing from his listeners. Feel free to email him, connect on Facebook, Twitter, Instagram and subscribe on iTunes! You may also subscribe to his newsletter, The Difference, for some amazing content.