129 How to go from Sales Rep to Chairman of The Board in Silicon Valley w/ Elisa Steele
Sunday 1st October 2023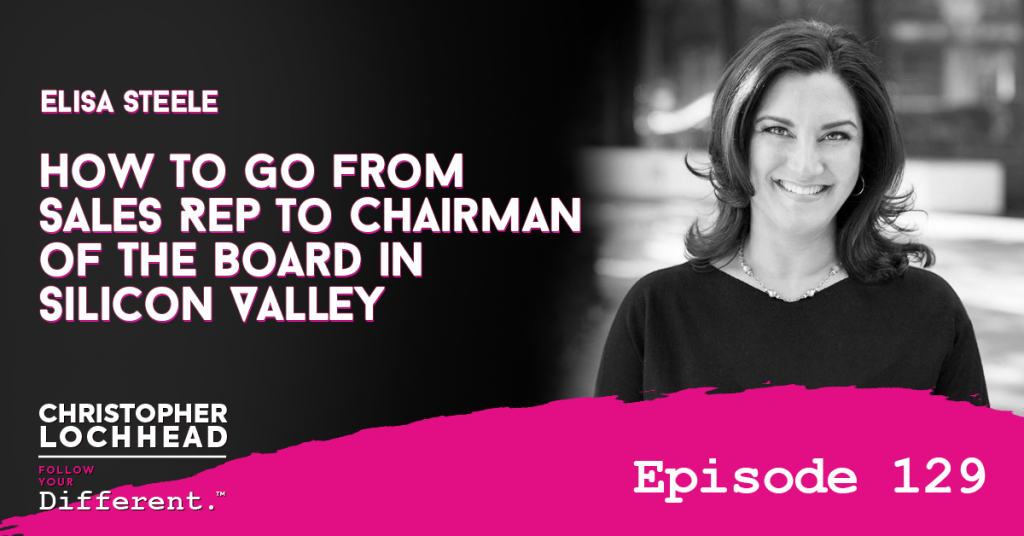 Podcast: Play in new window | Download (Duration: 56:48 — 78.2MB) | Embed
Subscribe: Apple Podcasts | Google Podcasts | Spotify | Pandora | Stitcher | RSS | More
In this episode, we are taken for a ride on how to go from sales rep to Chairman of the board with the amazing Elisa Steele. We have a powerful conversation about how she went from sales rep to regional sales to CMO, then CEO.
We also talk about what she's learned from working in massive tech companies like Microsoft and Yahoo and many more, Wait for the part where she gives advice on how women can design legendary careers and have children too.
From Sales Rep to CEO
Elisa Steels is the Chairman of the board of two publicly traded tech companies, Cornerstone on Demand and Namley. She's also on the Board of $25B Splunk. More of her career background includes former CEO of Namley and Jive and former CMO of Skype, and Yahoo.
She candidly shares what she learned from her career in these huge tech companies and from smaller entrepreneurial companies. From the time she graduated, she had a clear vision of what success looks like and she believes she will achieve it through sales.
"If I went into sales, then its really clear. If I'm successful, I made or overachieve my number. Nobody can be subjective about that. If I go into some of these other fields, that was like, a complete mystery to me, how do I know if I am actually gonna make it? – Elisa Steele
Legendary Career Woman
Initially, Elisa shares the only one thing she wished for her career: to not work with other people. The second thing she wished was to have financial independence. She believes that if women do not build resources for themselves, the critical decisions will be left to other people other than themselves.
"I was motivated by the fact or maybe even terrified by the fact that I wouldn't have choices in life if I didn't have resources. If you don't have resources, then decisions in your life are up to somebody else. Resources equals choice." – Elisa Steele
For Elisa, resources generally are assets. It is representative of the things that help women make a decision on what they want to do. Creating some wealth will make those choices, especially those that are critical in life.
How to Disagree and Commit
Elisa is a powerful executive and she shares the thought of disagreeing, but still committing. She describes herself as a consensus builder.
"Being the smartest in the room doesn't actually help anybody. You have to actually make decisions and together, execute, because strategy is nothing without strong execution. Executiion is everything. Even if the strategy is off, you can still win, if you execute. Disagree but commit and be one team." – Elisa Steele
To hear more information about Elisa Steele and to listen to his tips on how to go from sales rep to chairman of the board, download and listen to the episode.
Bio:
Elisa Steele is the Chairman of the Board at Cornerstone (CSOD) and Namely; Board Director at Splunk (SPLK) and an advisor to Advisor to Tile and people.ai.
She's the former CEO of Namely and Jive Software, Inc.,
Ms. Steele served as Chief Marketing Officer and Corporate Vice President, Consumer Apps & Services at Microsoft Corporation, a worldwide provider of software, services and solutions, and Chief Marketing Officer of Skype, an Internet communications company, from 2012-2014.
Ms. Steele also has held executive leadership positions Yahoo! Inc. and NetApp, Inc.
Ms. Steele has served as a member of the board of directors of Cornerstone OnDemand, Inc., a learning and human capital management software company, since 2018.
Ms. Steele holds a B.S. from the University of New Hampshire and an M.B.A. from San Francisco State University.
Links:
We hope you enjoyed this episode of Follow Your Different™! Christopher loves hearing from his listeners. Feel free to email him, connect on Facebook, Twitter, Instagram and subscribe on iTunes! Get amazing, different stories on business, marketing, and life. Subscribe to our newsletter The Difference.