033 Marketing Is The Leadership Department
Sunday 1st October 2023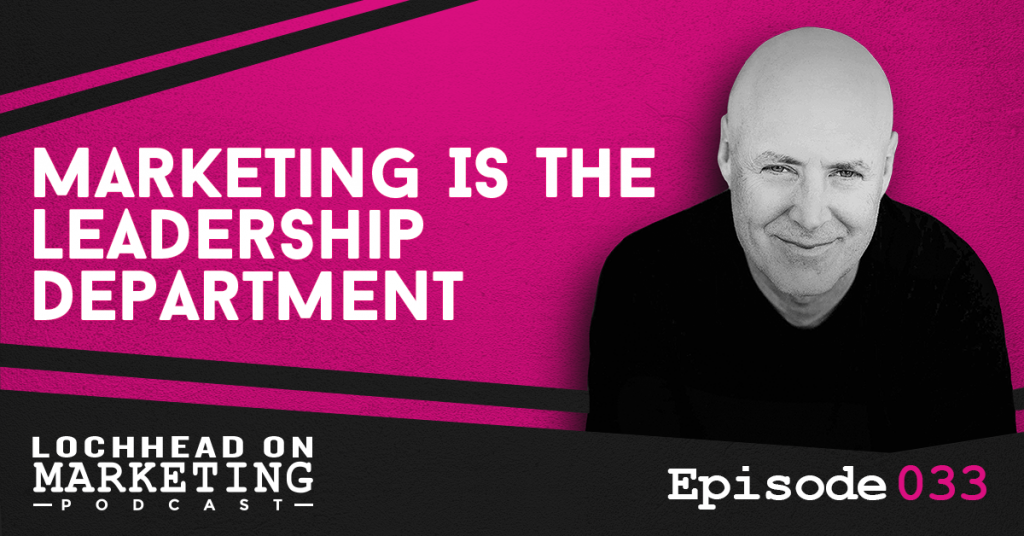 Podcast (lochheadonmarketing): Play in new window | Download (Duration: 11:59 — 8.2MB) | Embed
Subscribe: Apple Podcasts | Google Podcasts | Spotify | Stitcher | RSS | More
Coronavirus has created and is still creating both horrible human and economic costs, around the world. However, it is during these times, where real leaders stand up and become legendary. Extra-ordinary times, call for legendary leadership.
The difference in marketing can make in these tough times, is incalculable. In this episode, let's talk about why Marketing is the Leadership Department. The goal is to share ideas but most importantly, to spark dialogue and thinking amongst you and your colleagues,
Let's Face It
Let's state the obvious. We are likely heading into a downturn: revenues are likely coming down, as well as budgets and spending. Both private and public enterprises are definitely affected.
"From a human perspective, the coronavirus is going to cause more loss and suffering that's just where we are at." – Christopher Lochhead
Marketing as Leaders
As this is the perfect time for marketing leaders to stand up, here are some of Christopher's thoughts on how to make it legendary.
1) Real leaders stand up
If you're a CEO, please think about leading your company and your category through marketing. If you're a CMO, please think about yourself as the personal press secretary for your CEO. In challenging times, the CEO and CMO want to be stapled to each other because marketing sets the tone for the company
"Marketing unifies all communications and spokespeople." – Christopher Lochhead
On the offensive side, legendary marketing in bad times can drive the agenda for the category and position the company to gain a meaningful category share.
2) Now is a good time to do some good
If you or your company is in a position to help, see if you can. Let's all try and be kind to each other. This is the right time to ask ourselves if we're doing all that we can for our people. This epidemic is going to affect us in one way or another.
"I know of several high-profile Silicon Valley tech companies that are donating technology, money and/or resources, of one sort or another to try and help with this situation." – Christopher Lochhead
3) Look to make smart budget cuts / re-allocations
Use this situation as an excuse to stop doing any activities that don't give returns to the company. Most marketing plans have at least 20% of stupid in them. Cut more than you think you have to. Measure twice, cut once.
4) Practice radical transparency
Now is the time for clear, plain decisive language with your people, customers, partners, and investors. It is attractive, endearing and it makes people want to help this troubled company because the most legendary leaders are radically transparent.
5) Get thoughtfully aggressive
Research from Firms like McKinsey and Bain, published in places like the HBR suggest that the pathway to success is "Act fast, make changes or cuts if needed, then be thoughtfully aggressive, ahead of the recovery. The research says: Between 9%-14% of companies (depending on the study) actually outperformed competitors by at least 10% in sales and profit growth
Aim to be one of them!
6) Evangelize the category
Evangelize the problem. Most of your competitors will cut big M, marketing and over-focus on "demand generation." That will open the door for you to grab category, POV leadership, We are all focusing on demand generation right now. That will probably open the door,
"CEOs often say to me, 'Our problem is we are too much of a vitamin, not enough of an aspirin' In downtimes, you want to make sure that people think that your category is a must-have, not a nice to have" – Christopher Lochhead
7) Drive short-term revenue
Get your 5 smartest marketers and your 5 smartest salespeople in a room for a day. Brain storm short term campaign ideas. Pick the simplest, quickest to execute ideas and get busy driving the pipeline and the cash register
To hear more about Christopher's thoughts on why marketing is the leadership department, download and listen this episode.
Bio:
Christopher Lochhead is a #1 Apple podcaster and #1 Amazon bestselling co-author of books: Niche Down and Play Bigger.
He has been an advisor to over 50 venture-backed startups; a former three-time Silicon Valley public company CMO and an entrepreneur.
Furthermore, he has been called "one of the best minds in marketing" by The Marketing Journal, a "Human Exclamation Point" by Fast Company, a "quasar" by NBA legend Bill Walton and "off-putting to some" by The Economist.
In addition, he served as a chief marketing officer of software juggernaut Mercury Interactive. Hewlett-Packard acquired the company in 2006, for $4.5 billion.
He also co-founded the marketing consulting firm LOCHHEAD; was the founding CMO of Internet consulting firm Scient, and served as head of marketing at the CRM software firm Vantive.
Links:
Using the Next Recession to Change the Game
How to Survive a Recession and Thrive Afterward
ADVANTAGE IN ADVERSITY: WINNING THE NEXT DOWNTURN
We hope you enjoyed this episode of Lochhead on Marketing™! Christopher loves hearing from his listeners. Feel free to email him, connect on Facebook, Twitter, Instagram and subscribe on iTunes! You may also subscribe to his newsletter, The Difference, for some amazing content.