099 Persuasion w/ Lee Hartley Carter
Monday 29th May 2023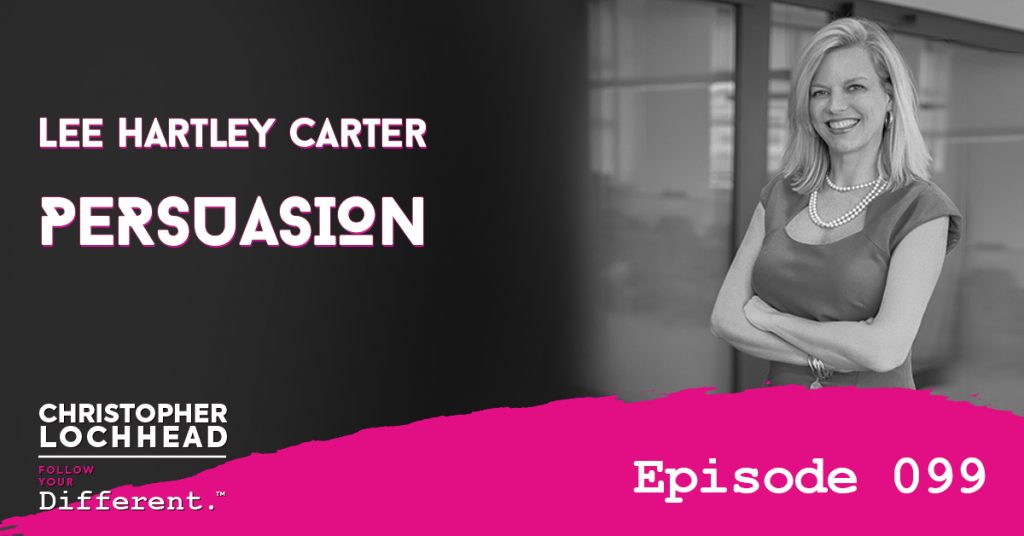 Podcast: Play in new window | Download (Duration: 1:16:30 — 70.3MB) | Embed
Subscribe: Apple Podcasts | Google Podcasts | Spotify | Pandora | Stitcher | RSS | More
Languaging Master Lee Hartley Carter joins us today for a riveting conversation about the power of language and the art of persuasion. She discusses today how language shapes everything in our lives and how to use language to convince people when facts don't seem to matter.
Marketers and non-marketers will surely learn a ton from this conversation about communications, language strategy, and persuasion.
The Power of Language
Lee candidly shares with Christopher that she never thought about a job opportunity which involves words and messaging. When she was younger, she considers herself as obsessed with words.
For her, language is the means in which people can connect with other human beings and convey thoughts, feelings, and perspectives. Language is a powerful tool with every word, having its own meaning.
"That change in language changes thinking, which ultimately change social beliefs and norms and potentially laws and governance approaches. It can change a lot of things." – – Lee Hartley Carter
Language Strategy in Marketing
Lee further cites examples of how the smallest change in language can have a huge impact. She cited differences in words such as estate tax/death tax, or global warming/climate change, or used vehicles/pre-owned vehicles. A simple change of words can reshape how people think about the message.
Lee also shared the common mistake marketers make in conveying a message. Oftentimes, marketers tend to "speak louder" — to share more facts to try and get the point across. This doesn't end well, as people get turned off with the over-communication.
"Instead, what you need to do is to not speak louder but speak smarter. The way that speaks smarter is by slowing down and really saying 'you know what, this isn't about what I want to say. This is about what they need to hear.'" – Lee Hartley Carter
Crisis Communications
In an interesting turn of the conversation, Lee and Christopher discussed crisis response. Lee laid out her step by step advice on companies facing a crisis. First, she says that freaking out is a natural response to a crisis. However, she noted that it's important to understand what your target audience is thinking or is feeling at that moment.
"Who are you trying to convince right now that you're okay, is it your shareholders? is it your customers? What are they afraid of right now? What value have you just betrayed in them?" – Lee Hartley Carter
They had a great dialogue on crafting emergency messages as Christopher had his own fair share of stories to tell, with regards to crisis communications and response.
To hear more about Persuasion and more relevant information about Lee Hartley Carter, download and listen to the episode.
Bio:
After a crushing loss in a student council race in the 6th grade, Lee learned the importance of getting the story right from the beginning.
In the 7th grade, when she ran again, she ran on a story that was driven by some middle school polling techniques she employed among her classmates.
And, she won.
Ever since she has had a passion for language. For the message. For the story.
And she brings this passion to her role as partner at m+p, a research-driven language strategy firm that specializes in finding the right language and messages based on one simple idea: it's not what you say that matters, it's what they hear.
A member of the executive leadership team, Lee oversees a diverse range of language strategy work for Fortune 500 companies and non-profits in the U.S. and abroad.
To do this, Lee has conducted, overseen, and analyzed countless instant response sessions, traditional focus groups, brainstorming and strategy sessions. and surveys in more than 15 countries.
She has worked with clients in a wide range of industries including financial services, energy, automotive, sustainability, hospitality services, food and beverage, technology, and consumer products.
And, she has worked extensively in public affairs, public policy, and issue advocacy.
Before joining Maslansky + Partners, Lee spent more than ten years in marketing and strategic communications.
And, like many of her colleagues at m+p got her start in politics advocating for teaching hospitals, graduate medical education, the use of bicycle helmets, and healthcare for those who couldn't afford it.
Lee serves as a member of the National Head Start Association advisory board focusing on messaging, is a fellow of the National Committee on US-China Relations Young Leadership Forum, and an occasional contributor to Fox News and MSNBC.
Links:
We hope you enjoyed this episode of Follow Your Different™! Christopher loves hearing from his listeners. Feel free to email him, connect on Facebook, Twitter, Instagram and subscribe on iTunes!