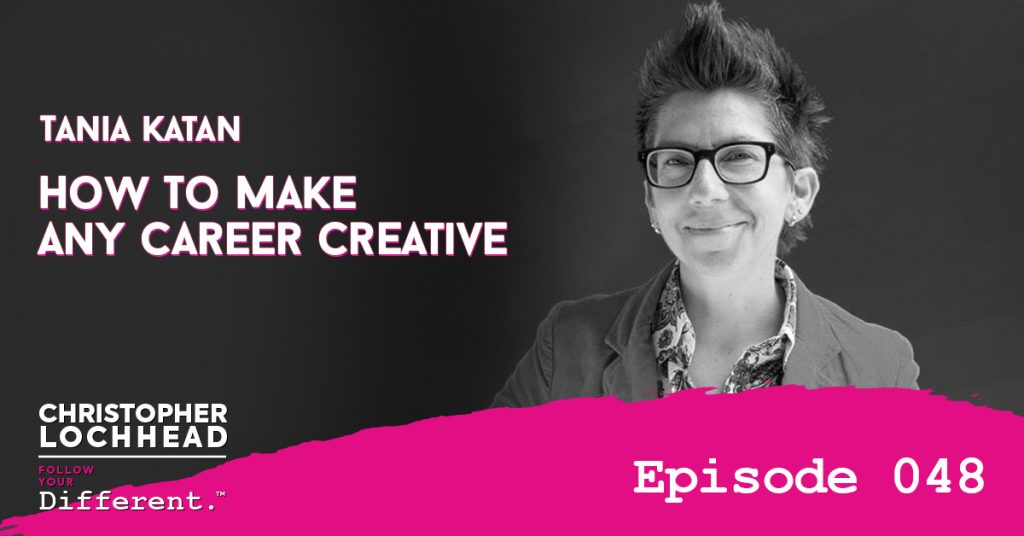 Podcast: Play in new window | Download (Duration: 1:02:32 — 57.5MB) | Embed
Subscribe: Apple Podcasts | Android | Google Podcasts | Stitcher | TuneIn | Spotify | RSS | More
"Every rockstar business needs a punk." – Tania Katan
On this episode, the incredible Tania Katan has a riveting conversation with Christopher about how to put the spark of joy back into work and life, how she overcame breast cancer and how it shaped her life.
Tania is a powerful example of someone who "used her different" to make her place in the world.
She shares the captivating story of how she went from acting, to working in enterprise technology, to becoming an advocate for women in tech, to becoming a successful author and more.
Tania is famous for starting the empowerment campaign #ItWasNeverADress.
"We don't need to be in a job or a field that is uniquely creative in order to be uniquely creative within the work we do." – Tania Katan
Authoring Bestseller "Creative Trespassing"
Tania wrote the book as a dialogue and a monologue.
This reflects the way she holds her book tours and keynote speeches. She lets her audience talk and give her feedback while she listens to them.
Real conversations inspire her.
When she went to record the audiobook, she brought a photograph of her friends, family and other people who inspire her to the studio. This allowed her to feel that she was sharing her stories with them.
Unpacking the Dedication
Tania says that she was born as an outsider.
She wrote about the reality of her life and how she found a way to use "outsiderness" or "misfitness" to create a value for both companies and the people around her.
Her being different is how she makes a difference.
"Embracing the fact that we are misfits and we are flawed allows us to actually take risks and know that the outcome is going to be better than 'okay'." – Tania Katan
We Teach When We Most Need to Learn
At the age of 21, her breast was removed to save her life.
Following this event, she felt less—"other"—until she came to a realization when she became an adult.
Nobody is perfect.
Being an outsider can be painful for some people, and this is the epitome of irony. Every human being goes through the same dilemma and we all can feel uncomfortable and scared of becoming misfits.
This is where Tania's need and desire to speak for them came from—the need to learn herself.
"To be perfect is like to be invisible." – Tania Katan
By finding a way to harness her different, Tania is the epitome of "why fit in, when you can stand out".
To hear more about how Tania went from theater to tech industry and how she thinks every rockstar business needs a punk, download and listen to this episode.
Bio:
Tania Katan is an inspirational speaker, creative consultant and co-creator of the #ItWasNeverADress campaign. She is also the best-selling author of the book, Creative Trespassing.
She has been a featured speaker at CiscoLive!, S.H.E. Summit, Business of Software, Expedia, Uber, Etsy, Humana, Google, Amazon, Comedy Central Stage, TEDx, and more.
Links:
We hope you enjoyed Tania Katan on this episode of Follow Your Different™! Christopher loves hearing from his listeners. Feel free to email him, connect on Facebook, Twitter, Instagram and subscribe on iTunes!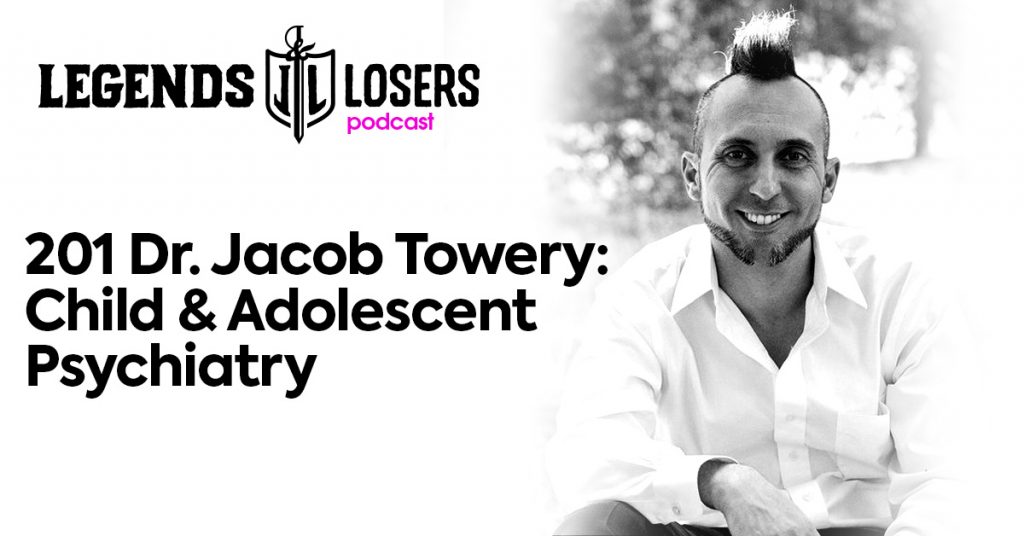 Podcast: Play in new window | Download (Duration: 1:08:07 — 62.4MB) | Embed
On today's episode of Legends and Losers, Christopher talks to Dr. Jacob Towery about raising mentally strong kids and what to do if someone is having a mental health problem and how to handle it if someone in your life might be suicidal. All this including why it's cool for a doc to rock a mohawk on Dr. Jacob Towery: Child & Adolescent Psychiatry.
Before throwing 100% of your energy into getting your child help, it's worth pausing and see if you…have any issues… – Dr. Jacob Towery
Three Things We Learned
Communication is Critical
To say to a parent, "If your kid is acting whacky, have you considered it might be you?" is a tough thing to say to a parent in today's society.  But direct communication is crucial and effective if done correctly. Dr. Towery is incredibly direct to everyone in his life but is also very thoughtful in his approach.  He's not afraid to address the elephant in the room yet does so deftly and without talking down or being disrespectful.
What the F*ck is Wrong with Men?
Like most men, Christopher and Dr. Towery were shocked and embarrassed when the "Me Too' movement started. To discover that men had been such assholes throughout time. It's now men's responsibility to better through future generations of boys and men. Dr. Towery isn't an expert in this area but believes that testosterone when unchecked in the absence of role models of how to use strength and power responsibly, can lead to violent episodes. Masculinity is great but not toxic masculinity.
A Good Place to Start
Pediatricians are a great resource if you have questions about your child's mental well-being. Always start with an assessment. Someone that is reliable, responsible and that is not just desperate for getting the most clients. A great place to start is just to find out what's going on with a neuropsychological assessment or evaluation and gathering more data before doing anything drastic.
To hear the rest of the conversation, download and listen to the entire episode!
Bio:
Jacob Towery, MD, is an adolescent and adult psychiatrist in private practice in Palo Alto, California.
He attended Duke University for his undergraduate studies, the University of Virginia for medical school, and Stanford for his residency in adult psychiatry and fellowship in adolescent psychiatry.
Dr. Towery currently serves on the Adjunct Faculty at Stanford University School of Medicine.
Dr. Jacob Towery enjoys seeing patients, teaching, snowboarding, scuba diving, traveling, reading, meditating, spending quality time with other humans, making long lists, Oxford commas, and writing about himself in the third person.