176 What is going on? | #1 Tech Analyst R "Ray" Wang Chairman Constellation Research
Monday 25th September 2023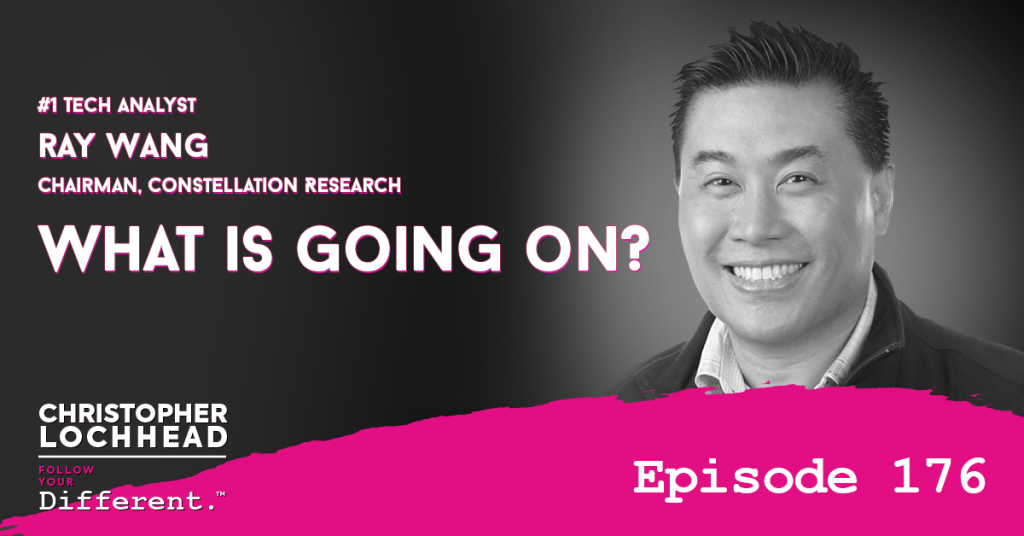 Podcast: Play in new window | Download (Duration: 1:14:00 — 50.8MB) | Embed
Subscribe: Apple Podcasts | Google Podcasts | Spotify | Pandora | Stitcher | RSS | More
In this episode, we have an amazing conversation with the world's number one tech analyst, Ray Wang. He's the founder of Constellation Research and the author of a spectacular, bestselling book called Disrupting Digital Business. We talk about what's going on with C19, is C 19 a bioweapon, and what's going on with bioweapons. We also talk about the digital giants and stock investing. Additionally, we talked about the future of enterprise tech and much more.
Is C19 A Bioweapon?
As a fan of conspiracy theory, Chris asked if indeed, Covid19 is a bioweapon. Ray shares it has not yet been addressed as of the moment but deconstructing the DNA of Covid19 says otherwise. He raised a serious call for treaties among countries as bioweapons are not a thing of the future.
"Do we have offensive or defensive capabilities? And the thought crosses through every government's mind as to, what's required? What's within the limits? What treaties have we signed? So I don't think it was intentional. I think the safety protocols were definitely broken. I think it's not necessarily something they were planning to unleash. But it was something that they were studying." – Ray Wang
Currency Crisis and Cryptocurrency
Ray also shares some of his views about the current "devaluing of dollars." They also touched on the efforts of China and Russia to push forward the use of cryptocurrencies. Ray foresees issues with the use of cryptocurrencies, from currency exchange manipulation to funding of terrorists and untraceable purchase of ammunition.
"We're seeing some massive shifts, and it's really the attack on the dollar that has been happening for some time. It's as if everybody is not in favor of the dollar being the world's reserve currency." – Ray Wang
Ransomware Gangs
Chris and Ray talk about some recent events where some personalities' Twitter accounts got hacked and were asked to send back Bitcoin to get back their accounts. Aside from this, Ray shares a much deeper kind of attacks they receive, targeted to tech professionals like him.
"We have insider threats, people inside companies that have either been placed, recruited, or turned. I'll say that again. They've been placed, recruited, scooted, or turned to work against the US, the country or a corporation. And this, we have cyber ransom spies going to work for government agencies and or corporations, with the foreign government agencies, whether knowingly or unknowingly, they have been told that, 'hey, if you just stick into the drive over here, for a bunch of zero-day vulnerabilities, which we've packaged together very well, you can take out entire networks. And you can do your part, you know, in part of the revolution, or whatever revolution you're in.'" – Ray Wang
To know more about Ray Wang and what's going on in the world and tech world today, download and listen to this episode.
Bio:
R "Ray" Wang (pronounced WAHNG) is the Principal Analyst, Founder, and Chairman of Silicon Valley-based Constellation Research, Inc.
He's also the author of the popular business strategy and technology blog "A Software Insider's Point of View".
With viewership in the 10's of millions of page views a year, his blog provides insight into how disruptive technologies and new business models such as digital transformation impact brands, enterprises, and organizations.
Wang has held executive roles in product, marketing, strategy, and consulting at companies such as Forrester Research, Oracle, PeopleSoft, Deloitte, Ernst & Young, and Johns Hopkins Hospital.
His new best selling book Disrupting Digital Business, published by Harvard Business Review Press and now globally available provides insights on why 52% of the Fortune 500 have been merged, acquired, gone bankrupt, or fallen off the list since 2000.
In fact, this impact of digital disruption is real. However, it's not the technologies that drive this change. It's a shift in how new business models are created.
Wang has held executive roles in product, marketing, strategy, and consulting at companies such as Forrester Research, Oracle, PeopleSoft, Deloitte, Ernst & Young, Personify, and Johns Hopkins Hospital. He is a prominent and dynamic keynote speaker and research analyst working with clients on digital, innovation, business model design, engagement strategies, customer experience, matrix commerce, and big data.
His Silicon Valley research firm, Constellation Research, Inc., advises Global 2000 companies on the future, business strategy, and disruptive technology adoption.
Ray is a regular contributor to Harvard Business Review and well quoted in The Wall Street Journal, Forbes, Bloomberg, CNBC TV, Reuters, IDG News Service, and other global media outlets. Wang has thrice won the prestigious Institute of Industry Analyst Relations (IIAR) Analyst of the Year Award.
Links:
Constellation.com – R Ray Wang
Personal Log: Understanding Case Fatality Rates For #COVID19 #CoronaVirus
We hope you enjoyed this episode of Follow Your Different™! Christopher loves hearing from his listeners. Feel free to email him, connect on Facebook, Twitter, Instagram, and subscribe on iTunes!