074 From Abused Child to Fierce Ph.D. w/Carolyn Colleen, PhD
Sunday 1st October 2023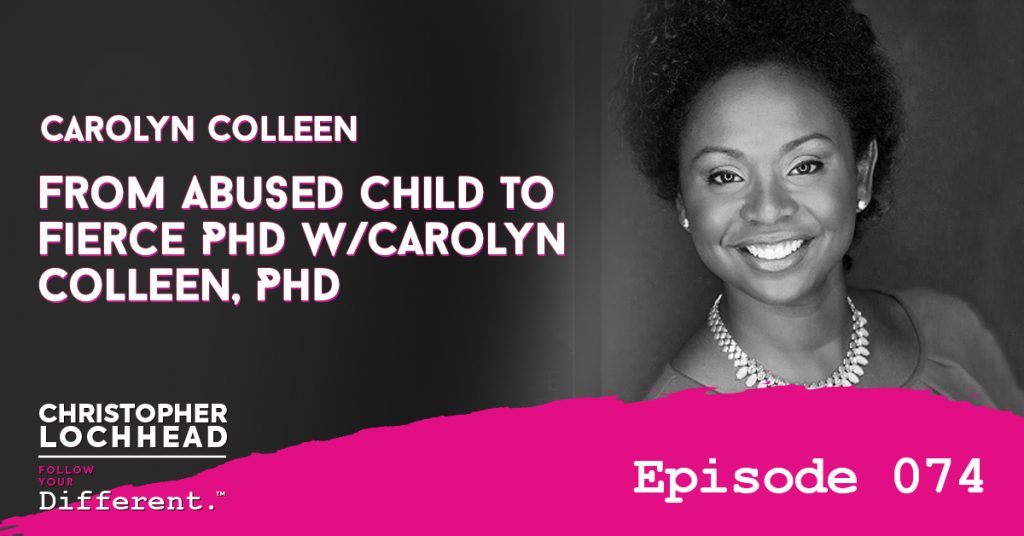 Podcast: Play in new window | Download (Duration: 1:10:59 — 65.1MB) | Embed
Subscribe: Apple Podcasts | Google Podcasts | Spotify | Pandora | Stitcher | RSS | More
Dr. Carolyn Colleen is a shining example of the fierce power of the human spirit in the defiance of unthinkable abuse. Join us in this riveting conversation about her incredible journey—from surviving with food stamps to gaining her Ph.D. and becoming a celebrated author. This discussion is not only about abuse—it's about triumph—and it will impact a lot of people's lives.
The Past Doesn't Define The Future
Our guest today Dr. Carolyn Colleen, has a Ph.D. in Organizational Leadership from The Chicago School of Professional Psychology. She authored the best selling book FIERCE. On the side, she is a life and business strategist.
She is a woman who commands presence, but surprisingly has struggled so much since childhood, up until she was married.
"As my definition of love evolved, I evolved. I learned to further deepen my definition of love ⁠— how I see love in the world. I also have a deeper sense of self-love." – Carolyn Colleen
Carolyn's Dark Past
From the time she was four, Carolyn was sexually abused by his teenage neighbor. Unfortunately, the pattern repeated throughout her childhood, even after they relocated.
Carolyn's mother struggled with mental health. She was a hoarder and have issues with being too trusting with strangers. Her mother provided free lodging and meal for both men and who ended up molesting both Carolyn and her sister.
"There was a time when I defined myself as being someone who was put here to be used and abused." – Carolyn Colleen
Changing Perspective
People who have experienced trauma or who suffered PTSD may have flashbacks when exposed to a certain trigger—such as a certain sound, smell or mannerism of another person. Victims of abuse are reminded every day of their unfortunate experiences because of these triggers.
As a victim of abuse herself, Carolyn says her perspective is different. Memories pop up daily, but what she does with it and how it affects her is different now.
She is now at peace with herself; developed a gratitude attitude and has acknowledged that her experiences made her stronger.
"Coming from a place of trauma—physical, sexual and emotional abuse—I've done a lot of self-work and realize when things might trigger me and how it affects my life. As I continually grew, I realized what happened to me doesn't define me ." – Carolyn Colleen
To hear more about the amazing journey of Carolyn, download and listen to the episode.
Bio:
Carolyn Colleen holds a Ph.D. in Organizational Leadership from The Chicago School of Professional Psychology and a Masters in Business with a focus in Servant Leadership from Viterbo University.
Dr. Colleen is speaker, author, and coach.
She was born and raised in the Midwestern United States. She describes herself as a FIERCE mother, daughter, sister, and friend.
Out of sheer necessity, Carolyn developed the F.I.E.R.C.E. 5 method, which helped her grow from a downtrodden, scared and ragged victim, standing in a food line at the Salvation Army, to the confident and successful person she is today, living a happy life she never realized she deserved.,
Carolyn took up the challenge of writing a book about her experiences.
Now, with her book completed, she hopes that through sharing her story she will provide others with the hope, resources, and willpower needed so that they too can live the life they deserve.
Links:
We hope you enjoyed Carolyn Colleen on this episode of Follow Your Different™! Christopher loves hearing from his listeners. Feel free to email him, connect on Facebook, Twitter, Instagram and subscribe on iTunes!