070 Marketing Over Coffee w/ John J. Wall and Kevin Maney
Monday 25th September 2023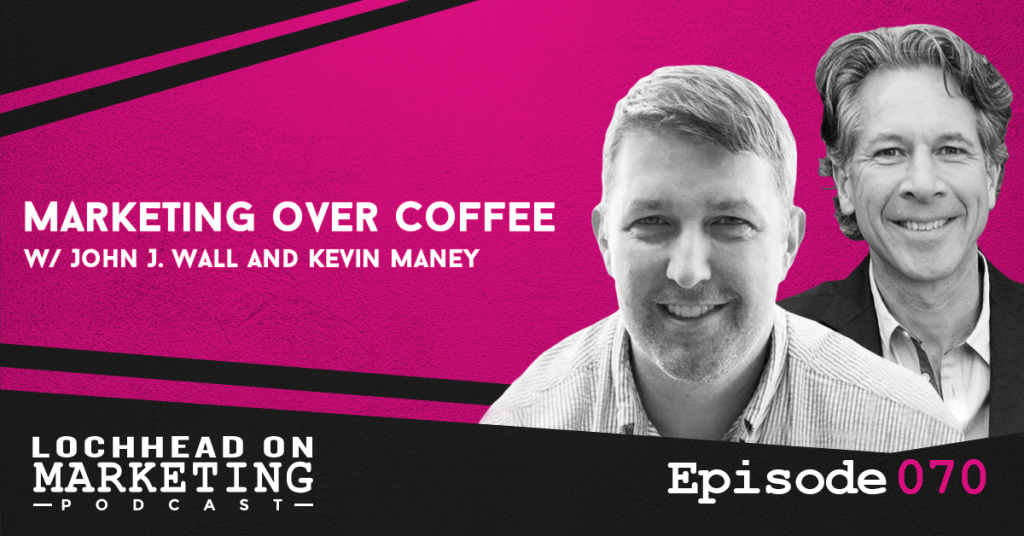 Podcast (lochheadonmarketing): Play in new window | Download (Duration: 30:19 — 20.8MB) | Embed
Subscribe: Apple Podcasts | Google Podcasts | Spotify | Stitcher | RSS | More
For the first time ever, we are dropping an episode from one of Christopher's favorite podcast, Marketing Over Coffee, with host John Wall. Recently, they did an episode with the legendary author, Kevin Maney. Kevin, as you probably know, is a multi-time successful, bestselling author. He's one of the co-authors of Play Bigger with Christopher.
In this episode of Lochhead on Marketing / Marketing Over Coffee Crossover, Kevin talks about his recent book Unscaled. They also talk about what that means and how powerful it is. And of course, category design and many other things.
Category Design and Play Bigger
Kevin shares about category design and his co-authored book Play Bigger. He also shares how the book led to the creation of Category Design Advisors. He further discusses his new book Unscaled – how world-changing technologies are taking apart scaled up industries.
"We started to go down that road together, the four of us meeting out at Chris's wonderful house in Santa Cruz, California, riding our bikes to the beach in between long conversations. Over time, we tease out this idea of category design, which didn't exist before. We all got together and started talking about this stuff." – Kevin Maney on planning for the book Play Bigger
Unscaled
Kevin describes how he ended up writing the book Unscaled, which was about how all of these new technologies, such as artificial intelligence, 3D printing and genomics, and these world-changing technologies, and how they're all coming together to allow us to reinvent our current systems.
"We got together with Stephen Klasko, who's the CEO of Jefferson Health, one of the bigger health care systems in the country based in Philadelphia. Steven came out and I took that healthcare chapter of Unscaled to write a, what we actually call a manifesto. It's about 60 pages long, describing how all these new technologies can take apart the old healthcare system, which was really based on taking care of people after they were sick." – Kevin Maney on his book Unscaled
Other Noteworthy Topics
Kevin and John discussed a whole lot more noteworthy topics ranging from the IoT in health data, the economics of it all and the rise of telehealth. They also touched on the topic of shifting to online education and the history of IBM.
"I tend to look at almost everything anymore through the lens of health, either category design or upscaling, because I do believe that those are the two things that are going to drive technology, and create the most interesting technology companies of the next decade." – Kevin Maney
To know more about Kevin Maney, download and listen to this episode.
Bio:
Kevin Maney is a bestselling author, award-winning columnist, and partner at Category Design Advisors (CDA). He co-authored Play Bigger: How Pirates, Dreamers and Innovators Create and Dominate Markets, which gave birth to the discipline of category design.
His book The Maverick and His Machine: Thomas Watson Sr. and the Making of IBM is the definitive biography of the man who built IBM.
Maney has been a contributor to Newsweek, Fortune, The Atlantic, Fast Company, Strategy + Business, HBR.com, CNN and ABC News, among other media outlets.
Additionally, he was a contributing editor at Conde Nast Portfolio during its brief run from 2007 to 2009. For 22 years, Maney was a columnist, editor and reporter at USA Today.
He's appeared frequently on television and radio, including CBS Sunday Morning and NPR, and lectures at conferences and universities, including New York University, UNC in Chapel Hill, and his alma mater, Rutgers.
Links:
Marketing Over Coffee: Kevin Maney Talks Unscaled
Marketing Over Coffee: Christopher Lochhead on Play Bigger, and Legends and Losers
Marketing Over Coffee: Niche Down!
We hope you enjoyed this episode of Lochhead on Marketing™! Christopher loves hearing from his listeners. Feel free to email him, connect on Facebook, Twitter, Instagram, and subscribe on iTunes! You may also subscribe to his newsletter, The Difference, for some amazing content.