175 The Startup Community Way w/ Brad Feld
Wednesday 20th September 2023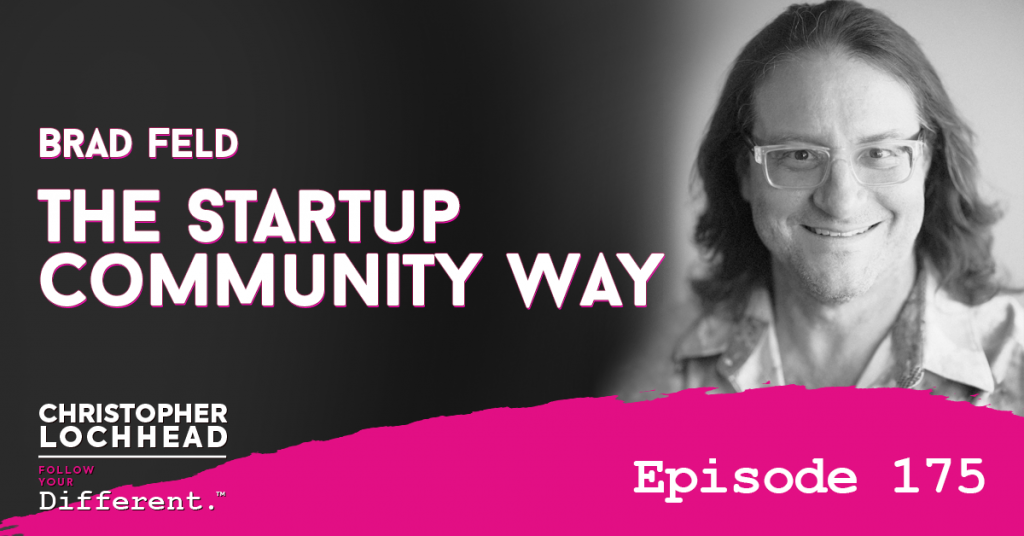 Podcast: Play in new window | Download (Duration: 1:10:44 — 48.6MB) | Embed
Subscribe: Apple Podcasts | Google Podcasts | Spotify | Pandora | Stitcher | RSS | More
Today, we continue our run on top venture capitalists with none other than the legend, Brad Feld. He's the co-founder of Foundry Group and Tech Stars. He's on the Forbes Midas List and a Top Five Investor. He has a new book called The Startup Community Way.
We have wide-ranging conversations from C19, making sense of this time of hyper change complex adaptive systems, the future of startups Silicon Valley and work, and why Brad is not leaving his house. Pay special attention to Brad's thoughts on how to deal with an unpredicted situation and where it can feel like we have a lot less control.
The Three Crises
Brad shares what's on his mind at the moment, how he has stepped forward to help the governor of Colorado without leaving the confines of his home, and how he has pondered upon the three crises of the world today.
"I referred to the health crisis, which is COVID, which generated an economic crisis, which we wouldn't have had otherwise, our economy was very strong, which has generated a mental health crisis and which is subsequently generated. racial equity crisis. All of these things are interacting with each other." – Brad Feld
Complex Adaptive Systems
Brad shares how he realized that all of these crises were complex systems. In fact, in his book, The Startup Community Way, he bases the entire framework of how startup communities develop and evolve on complexity theory and the notion of complex adaptive systems.
"I've really been soaked in that intellectually, not just in the COVID crisis, not just in the book, not just in all the dynamics around the businesses that I'm involved in, and I'm an investor in, but just sort of thinking about how as humans, we do such a bad job of understanding how to interact with complex systems. We want everything to become deterministic, linear or well defined and the vast majority of stuff we interact with isn't." – Brad Feld
Simple and Complex Systems
Simple is making a coffee drink, complicated is designing a Boeing airplane, or conducting a business audit, and complex is raising a child.
"I think a lot of people have been operating against the backdrop of believing that a lot of things are deterministic and predictive, and trying to function in a way where that is not natural. As humans, we want to control stuff. You want to understand what it is you want to do, fix things so that you're not fighting against them and you want to get to an outcome and you want to set a goal and make a goal." – Brad Feld
To know more about Brad Feld, download and listen to this episode.
Bio:
Brad Feld is co-founder of the Foundry Group and has been an early-stage investor and entrepreneur since 1987.
Brad previously co-founded Mobius Venture Capital and Techstars, and prior to that, founded Intensity Ventures.
Feld was an early investor in Harmonix, Zynga, MakerBot, and Fitbit.
A writer and speaker on venture capital investing and entrepreneurship, Brad has written a number of books as part of the Startup Revolution series, and writes the blogs Feld Thoughts and Venture Deals.
He currently is chair of the National Center for Women & Information Technology and on the boards of Path Forward, the Kauffman Fellows, and Defy Ventures.
Brad holds a Bachelor of Science and Master of Science degrees in Management Science from MIT.
An art collector and long-distance runner, he has completed 25 marathons as part of his mission to finish a marathon in each of the 50 U.S. states. He lives in Boulder, Colorado.
Links:
The Foundry Group Team – Brad Feld
We hope you enjoyed this episode of Follow Your Different™! Christopher loves hearing from his listeners. Feel free to email him, connect on Facebook, Twitter, Instagram, and subscribe on iTunes!