198 The Future of Tech with #1 Tech Analyst R "Ray" Wang Chairman Constellation Research
Wednesday 20th September 2023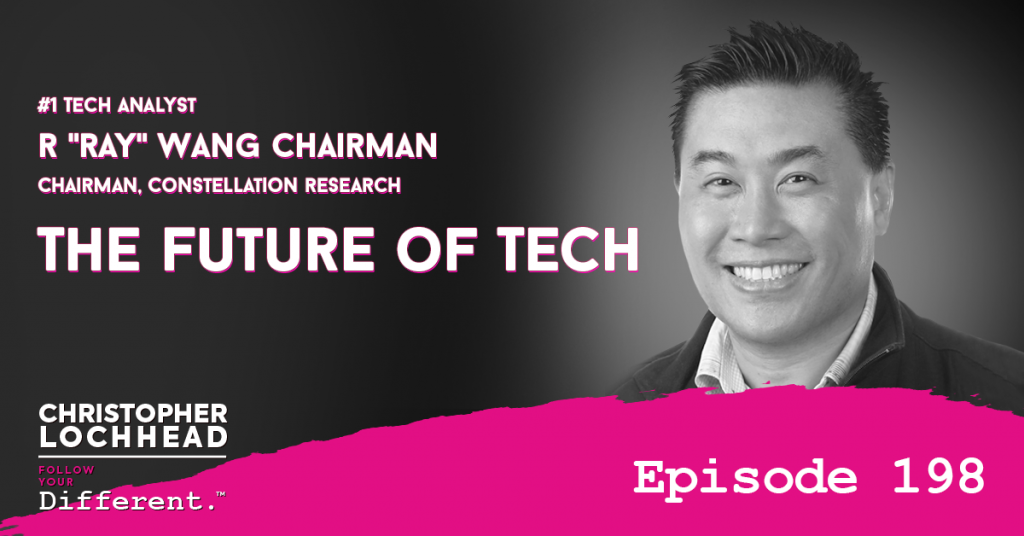 Podcast: Play in new window | Download (Duration: 52:56 — 36.3MB) | Embed
Subscribe: Apple Podcasts | Google Podcasts | Spotify | Pandora | Stitcher | RSS | More
What really happened in 2020? Where's the world of technology heading? What does the future of software look like and what do we all have to be prepared for? We discuss all these and a whole lot more with Ray Wang. He's the number one tech analyst in the world and the founder of Constellation Research. Today, give us some powerful insights as we go forward into 2021.
Salesforce Slack
Christopher and Ray dive into the discussion with COVID hypocrisy and Ray's thoughts on the Salesforce Slack $27 billion deal, and where he sees the future of technology headed. He emphasizes the idea of business graphs and how this can potentially tap tribal knowledge for business and become a great acquisition. It is the kind of category acceleration deal that is fit for category designers, visionary entrepreneurs and CEOs who are trying to shape the future as opposed to monetizing the present or past.
"Why would we want a business graph in our business? The goal of the business graph is so that we can start making better decisions. We call them precision decisions and the goal is to improve this concept called decision velocity. Which, I talk a lot about in my book, are basically machines making decisions a hundred times per second." – Ray Wang



Ad Revenue
Ray discusses how top companies like Google, Facebook, and Microsoft are competing head-on for digital advertising revenue. A massive winner takes all market and digital ads of category kings who are running some of the largest market shares in each of their categories. These category kings are battling for six areas of monetization: ad revenues, search revenues, goods, services, and membership subscriptions.
"There's all your digital monetization models. Now I won't say too much before my book comes out. That's what we spent a lot of time talking about. These different monetization plays that are happening. We talk about how value chains are collapsing, but in Salesforce and in Microsoft's case, they're building this business operating system or this business nervous system. That's actually coming in the transactions between sales orders." – Ray Wang
Zoom in Light of Slack Salesforce Deal
Through every single video revolution the problem with video was there was never enough bandwidth. Ray shares how Zoom needs to go beyond meetings and discover the ability to integrate with everyone else. Whether this means selling at their peak and letting other people build or integrate into a future broadcast platform.
"You have your own personal ad network with the zoom. You're basically internal only. I mean, they have the ability to do all those kinds of things. You can actually do broadcasts. You are a video property. You are basically a media property. They haven't taken it from tool to where now the broadcast property kind of like YouTube is the broadcast pot property. So someone who's creative enough thinking about this market that wants to go after it pretty hard could attempt to kind of work with them in that regard. Though the valuation is so high, right? That's the challenge." – Ray Wang
Bio:
R "Ray" Wang (pronounced WAHNG) is the Principal Analyst, Founder, and Chairman of Silicon Valley based Constellation Research, Inc.
He's also the author of the popular business strategy and technology blog "A Software Insider's Point of View".
With viewership in the 10's of millions of page views a year, his blog provides insight into how disruptive technologies and new business models such as digital transformation impact brands, enterprises, and organizations.
Wang has held executive roles in product, marketing, strategy, and consulting at companies such as Forrester Research, Oracle, PeopleSoft, Deloitte, Ernst & Young, and Johns Hopkins Hospital.
His new best selling book Disrupting Digital Business, published by Harvard Business Review Press and now globally available provides insights on why 52% of the Fortune 500 have been merged, acquired, gone bankrupt, or fallen off the list since 2000.
In fact, this impact of digital disruption is real. However, it's not the technologies that drive this change. It's a shift in how new business models are created.
Wang has held executive roles in product, marketing, strategy, and consulting at companies such as Forrester Research, Oracle, PeopleSoft, Deloitte, Ernst & Young, Personify, and Johns Hopkins Hospital. He is a prominent and dynamic keynote speaker and research analyst working with clients on digital, innovation, business model design, engagement strategies, customer experience, matrix commerce, and big data.
His Silicon Valley research firm, Constellation Research, Inc., advises Global 2000 companies on the future, business strategy, and disruptive technology adoption.
Ray is a regular contributor to Harvard Business Review and well quoted in The Wall Street Journal, Forbes, Bloomberg, CNBC TV, Reuters, IDG News Service, and other global media outlets. Wang has thrice won the prestigious Institute of Industry Analyst Relations (IIAR) Analyst of the Year Award.
Links:
Constellation Research: Ray Wang
Personal Log: Understanding Case Fatality Rates For #COVID19 #CoronaVirus
We hope you enjoyed this episode of Follow Your Different™! Christopher loves hearing from his listeners. Feel free to email him, connect on Facebook, Twitter, Instagram, and subscribe on iTunes!