161 What IBM's Experience In The Great Depression Teaches Today's CEOs | Kevin Maney
Friday 1st December 2023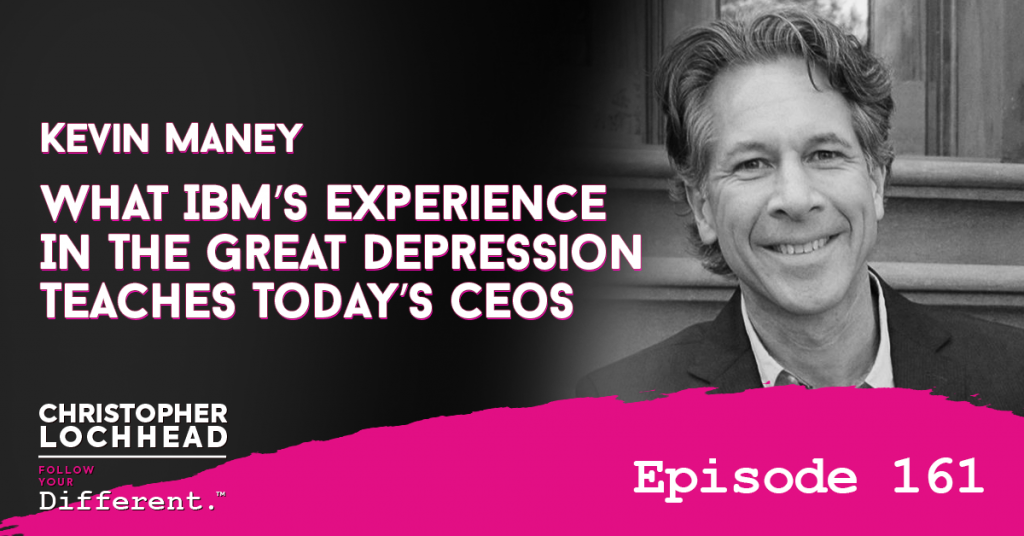 Podcast: Play in new window | Download (Duration: 40:15 — 27.6MB) | Embed
Subscribe: Apple Podcasts | Google Podcasts | Spotify | Pandora | RSS | More
Today, we continue our run of legendary authors with Kevin Maney. He's the world's leading authority on IBM's history. He shares some amazing insights into what IBM did during the 1930's that ultimately positioned them for greatness. We also have a fascinating talk about what changes C19 might bring to the world and what that could mean for our businesses and careers.
Writing About Thomas Watson
Kevin is a multi-time best selling author of Unscaled and Play Bigger. He's also a co-founder of Category Design Advisors, where he helps companies design and dominate their market categories. Today, Kevin shares how fortunate he was to be able to write a biography of Thomas Watson, the man behind IBM.
"I have been watching what's happening and there's all this economic damage and talk of a long term recession or depression everybody has to get through. Seeing companies laying off people, right and left and the jobless rate going through the roof and all these pain that is being caused made me think back to IBM in the 1930s during the Great Depression." – Kevin Mahey
IBM and The Great Depression
Kevin narrates the amazing story of how IBM took the lead during a crisis. It was just a few years after the great depression. Instead of ceasing operations just like any other major corporations, he allocated funds to manufacturing and research and development.
"Imagine the tension, there's no revenue coming in, spending all this money keeping these people, building machines and he is running out of time. Then this amazing event happened." – Kevin Mahey
Then-President Roosevelt devised programs to assist companies wherein the government will be needing a lot of reports on salaries. IBM, being the only capable company to fulfill this demand then stepped into the picture. This made IBM as it is now and Thomas Watson, one of the greatest CEOs of all time.
Crisis As An Opportunity Rise
Kevin shares that similar to the Great Depression crisis, this current crisis could also be an opportunity to build something up, get ahead, and come out of even stronger.
"These kinds of moments in time can be seen as a tragedy but it can also be seen as an opportunity. If you can invest in the business, be wise and be careful, come out of the other end in a better position than you went in, and everybody else around you is devastated, I mean you're in a great place." – Kevin Mahey
To hear more about the inspiring story of Thomas Watson, IBM as told by Kevin Mahey, download and listen to this episode.
Bio:
Links:
Book: Unscaled: How AI and a New Generation of Upstarts Are Creating the Economy of the Future
We hope you enjoyed this episode of Follow Your Different™! Christopher loves hearing from his listeners. Feel free to email him, connect on Facebook, Twitter, Instagram and subscribe on iTunes!