Posts Tagged 'Life Design'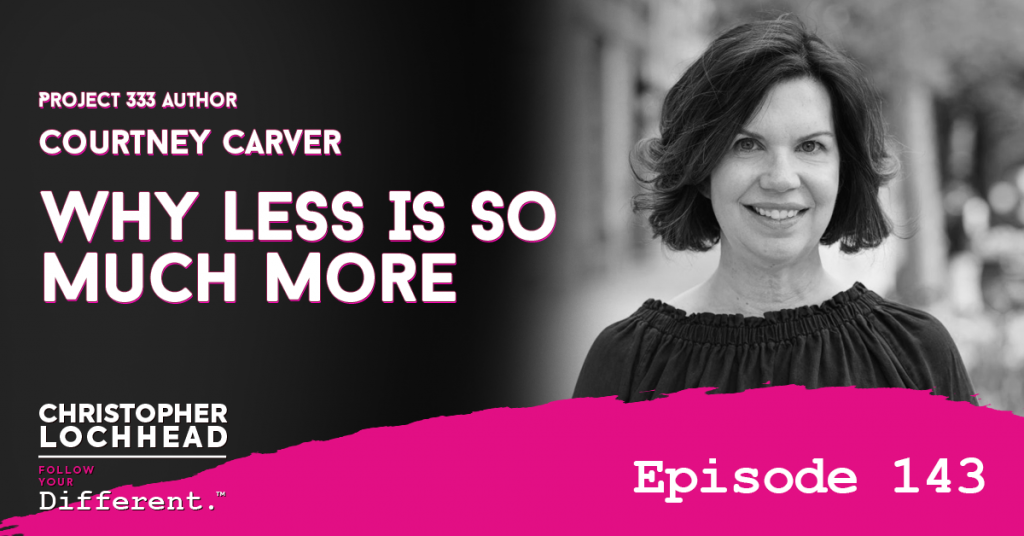 Podcast: Play in new window | Download (Duration: 51:04 — 35.1MB) | Embed
Subscribe: Apple Podcasts | Google Podcasts | Spotify | Pandora | RSS | More
We continue our run of legendary authors with Courtney Carver, author of Soulful Simplicity and the brand new Project 333.
We talk about The Project 333 Challenge, wearing only 33 items of clothing for three months. People who do this report less anxiety and more clarity and focus. We also talk about how to live a more simple life, why having tons of stuff doesn't make us happy and how easy it is to slide into the mentality of buying stuff that doesn't make us happy.
You Are What You Wear
Courtney starts off sharing how both men and women give a lot of attention to their wardrobes. She taps on people who have either overshopped or have thought about other people judging them based on what they wear.
"Whatever it is, we all have this connection to our clothes." – Courtney Carver
Christopher shares that although he doesn't pay much attention to his wardrobe, he does have a 20 year old Prada suit sitting around in the closet. He is unsure of the reason why he is still keeping it but reading Courtney's book made him think about it.
Fueling Anxieties
Courtney shares in one way or another, most of us have purchased clothing to make us look successful or to fit into a specific circle. In fact, in one social activity, Courtney asks for a show of hands asking about their clothes with tags. Half of the room says they do own some unworn and brand new, with tags.
"I think it comes from an obsession with getting a great deal. So we might buy something just because its a good deal when the only good part of the deal is the money part. We never really wanted it in the first place. We might also buy it because we think we need it or should have it, to measure up to the people around us, and our work, and in our day to day lives." – Courtney Carver
Project 333
Courtney described Project 333 as a "fascinating, emotional ride, digging into closets and wardrobes." It initially started as a personal challenge to mix and match 33 articles of clothing for 3 months. A few fashion bloggers participated in the challenge and it went viral. Soon enough, Associated Press picked up the story.
"I had no idea until I got rid of most of my stuff. I had no idea how emotional it was for me because I was just really used to it all the time. I was used to seeing tags, I was used to understanding at some level that I spent way too much money on things that I don't wear or enjoy and they were making me feel bad every single day." – Courtney Carver
To hear more about Project 333 and how a life-changing disease became a catalyst for radical, positive change in Courtney's life, download and listen to this episode.
Bio:
Courtney Carver was an Ad Sales Director for a group of luxury magazines. She was in debt, she worked all the time and she was stressed out.
Then, in 2006, she was diagnosed with Multiple Sclerosis and was forced to look at her life habits.
She started by changing her diet and ended by quitting her job and getting rid of the vast majority of her belongings.
The results: She is happier, calmer and hasn't had any MS symptoms in the last four years.
Courtney Carver is the writer and founder of Be More with Less. The 43-year-old wife and mother launched her blog in May 2010 to share a message of hope in simplicity.
She left a 15-year career in sales and marketing in September 2011 to focus on writing, develop new ways to teach others to live more simply, and live a simpler life herself.
In addition to bemorewithless.com, she created bemorewithless.com/business to encourage business owners and entrepreneurs to focus on the essential instead of getting lost in busy work.
Courtney was diagnosed with Multiple Sclerosis in 2006 and attributes her healthy lifestyle to simplifying every part of her life, from diet to debt.
She moved from New England in 2004 to Salt Lake City where she lives with her husband and 17-year-old daughter.
Links:
We hope you enjoyed this episode of Follow Your Different™! Christopher loves hearing from his listeners. Feel free to email him, connect on Facebook, Twitter, Instagram and subscribe on iTunes!