132 Sizing People Up w/ FBI Agent Robin Dreeke
Wednesday 20th September 2023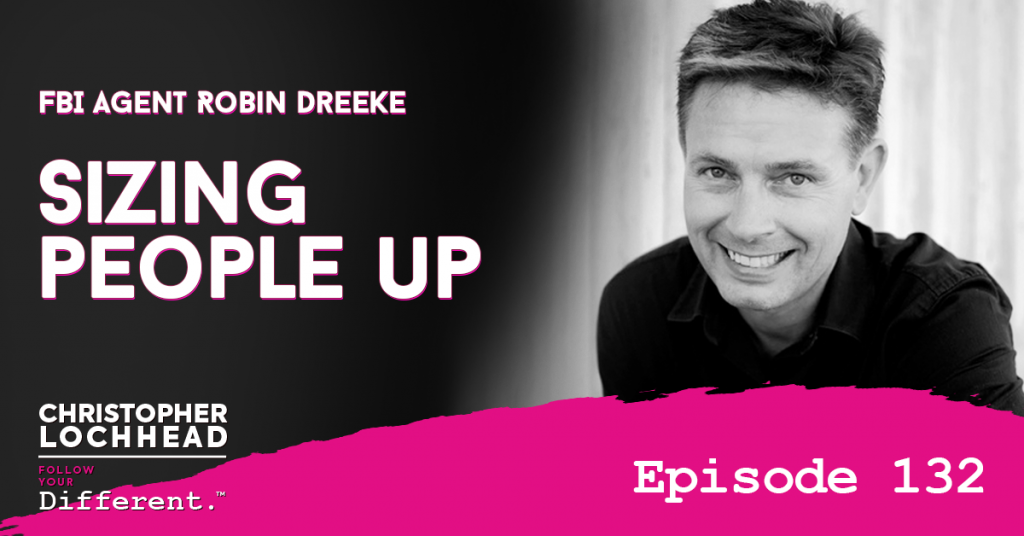 Podcast: Play in new window | Download (Duration: 1:10:20 — 96.8MB) | Embed
Subscribe: Apple Podcasts | Google Podcasts | Spotify | Pandora | Stitcher | RSS | More
In this episode, we continue our run on legendary authors. We hang out with former Marine, FBI agent and Chief of the FBI Counterintelligence Behavioral Analysis Program, Robin Dreeke.
This guy used to hang out with foreign spies in an effort to get them to turn on their countries and help the US. He's got some insanely valuable experience in how to communicate, and relate to people.
Detecting Lies
Christopher asked one of the most pressing questions any FBI agent has been asked, 'how do you detect lying?' Robin candidly shares "you don't." He further shares that even the best people in the world have 50% accuracy when it comes to detecting deception.
Instead, what Robin looks for when speaking to a "subject" are verbal and non-verbal signs of stress.
"I never like to tell someone or think that someone is deceiving or lying, I just think in terms of 'they don't have transparency with me.'" – Robin Dreeke
Famous Cop Questions
One of the most famous cop question, as seen in movies, is the suspect's whereabouts. Robin shared what these cops are looking for is a direct answer.
Robin personally shared his personal guidelines when he is questioning a subject: (1) Seeking thoughts and opinions, (2) Speaking in terms of their priorities, (3) Validating them and (4) Empowering them with choices;
Similarities With Sales
Robin shares that he must have had the hardest sales job in the world. His product is selling American patriotism to foreign diplomats, wherein affiliation is also considered to be illegal.
"From rapport, you build trust. From trust, you get a healthy relationship." – Robin Dreeke
Other than that, he confirms that his learnings, which he wrote in the book Sizing People Up is highly beneficial to sales or business people in general.
For the part where Robin talks about the real FBI secret for solving crimes, download and listen to this episode.
Bio:
Robin is a best-selling author, professional speaker, trainer, facilitator, and retired FBI Special Agent and Chief of the Counterintelligence Behavioral Analysis Program. Robin has taken his life's work of recruiting spies and broken down the art of leadership, communication, and relationship building into Five Steps to TRUST and Six Signs of who you can TRUST. Since 2010, Robin has been working with large corporations as well as small companies in every aspect of their business. Whether it is newly promoted leaders, executives, sales teams, or customer relations, Robin has crafted his People Formula for quick results and maximum success.
The Military Leader
Although Robin always aspired to become a great leader, he realized from his time at the United States Naval Academy and in the United States Marine Corps that leadership was much more than just telling people what to do: a great leader uses interpersonal skills to inspire action, rather than demand the compliance of others.
The Spy Catcher
Upon entering service as an FBI Special Agent in 1997, Robin began his journey as a counterintelligence specialist and behaviorist in the agency's efforts to thwart the efforts of our country's greatest adversaries. Serving in New York City, Norfolk VA, FBI Headquarters, Quantico VA, and Fredericksburg VA, Robin received advanced training and experience in the area of social psychology and the practical application of the science behind relationship development and trust, ultimately leading the FBI's elite Behavioral Analysis Program.
The Behavioral Analysis Expert
Robin has built his highly effective tools for all aspects and stages of interpersonal communication and relationship development. Robin has combined all these tools and techniques and created a one-of-a-kind formula for success with people. Today, Robin is a recognized expert, author, and gifted lecturer in the art of interpersonal communication, relationship building and Trust. These skills are used every day in leadership, sales, human resources, and all aspects of life, both business and personal. CBD oil and capsules Hemp oil – H Drop UK H Drop UK
Links:
We hope you enjoyed this episode of Follow Your Different™! Christopher loves hearing from his listeners. Feel free to email him, connect on Facebook, Twitter, Instagram and subscribe on iTunes!