128 Human Behavior & Loving People with Different Abilities w/ Dr. Sean Peterson
Monday 20th November 2023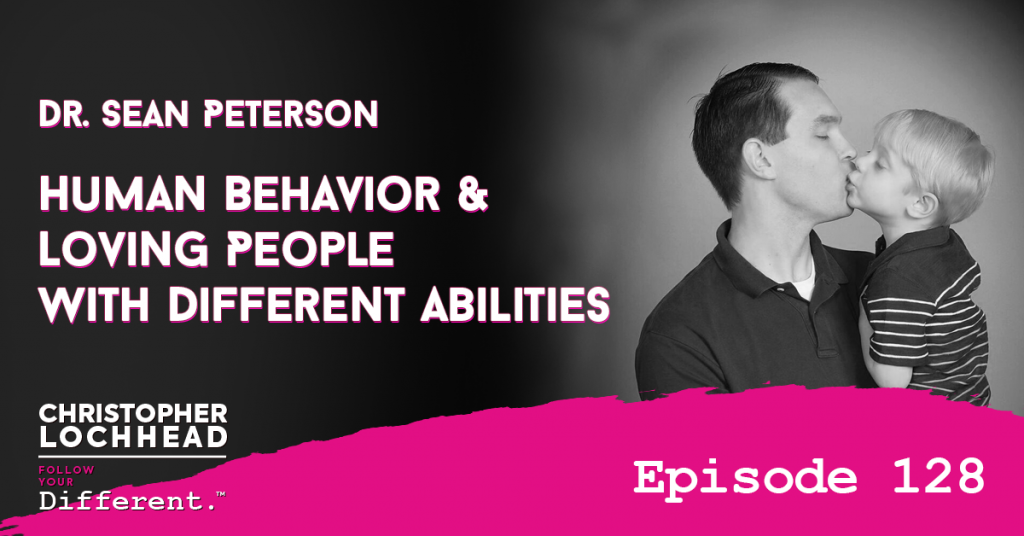 Podcast: Play in new window | Download (Duration: 1:00:45 — 83.6MB) | Embed
Subscribe: Apple Podcasts | Google Podcasts | Spotify | Pandora | RSS | More
This dialogue is a glimpse into a legend— whose name might not be world-renown but surely is worth getting to know—Dr. Sean Peterson. We connected over our love of people and children who are, "differently-abled. We talk about autism, uniqueness, human behavior and more.
Love For Kids
We're at a point where every guest we have on could be someone famous. But just because someone's well known, doesn't mean you can have a real-life affirming conversation with them.
Today, Christopher converses with Dr. Sean Peterson. Dr. Sean has a Phd. in Applied Behavior Analysis and has spent 10 years running an autism clinic. He's a wonderful guy, a husband and father. He also runs a physical therapy clinic with his wife called FYZICAL.
"I think people are wonderful in general but working with kids in particular, is amazing. the delight that they have in their eyes, the ability to just make me laugh about ridiculous things." – Dr. Sean Peterson
What is Autism?
Dr. Sean defines autism as "a neurodevelopmental disorder. He acknowledges that everyone, doctors and parents alike, needs a lot more to understand autism, but on the most basic level, it is categorized by repetitive behavior and social deficit.
"A lot of that social deficit comes in the form of communication deficit. In particular, being able to communicate basic wants and needs and also being able to interpret the feedback that is given back." – Dr. Sean Peterson
Functional Behaviors
As a behavioral analyst, Dr. Sean shares his point of view on why humans behave such way. It is basically categorized into four: access to attention, access to tangible items, escape from unpleasant situations and access to sensory input or automatic reinforcement He further cites examples of how to identify each one.
"Everybody is unique. Follow your different right? So, its really finding that specific piece for each kid and so from a behavior analyst standpoint, from an applied behavior analysis perspective, our goal is really to teach functional replacement behaviors and skill acquisition." – Dr. Sean Peterson
He further shares that behavior is functional. Everything we do has a functional outcome and the same behavior could actually bring us different things.
To hear more information about Dr. Sean Peterson and to learn more about human behavior and loving differently abled kids, download and listen to the episode.
Bio:
Originally, from outside of Los Angeles, CA, Sean spent his college years at TCU down in Ft. Worth, TX.
During his time in Ft. Worth, Sean spent 4 years as TCU's Mascot, SuperFrog!
He also had the privilege of cycling across the United States to raise money for individuals with disabilities.
After finishing at TCU, Sean went on to complete his PHD in Applied Behavior Analysis at the University of Nebraska Medical Center.
He moved his young family to Sioux City, IA, where he was the first clinical director of the Pier Center for Autism.
When Sean and Lauren began to consider a move to be closer to family, Oklahoma City was the perfect choice.
Sean and his wife Lauren have a passion for evidence based medical care and opened FYZICAL Therapy & Balance Centers of Oklahoma City to provide physical therapy focused on Pelvic Health, and Balance and Falls Prevention.
It is with Lauren's physical therapy knowledge and passion that FYZICAL has grown, and is helping the people of OKC Love Their Lives!
Links:
We hope you enjoyed this episode of Follow Your Different™! Christopher loves hearing from his listeners. Feel free to email him, connect on Facebook, Twitter, Instagram and subscribe on iTunes! Get amazing, different stories on business, marketing, and life. Subscribe to our newsletter The Difference.