134 Wisdom At Work w/ Chip Conley
Friday 1st December 2023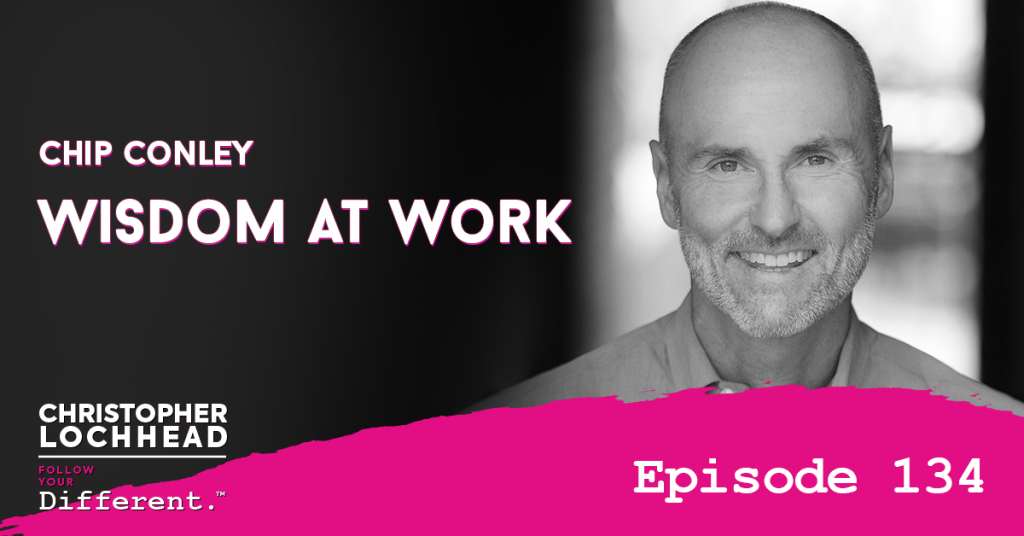 Podcast: Play in new window | Download (Duration: 56:44 — 78.3MB) | Embed
Subscribe: Apple Podcasts | Google Podcasts | Spotify | Pandora | RSS | More
This is a powerful conversation about mid-life design with Chip Conley. He used to be the CEO of the second-largest based boutique hotel in the US. He then ended up joining Air BNB, to help the young founders of Airbnb navigate their growth in the hospitality category.
Today, we talk about why Chip thinks people at their mid-life need to do a reset. Listen for what Chip calls his "emotional equation" and more ideas, based on Chip's new book Wisdom at Work.
Boy Wonder to Modern Elder
As we continue our run of legendary authors and entrepreneurs, we converse today with Chip Conley. He's the founder of Joie de Vivre Hospitality, the second-largest operator of boutique hotels in the United States. He started in 1987 at age 26 and held the position of CEO for nearly 24 years.
In 2010, after having created and managed 50 boutique hotels mostly in California, Conley sold his company. He later joined the young business leaders of Airbnb. Today Air BNB is the company that created and now dominates a new travel category
"I was brought in as the old guy, to help them, because of my hospitality and leadership experience. But they taught me, as much as I taught them." – Chip Conley
Hard Truths for Midlife Professionals
Chip candidly shares that unfortunately, for a lot of people in midlife and later is, they are not open to being curious.
"They don't want to look like an idiot at age 45 or 50 and so they're not actually that open to learning from someone younger than them. Yet, 40% of Americans today have a boss that is younger than them and by the year 2025, the majority of Americans will have a boss younger than them." – Chip Conley
He further added that we live in an era of digital intelligence. There is an impression that younger people are digital natives. They have more fluency and ability to learn in the digital world, hence tech companies usually hire them for senior roles.
The Modern Elder Academy
People in their midlife often ask, "how do I press the reset button?" Chip shares that one of the reasons why he created the Modern Elder Academy is to have a place for middle age professionals to have a pitstop in their lives.
He stresses the importance of asking the following questions:
"What mastery have I mined? What wisdom have I cultivated and how can I harvest it? How can I repurpose it and frankly, what is it that I really want to do in my life, because I have been living the life that my parents wanted for me to live." – Chip Conley
To listen more about Chip's advice to midlife professionals in getting wisdom at work, download and listen to this episode.
Bio:
Chip Conley
The iconic boutique hotelier who helped Airbnb's founders turn their fast-growing tech start-up into a global hospitality brand, Chip Conley is a New York Times bestselling author whose manifesto on ageism, Wisdom@Work: The Making of a Modern Elder, is inspired by his experience of being both a mentor and an intern in his 50s.
After selling the company he started as a rebel entrepreneur at age 26, Joie de Vivre Hospitality, Chip wasn't sure what was next. He could have retired at age 52. But the young founders of Airbnb came calling.
He served as Airbnb's Head of Global Hospitality & Strategy for four years — while also being CEO Brian Chesky's mentor — and continues today as a Strategic Advisor to the company's leadership.
While writing Wisdom@Work, Chip was inspired to build the world's first "midlife wisdom school," the Modern Elder Academy, with a 3-acre oceanfront campus in Baja California Sur, Mexico.
Chip is an active mentor to six young CEO founders in the hospitality/tech world, and serves on the board of Encore. org and the advisory board for the Stanford Center for Longevity. He believes curiosity is the elixir of life and started learning Spanish and surfing at age 58.
Links:
Modern Elder Academy Interview
We hope you enjoyed this episode of Follow Your Different™! Christopher loves hearing from his listeners. Feel free to email him, connect on Facebook, Twitter, Instagram and subscribe on iTunes! Get amazing, different stories on business, marketing, and life. Subscribe to our newsletter The Difference.